Progressive Web App: Here's Everything You Need To Know About PWA
Updated
September 25th, 2023
The idea of 'Progressive Web Apps' created a history.
Having a great potential to cater to the mobile and web platforms' needs, it is worth to discuss, even now. A few years ago, the popular debate of mobile app vs. mobile web became the reason behind the existence of the Progressive web app framework.
Why we are talking about it?
According to cloudfour.com,
Pinterest rebuilt their mobile site as a PWA and noted 60% hike in core engagements. They also noticed a 44% increase in user-generated ad revenue and time spent is also increased by 40%.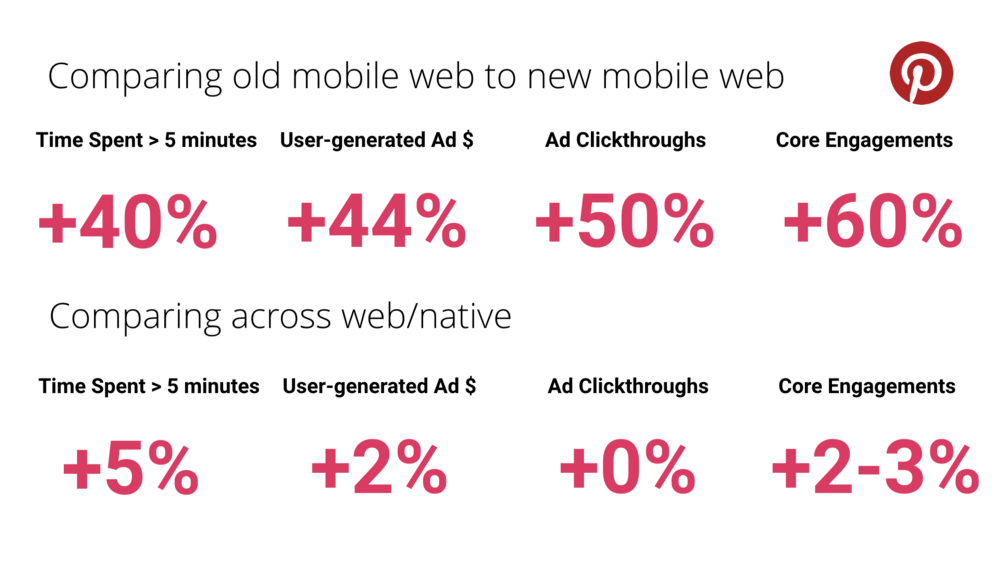 Tinder reduced load time from 11.91 seconds to 4.69 seconds with its new PWA.
Trivago observed an increase of 150% in user engagement for people who added its PWA to the home screen.
Uber's PWA takes less than 3 seconds to load on 2G networks.
BookMyShow's PWA is 54x smaller than android and 180x smaller than an iOS app. It has also increased conversion rates over 80%.
Forbes' PWA takes only 2.5 seconds to load on mobile compared to 6.5 seconds for its previous site.
Flipkart's PWA is driving 50% of its new customer acquisition.
Twitter Lite noticed a 65% increase in pages per session, 75% in Tweets, and a 20% decrease in bounce rate.
Ola has already reported a 68% increase in mobile traffic. 20% of users who booked via PWA had previously uninstalled Ola Native App.
OLX saw 250% more re-engagement using push notifications and 146% higher click-through rate on ads.
No, these are not just numbers. These are the success stories of PWA.
Why Progressive Web Apps Gained Popularity?
Here's everything you need to know from history to the current status of PWA.
What is PWA?
Put it simply, Progressive Web Apps are web applications that load in a web browser just like web pages or websites. It gives you a rich mobile experience via native-like functionalities such as the ability to work offline, push notifications, and device hardware accessibility.
It feels like a native app and offers the same experience as a native one. There is no need to download it from an app store. It loads, runs, and functions in a web browser.
Progressive Web Apps Promote Mobile-First Approach
According to one Statista report,
The number of mobile phone users is forecasted to reach 4.68 billion by 2019.

Going further, in 2016, an estimated 62.9 percent of the population worldwide already owned a mobile phone. This will round up to 67 percent by 2019.
This represents a clear picture of the mobile-first approach everywhere. The rise of mobile apps also denotes the 'app-for-everything' era.
On the other hand, web app development is also evolved to a great extent. Right from the static websites to dynamic to the single-page web application, many concepts and technologies have been introduced and used. Web developers are giving priority to responsive web design and exploring ideas like progressive web app and cross-platform applications.
While there is an app for almost anything, users are finding it difficult to install, maintain, and use various apps in one device.
The factors need to be taken into account are:
The increased app size
Not frequent use of the app
Low connectivity of the internet
High data and storage consumption
Frequent updates and permissions
Number of alternatives for a particular purpose such as food delivery, e-commerce, and so on
PWA is the just the right thing to overcome these problems. How?
PWA bridges the difference of web and mobile and provides users with superior and native-like performance in a web browser. In the simplest terms, it is a type of mobile app delivered through the web.
Sounds interesting? Here are some characteristics of Progressive Web Apps:
It provides super-rich experience: Due to modern web standards, it offers an appealing user experience
App-like experience: while using it, you will feel native-like experiences and functionalities
Secure: It uses HTTPS to prevent any threat and vulnerability
Modern: thanks to the functionality like service workers, these apps are up-to-date
Greatly responsive: PWA works best for mobile, desktop, tablets in terms of responsiveness
Works offline, on the low-quality network: This is most important; it runs offline and even in low-connectivity
Linkable: It is usually shared via the link and does not need a separate installation
Add to Home Screen Prompts: Key Attraction of PWA:
To facilitate installation, PWA provides "Add to Home Screen" popup which allows users to easily install the app on mobile devices. This feature is one of the significant reasons behind the popularity of the app. On the acceptance of the prompts, the app will be installed easily and quickly.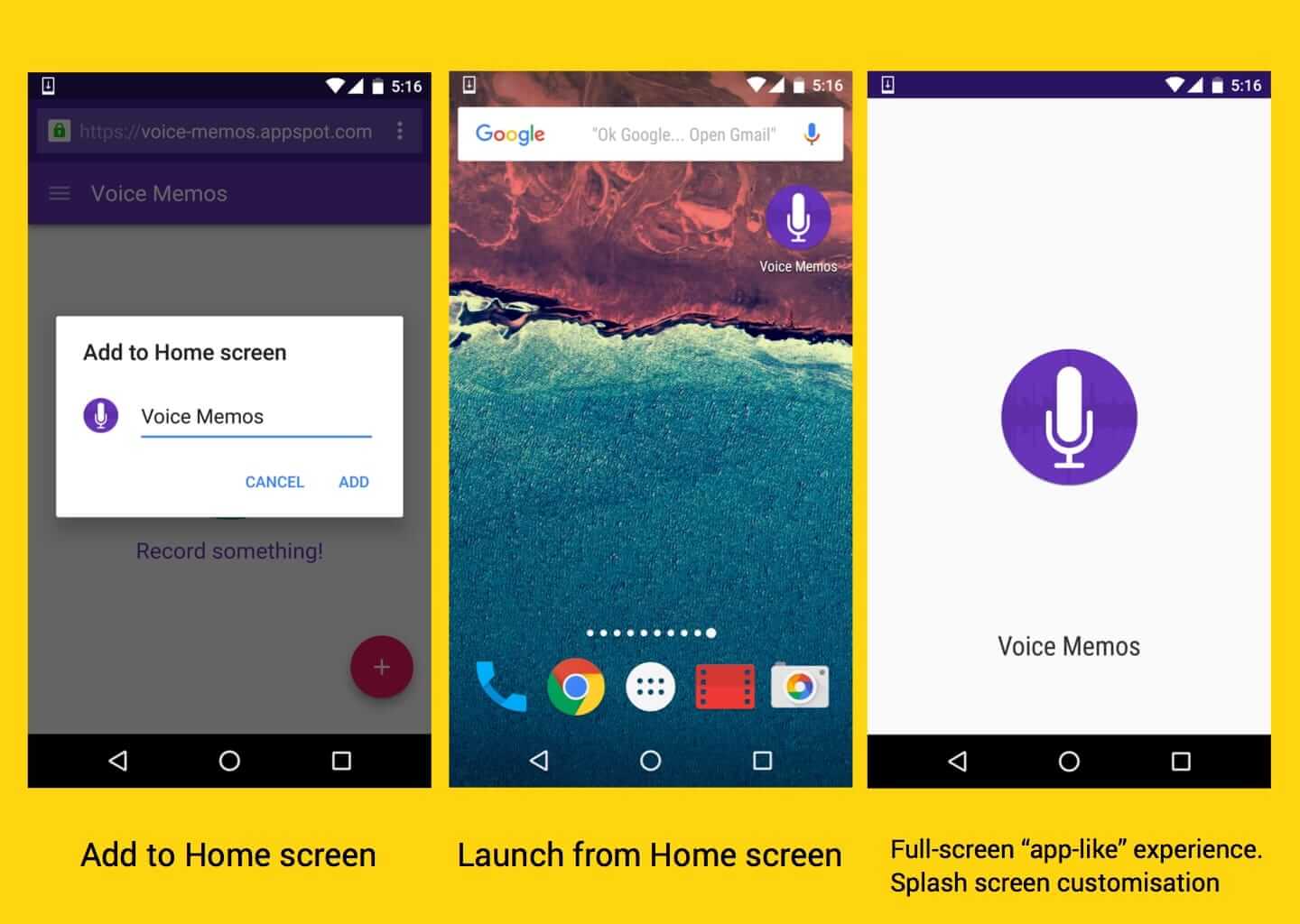 How Progressive Web Apps Emerged?
You will be surprised to know that the number of search engine users is projected to reach 236.4 million by 2019.
Generally, the user prefers the search engine on their devices rather searching for a solution directly in the app store. On the other hand, mobile search is vital for businesses with a growth rate of 146% every year.
"Progressive web app leverages web and mobile platforms to prove its ability to surpass native application in terms of usability, user experience, rapidity, financial feasibility, and overall efficiency."
Native Applications and Responsive Web Apps have some other stories to tell. Native apps provide a superior user experience but take more time-to-market at a significantly higher cost. The responsive web app also offers a native-like experience but it requires extra effort for compatibility.
As web development is evolved with more dynamic, faster, and responsive apps, technologies such as JavaScript, CSS3, and HTML5 have gained in popularity with advanced standards.
Thinking the same, designer Frances Berriman and Google Chrome engineer Alex Russell first introduced the term "progressive web apps" in 2015 thinking of combining mobile experience and support from modern browsers.
After choosing PWA, organizations are observing a dramatic rise in engagement and ROI. However, there are several questions and factors that need attention before you jump to a conclusion.
PWA vs Native App
| | |
| --- | --- |
| Native Apps | Progressive Web App |
| A native app is built specially for one platform | PWA is an app that runs in a browser and behaves pretty much like a native app |
| The separate code base for each platform such as Android, iOS | Don't need separate code base, don't need to install from Google Play or App Store |
| Unbeatable user-experience due to native hardware access | Superior user experience through modern web standards |
| Requires higher budget to write platform-specific code | Relatively cheaper than native app as runs on multiple platforms with a single code |
| Need to download from the app store | "Add to Home Screen" prompts and runs directly in a browser |
| Requires more space | Very little space is used |
| Needs higher data consumption and network | Works well in slower network and offline |
Take a look at the quick comparison here:
Responsive Web Design vs Progressive Web App: Clear The Confusion
| | |
| --- | --- |
| Responsive Web Design | PWA |
| Responsive web design ensures consistent UX experience on various devices and platforms | It is an advanced form of a responsive web app with a mobile-specific environment |
| The single code base for mobile and web platform | Single code base with the mobile-first environment |
| Plus point of automatic  adaptability according to screen sizes and resolutions | An extra benefit of "Push notifications" and "Add to home screen" Prompts |
| Seamless user experience due to responsiveness | Rich user experience through the support of modern browsers |
| Performance varies based on different platforms and devices | Superior and unvarying performance |
It is clear that PWA has extra advantages over responsive web design, web app development, and native app development in terms of cots, user experience, time-to-market, and optimization of an app.
PWA And SEO: User-friendly and SEO-friendly For Strong Online Presence

"Top Progressive Web Apps Score 85% In SEO."
Any app needs to have deeper engagement model to create success stories. It is difficult to maintain the same level of engagement ratio once the app is downloaded.
PWA offers an apt solution to this:
Through push notifications and add to the home screen, PWA wins the battle of user engagement. With the notably faster load time, offline running functionality, responsive design, secure structure, and lower data usage, it is very easy to optimize with necessary keywords in order to reap the benefits of an online presence.
Progressive Web Apps for E-commerce: Leverage High-Converting Features of PWA
Retailers often try various tactics to lure their customers whether it is a native app or responsive design. Putting a lot of emphasis on mobile-first user experience, retailers are relying on progressive web app development to provide an app-like experience with a higher conversion ratio.
It solves the fundamental problems of lower mobile conversion rates, such as
Discover the usability of an app and then download it from the app store
Push notification works better than an email with an increase in CTR(Click-through rate)
Add to the home screen to provide accessibility right from the browser
Full-screen mode for a seamless user experience
Faster loading pages for smoother user interactions
Truly, native-like mobile-first design to increase mobile user engagement
SEO boost from Google to catch the attention of shoppers and visitors


Watch below video to see how PWA is helping globally recognized eCommerce platform, Flipkart to boost their sales:
How PWA Can Drive Greater ROI And Higher Conversions?
Year-over-year technology gets changed.
Mobile experiences have taken center stage with never-before features and use cases.
"Mobile strategy is no longer 'secret sauce' of today's era, it is a necessity."
With iOS 11.3 launch, Apple has started supporting the basic set of technologies for PWA. A progressive web app is often considered as 'high return on low investment'. It provides a superior user experience in a cost-effective way.
"Weekly active users on mobile web have increased 103 percent year-over-year overall, with a 156 percent increase in Brazil and 312 percent increase in India. On the engagement side, session length increased by 296 percent, the number of Pins seen increased by 401 percent and people were 295 percent more likely to save a Pin to a board."
– Pinterest Engineering team in one Medium Post
Global brands have adopted PWA to provide flawless experience and accessibility across the platforms and devices. It emerges as a key technology to target web and mobile audiences at the same time.
Additionally, it performs well in unreliable and slow data connections making it popular among users who have experienced the problem of losing signals, 2G networks, interrupted transactions, and unsuccessful processes. This often leads to losing potential customers. Here, PWA gives an additional advantage of accessibility and usability, even in slowest connection.
Here's an example of Trivago, a leading hotel search engine:
Among users whose sessions are interrupted by a period offline, 67% of those who come back online continue browsing the site.

–  Think with Google post
Also, it can be used to check the products or services customers want before they download it from the store. There are many similar scenarios where PWA works just remarkably well.
What Are Your Insights?
At present, modern technologies have taken web app development to the next level. PWA is a lot more than this. There are many things to consider before its adoption and to take a deep dive into benefits, drawbacks, needs, and results. We hope you enjoyed reading about PWA! We are one of the leading progressive app development company aiming to provide more robust, scalable, and usable apps regardless of domains and business sizes.
Stay connected for more such articles on PWA and its comparison with the other types of apps. We welcome your comments and suggestions!
SPEC INDIA, as your single stop IT partner has been successfully implementing a bouquet of diverse solutions and services all over the globe, proving its mettle as an ISO 9001:2015 certified IT solutions organization. With efficient project management practices, international standards to comply, flexible engagement models and superior infrastructure, SPEC INDIA is a customer's delight. Our skilled technical resources are apt at putting thoughts in a perspective by offering value-added reads for all.