Key Features Of The Newly Announced iOS 14 – The Enhanced Version
"It's not faith in technology. Its faith in people" – Steve Jobs
That is what keeps the technology giant – Apple, marching forward – coming up with newest innovations, adding to the family of Apple products, releasing most modern versions of their backbone – iOS, there is much more!
Here comes the announcement of iOS 14 in June 2020 at Apple's WWDC. Apple's WWDC 2019 had promised a lot many features and most of them are already showcasing their worth. This year, the best part to happen at the WWDC was the unveiling of iOS 14. "Looks brand new, feels like home" – says Apple.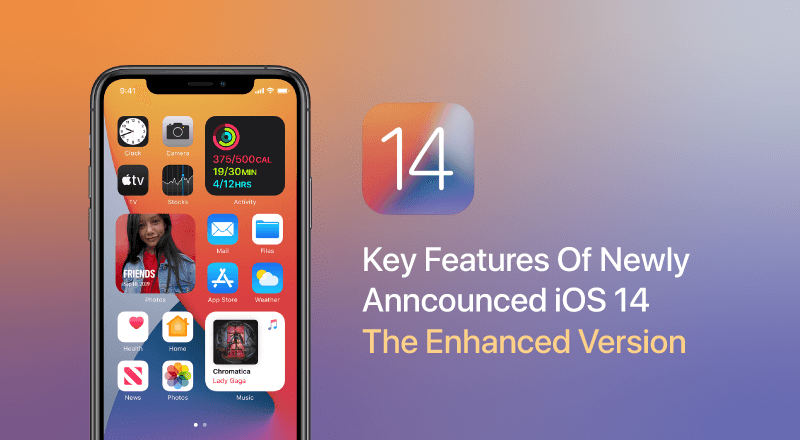 It is currently in the beta stage and is about to launch officially this fall. According to Apple, iOS 14 can run on iPhone 6s and later versions and iPod touch. Even the upcoming iPhone 12 that is expected soon, will have this OS preinstalled on it.
Considered as a game-changer for the security and privacy features, iOS 14 comes with a pack of cool features for its ardent users, who look forward to enjoying this beautiful change, especially on the home screen. Amongst the iOS application development contributions, in its earlier version – iOS 13, Apple had begun to focus extensively on security and privacy aspects and adding a feather to its cap, this version offers more! Though some features are not good news for marketers and advertisers, it has been a safe call for users.
Let us have a look at the key attractions that have come as a part of the iOS 14 bundle:
Innovative Features Of iOS 14 Announced At WWDC 2020
The Changed Home Screen Is The New Attraction
Till now, not many changes have happened in the home screen of the iPhone. It had that typical look with a grid of squares to download apps at a single place. With the revamped looks, users can remove the app from the screen without a delete. There is an App Library in which the apps will reside. This library can be reached by swiping to the rightmost corner. It shows all apps in alphabetical order and sorting is done based on category.
Widgets on the home screen are a new attraction. Earlier widgets were in the 'today view' but with the new version, users can get the widgets onto the home screen. They can be grouped and used together to showcase information. Also, they come in a variety of shapes and sizes, showcasing more variety than before. Even a stack of widgets can be created with Smart Stack that will offer you the apt widget depending upon location and time.
Even the UI has gone more sophisticated. Now, incoming calls from phone/Facetime/Skype, etc. will occupy less space on the screen. It will come up as a banner on the top of the screen.
Tracking With Permission And Safety
iOS 14 comes up as a big relief for users, though not much for the advertising teams. It now offers a feature in which there will be a notification to users asking whether they can be tracked across apps and websites. And only if they give permission, will they be tracked. This comes as a blow to advertisers who look for user information without the user's knowledge. But, for users, it is a great feature.
Siri Gets An Interesting Transformation
Earlier, Siri used to occupy the whole page. Now, with the newer version, it will come up as a little colorful icon at the screen's bottom. Not only that, but it has also enhanced conversational abilities and will recall earlier queries to help better.
There is a new app coming up called Translate that will offer translations in real-time and show the text on the screen. Also, there will be an offline availability of translation information in a more private and secure way. Users just need to pick up 2 languages, click the microphone button and the app will offer translations after listening to the user's voice.
Smart Notifications For Better Security
iOS has always worried about apps trying to access device utilities for unnecessary purposes. This version ensures immediate notifications whenever any app uses the camera, clipboard, or microphone without user permission. It will bring forth the background processes being executed compromising the device's privacy and security.
A small colored dot will figure on the device's rightmost corner, above the signal bar, whenever the microphone/camera is in use. If the clipboard is accessed, a small banner will be displayed on the screen telling that the clipboard was opened.
Clarity On Background Apps And Clipboard
iOS 14 offers a unique feature of checking on the apps that execute in the background and the clipboard. Developers must be quite sure of the information that they get. This version offers information about when an application is reading the clipboard and gives a clear picture of that.
Automatic Light Adjustment Through Homekit
Homekit lights – this is a new lighting feature that will automatically adjust the lights all along the day, depending upon the timings. In the morning and evening phase, it will have a warmer mood else a cooler bent.
In iOS 14, the introduction of lightweight app clips facilitates immediate interaction, scanning of QR codes, tapping a sticker, clicking a link, etc. It does not need to wait for downloading an app, signing in, etc. They are micro-entities of apps that can operate individually instead of being a part of a larger app.
The size of the apps is quite less, making it easy for users to handle. These clips also ease integration with Apple apps like Apple Pay, Apple Maps, etc. These app clips will showcase in the App Library. App Library is the new way to organize apps through which users can have a unified view of all apps depending upon their categories, instead of moving through multiple pages.
Picture In Picture Mode Now Available
Watch your video or online call simultaneously, in a thumbnail mode, while moving onto your home screen with this new feature of 'Picture in Picture' mode. It was available for iPads but now, will be accessible to iPhone users too. It facilitates shifting the video box anywhere you want on the screen, with the audio portion undisturbed.
Safari is better and secure than before, with this newer version. It will keep a track on saved passwords if they have been used in any current data thefts etc. It will translate webpages on its own, without any 3rd party intervention. Even privacy reports for websites can be accessed with the newer version of Safari.
Dark Sky is one popular name in the world of weather apps. Apple has taken over this app and features of this app are supposed to be reflected in the iOS 14 version. Work is still in progress for complete ownership by Apple but it sure to happen soon.
Apple has always been a car-friendly technology and this version offers a new API called CarKey that may possibly replace key fobs in the coming years. It helps the iPhone device to behave like a digital car key with the assistance of BLE technology or NFC.
Authentication will be done with biometrics and the future shall see increased usage of this feature to unlock the car remotely. Features like access to the car for up to a few hours even if the battery is low are upcoming attractions.
The newer version brings with it a better version of messaging – an important component of iOS devices. Users can now pin up to 9 conversations, that will remain on top of the message line. This helps them in reaching out to most frequently interacted messages. It also supports group conversations with relevant images and conversations to enable appropriate replying to those who have written first. Users can even tag people in conversations by using the @ symbol.
3rd Party Apps As Default Email/Browsers
The newest version facilitates users to assign 3rd party apps as the default email or browser. As of now, anything you open, by default, opens in Safari or Mail but with this enhancement, you can choose the app through you which you want it to open.
A feature to impress the users – Memojis now will have newer hairstyles, age options, headwear, those with masks – the new normal and more. There is a variety of facial and muscle structure offering a greater variety of expressions amongst the stickers.
Witnessing The Niceties Of iOS 14, As It Unfolds
Apple's latest – iOS 14 – beta version has arrived offering its users a great deal of advantages, especially in terms of security and privacy. There are others who may face a setback in collecting user information from Apple users or reaching them with ease. But it is good news for the users and for the tech giant itself, as they have their own set of services – hardware and software and do not need much external advertising support.
As always, Apple offers the mobile application development world a bright new feature list with iOS 14. The beta version will make the release a better one. Users await the actual release of iOS 14, coming up very soon, this fall. Even we do!
SPEC INDIA, as your single stop IT partner has been successfully implementing a bouquet of diverse solutions and services all over the globe, proving its mettle as an ISO 9001:2015 certified IT solutions organization. With efficient project management practices, international standards to comply, flexible engagement models and superior infrastructure, SPEC INDIA is a customer's delight. Our skilled technical resources are apt at putting thoughts in a perspective by offering value-added reads for all.