School eLearning Guide: Benefits, Best Practices, Limitations, And Covid-19 Effect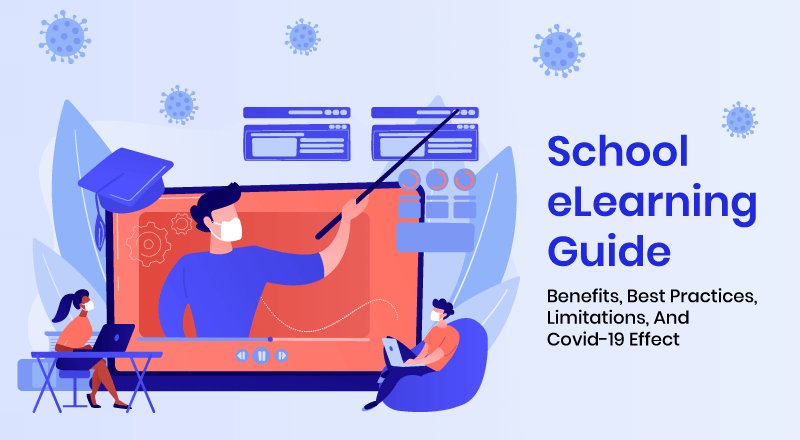 Witness to history, such situations cause radical shifts and create space for experimentation of ideas and assumptions.
At present, coronavirus pandemic has forced countries to implement nationwide lockdown and institutes to shut their doors. With the social distancing becoming the norm, people are experimenting with new ideas to resume to normalcy. This crisis has transformed many aspects of life and changed the way we work, learn, and meet. Education IT services & eLearning solutions used to be lesser significant and people were a little bit skeptical about this virtual environment of learning in day-to-day life.
Covid-19 has changed everything. Remote education is being experimented all over the world where eLearning wasn't even thought to be possible before. Now, there are tons of online classes and platforms available that offer quality online education on a wide range of subjects. Physical classrooms are replaced with virtual classrooms and education institutes are launching their channels to adapt to this new normal. Leading online education platforms became more popular due to this pandemic as people are taking add-on courses to sharpen their skills.
Before this pandemic, traditional schools were offering limited online sessions and majorly focused on providing a physical classroom environment with less or more integration of technologies. But, COVID-19 has forced teachers and students to jump to virtual classrooms to have the least influence on ongoing curricular schedules. While the education industry is remodeling its structure from physical to digital, here is the comprehensive guide on school eLearning with its benefits, limitations, current environment, and best practices.
Is eLearning The Future Of School?
According to Global Market Insights, eLearning Market size is set to surpass USD 375 billion by 2026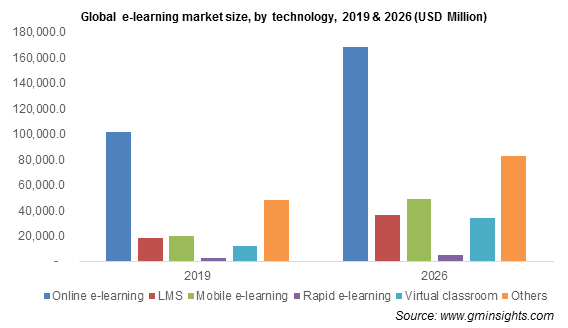 One Statista report says that the worldwide education software market will reach 7.9 billion dollars in 2020.
What Is eLearning?
As the name would suggest, eLearning, also known as distance learning is the use of software and communication technologies to teach and learn.
History Of Online Education: Idea of Learning With Computers
It was all started in the 90s.
In 1960, the University of Illinois created an intranet for its students where students can access materials and listen to recorded lectures.
In Great Britain, the instructor sent lessons through the use of mail, and students sent completed assignments via email. At that time, the primary aim of distance learning was to provide information to the students.
Over some time, significant developments were made in this direction. Technology is the driving force behind many reformations across the world and the education sector is one of them.
As of the first quarter of 2020, after gaming apps, education apps were the second most popular app category worldwide in the Google Play Store –statista.com
eLearning becomes an indispensable mode for classroom teachers, students, and private educators. Here are several benefits of online learning for teachers and students.
What Are The Advantages Of eLearning For Students?
One of the biggest advantages of online education is flexibility. Students can access content whenever and from wherever they would prefer. This flexibility hugely attracts students towards eLearning. Unlike classroom teaching, they can access the same content several times to get it fully understood.
Beyond Blackboard Teaching
Children are motivated to study in an interactive and live atmosphere. The use of multimedia devices and AR/VR technologies help students learn faster and have better imagination and insights.
Compared to F2F classrooms, virtual classes are cost-effective. You can save on travel costs and time as this mode of learning is easy and quick. Students can pay attention to subjects of their interests without spending on accommodation, course materials, and trainers.
Effective And Comfort Learning
Online mode of learning has quick delivery cycles as learners can define their own speed as per their abilities. It is very effective as children can learn while staying in their comfort zones. They can learn from a number of different resources available over the web to master new skills.
Benefits Of eLearning For Teachers:
Better Engagement With Students
Unlike long and boring lectures with a stack of books, online learning is more engaging and interactive. With the use of immersive technology and advanced communication technologies, teachers can teach at their own pace, bring consistency, and use several other online resources to train better.
Quick And Context-Specific
Learning needs and learning abilities vary from student to student. With this way of learning, educators can deliver quick and customized teaching experiences to students. Unlike the one-size-fits-all approach, this model helps deliver contextual and customizable training to meet the needs of students.
Just like modern work and mobility, you can deliver content from anywhere, anytime. Students are dispersed and there are no restrictions on location, age, and pre-qualification. Education Institutes can schedule their own sessions and keep students engaged in a wide range of topics, saving cost and time as there is no need to visit physically to become a part of the course.
Increased RoI And Improved Performance
As eLearning is seamless and quickly adaptable, educational institutes can see results within days. Easy scalability, accessibility, and mobility help organizations achieve goals quickly. They can keep a close eye on individuals and measure progress as they go further. eLearning is a more managed and effective education system.
Now, we have already seen the benefits of eLearning, it's a time to see the other side of it, i.e., disadvantages of the eLearning education system.
What Are The Limitations Of eLearning?
eLearning requires self-motivation and time management skills to study
Feedback in eLearning is sometimes very limited
As there is no Face-to-Face communication, students can feel isolated and less confident
Lack of communicational skill development in students
Online assessment of student's progress is difficult
In some areas, online learning is still inaccessible due to computer illiteracy
Quality is a concern in online education
Lack of practicality-based approach, only theory-based training
Need for the structured environment as children can be easily distracted
There is no 'Distance' between education and students as the eLearning system is continuously growing in every part of the world. It is not just about creating the best content but there are a lot of things matter in making an eLearning program successful.
Let's take a look at several eLearning best practices.
5 Best eLearning Practices To Create Successful Online Education Program
This is not just a quote but a hidden formula for success. Creating great content yields greater results. The primary aim of any online session is to deliver relevant and up-to-date content interestingly so that students can be hooked to the topic. Subject matter expertise, navigation, graphics, learning level, and art of teaching – all must be given equal attention while designing content for students.
Interaction is most important in education whether it is offline or online. UI/UX of your education software must have smoother navigation, consistent theme, best feedback and interaction cycle, and uniform standards across the course.
What They Want And What You Deliver
Catering to the students' needs should be objective of the course. You must know your students well with the education background, complexity level, and skills they need to enhance. If your audience is children, they won't understand a complex topic in one go. You must address the needs to go in-depth to ensure that they have interpreted well. For better results, you must know your target group.
Interact, Interact, Interact
Best content offers the opportunity to explore more and make learners come forward to reassess what they have understood. Here, you can interact with students to create better engagements. Good interactivity between learners and the instructor creates a bond between them. This bond helps teachers to maximize the learning potential of students and help them to stay motivated. Direct or indirect, interaction is the key to success in online education.
Try new technology, approach, or technique to make learning fun. Improve your software product frequently and offer updated content designed in an effective manner. Perform quality checks, seek expert advice, stay active in educational forums, and build an entire network of learners and teachers. This way, you can grow your audience and enhance the quality of learning.
The success of the online education program does not depend only on teachers. Students, administrators, and educators must work together to make eLearning effective. Here are several tips for students and teachers to help make eLearning productive and effective.
Tips To Make Effective Online Learning
Plan, Prepare, Participate:
This is a virtual form of education. No one will physically present. For an online classroom environment, planning is important for both – teachers and students. Make sure that your syllabus or study materials are handy before you start your class. Institutes have to keep in mind the atmosphere and mentality of virtual students while designing the course structure. Students require to be prepared for class at a given time with learning mindsets. Along with preparation and plan, one thing makes a significant difference – participate. A student must pay attention, ask their doubts, and interact as much as they can.
By investing in the right hardware and software, you may encounter less trouble. A reliable PC/laptop or tablet, robust internet connection, and distraction-free space – this sums up everything you need for the eLearning system.
Identify Objectives And List Goals:
Before you start the classes, identifying what should be accomplished by videos or live sessions help you measure progress precisely. If you are a teacher, have a plan to deliver as per your structure and design a road map for every day. If you a student, identifying your learning objectives before the beginning of classes makes you a fast learner. Prepare your notes, read, and review what you being taught in an online session.
Regularity And Self-Discipline:
This point is for students. Success hugely depends on these two factors in virtual classrooms. Stick to your study plans and be regular in your assignments, classes, and self-study. Stay organized and maintain self-discipline. Take help when you need it so that you can keep up with the pace of sessions. Let instructors know about any of your difficulties and ask for help. Create a consistent study schedule and make some time for yourself, too.
What Made Us Write This?
Due to Covid-19, there are currently more than 1.2 billion children in 186 countries affected by school closures.-Weforum.org
This pandemic has a shocking impact on the education world. There are many challenges to overcome in the online education system. According to the World Economic Forum, while 95% of students in Switzerland, Norway, and Austria have a computer to use, only 34% in Indonesia have it. This imbalance, no time to prepare, lack of internet, and poor user experience result in adverse effects.
On the other side, founded in 2011, BYJU'S, a Banglore-based leading educational platform has seen a 200% increase in the number of new students and is now the world's most highly value EdTech company. Faster access, personalized learning, mobility, and flexibility are some greatest advantages of eLearning.
For those who have access to the right technology, this is the best time to invest in a new model of online education. Leading online platforms are offering free access to its paid content amid this crisis to meet the demands of learners.
Whether you are a teacher or a learner, time is now to invest in digital education. What are your thoughts?
SPEC INDIA, as your single stop IT partner has been successfully implementing a bouquet of diverse solutions and services all over the globe, proving its mettle as an ISO 9001:2015 certified IT solutions organization. With efficient project management practices, international standards to comply, flexible engagement models and superior infrastructure, SPEC INDIA is a customer's delight. Our skilled technical resources are apt at putting thoughts in a perspective by offering value-added reads for all.