Quarterly Newsletter January 2023

As Your IT Partner We have The Right SPEC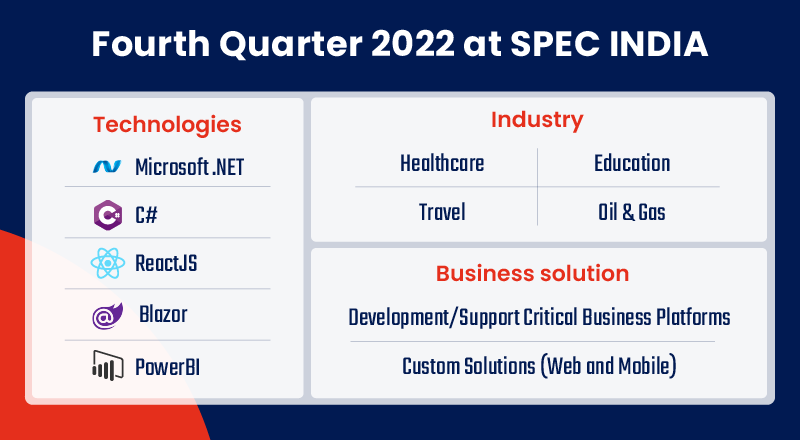 As we gratefully bid Goodbye to 2022 and positively Welcome 2023, here's wishing you all very Happy New year loaded with happiness, prosperity, and good health. With its 35th foundation day in this quarter, SPEC INDIA feels elated to have witnessed a transformative year in which there were newer achievements and customer contracts with implementation of important projects.
In this quarter, we implemented a web application project for a USA-based client in the healthcare segment. This web application is mainly built to search for data of registered healthcare providers in the US, with specific criteria like specialization, distance etc. Healthcare providers can subscribe to this web application to publish their profile. It offers a wider audience reach to the business users and consumers. It showcases features such as
Appointment scheduling
Free search facility
Introductory videos of healthcare providers
Details about healthcare provider's history, hospitals, profiles etc.
Yet another business intelligence project that we implemented was for an oil market analysis firm. This oil market analytics solution offers detailed oil supply chain and consumption analysis reports with different data sources. It collects and analyses global crude and energy data to offer insights in the form of Daily Market Reports and dashboards embedded in web platform. Following are the salient features of this solution:
Insightful reports related to the oil market like Daily Open Interest Change, Spreads, Timeline, Moving Average, Energy Dashboard (Sources with production Vs consumption), Margin Builders etc.
Template-based Power BI reports to generate insights.
Analysts and traders to get all details at a single place
Get insights for the global oil market
Impact analysis based on different economic factors like inflation, unemployment rate etc.
There was successful execution of a software application for a UK-based traveling agency. This application encompasses the entire process of travel booking including
Managing users like Guest, Suppliers, Agents, Employees, etc.
Managing products like Accommodation, Flights, Transfers, etc.
Travel Booking that integrates the above and other 3rd party applications
It offers key benefits like application management from booking enquiry till client feedback, automation of tasks, auto calculation of financial values based on product details, multi-currency facility, travel reminders, viewing itinerary details and daily travel schedule through mobile app.
Our wide range of industry-driven business solutions have been serving global clientele, offering them enhanced profitability and productivity. This quarter, the focus was more on the Healthcare, Travel, Education and Oil & Gas sector. We developed and supported innovative and critical business platforms and custom solutions for both, the web and the mobile.