Top 20 Web App Ideas That Will Work Wonders In 2023
"Anyone can dream up great ideas, but an idea is nothing until it's realized, be it as a website, a physical product, an app, or a user interface."  – Jens Martin Skibsted
With digital transformation being the new normal, web apps have become popular and more effective than before. The usage of web apps has been exponentially rising and so has the demand for web app development too.
Designing and developing a creative web application isn't as easy a task as it looks like. It needs innovation, creativity, efficacy, robustness, user-friendliness, and what not to target a successful web app. And hence implementing novel web app ideas can do wonders in implementing a superior web app.
Be it a startup, medium to large organization, or enterprise, coming up with unique web application ideas is necessary to offer something exceptional for your organization to enhance its brand image and increase business.
Thinking out of the box is essential and that is where these web app project ideas can be of great help.
Through this article, we have curated the best web app ideas that will go strong in the year 2023. Before we read through the ideas, let us glance through the fundamentals of web applications and their key types.
What Is a Web Application?
A web application (or web app) is application software that runs in a web browser, unlike software programs that run locally and natively on the operating system (OS) of the device.
Web applications are computer-based programs that can be accessed through browsers without the need for software installation and yet users can easily interact with all its features. Some common web apps are Netflix, Gmail, Facebook, etc.
Web apps make use of online technologies for operating a multitude of tasks. It needs an Internet connection to operate and can be leveraged for a diverse range of industry segments like retail, entertainment, finance, education, entertainment, etc.
Web apps are interactive software elements that execute on web servers and can be operated from browsers. All users operate on the same version and that reduces the chances of compatibility problems.
There are many modern-day, no-code platforms that have made web app development easier and more effective. Creating faster and more robust web apps is effortlessly done with these tools.
Advantages of Web Applications:
Lesser maintenance and support
Cost reduction for end users and business owners
Executable on diverse platforms irrespective of OS or device type
Lesser compatibility issues and no space constraints
No space limitations as it is not installed on the hard disk
Major Components of Web Applications:
Web Server – Handling of user requests
Application Server – Execution of user requests
Database – Storing all kinds of information
Types of Web Applications
Let's understand the types of Web Applications in brief –
Static Web Apps:
Basic kinds of web apps with minimalistic content, usually formed with HTML and CSS. It can easily manage content like GIFs and videos. Updates in static web apps can be difficult since the entire HTML code may have to be downloaded and worked upon. These are like user interface services that have connection and coordination with other services and offer an insightful experience.
Dynamic Web Apps:
Diverse kinds of web apps that can continually update or change information with ease. These apps handle data and pages in real time and hence empower users to update accessible information. As users request a change, there is a response from the server to the client. Based on the response, the client code will perform the necessary action.
eCommerce Apps:
One of the most popular and most utilized web apps, the eCommerce apps belong to the online shopping and retail arena. There are online stores that can manage online shopping with electronic payment methods. Modern-day requirements have encouraged more utilization of eCommerce apps and we all are avid users of the same now.
Portal Web Apps:
Web applications in which diverse categories of information can be accessed through a unified home page. Users connect to the portal to find the information they are looking for, the portal merges information from different sources and showcases it to the users. Chats, forums, insurance portals, emails, etc. are the best examples of portal web apps.
CMS:
A Content Management System (CMS) is a specialized web app that empowers users for the creation, modification, and management of digital content with enhanced productivity. Users need not have the detailed technical know-how to implement CMS and hence it is easy to use.
PWA:
Progressive Web Apps (PWA) are web applications that load in a web browser just like web pages or websites. It offers you a valuable experience through native-like functionalities like the capability to work offline, push notifications, and device hardware availability.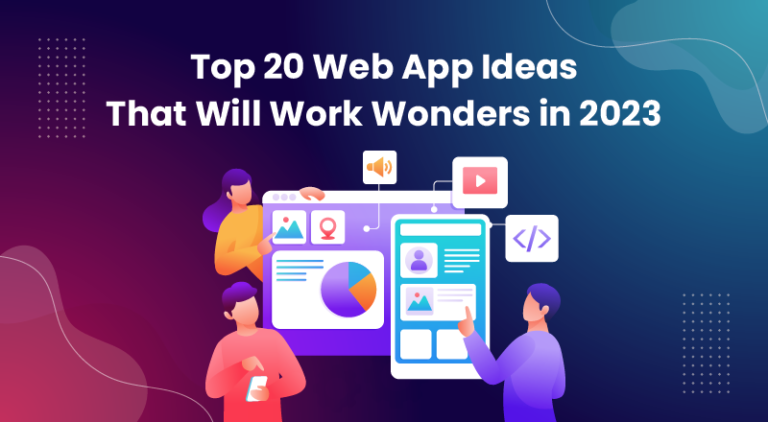 20 Web App Ideas To Consider For 2023
CRM for Businesses
CEO Dashboard
Online Classroom App
Online Dating Web App
Payment Gateway
Virtual Event Hosting Web App
Telemedicine
Crime Alert Web Apps
Event Management
Blockchain-Enabled Document Storage Web Apps
Workflow Management
Chatbot Hosting App
Employee Training Web App
Language Learning App
Food Delivery Web App
Book Review Web App
On-demand Home Services Web App
VR-Driven Workspace Web App
AI-Driven Online Restaurant Booking App
Ride-Sharing Web App
Let's analyze each of these web application ideas to have a better idea.
CRM for Businesses:
The Customer Relationship Management (CRM) solution is a robust software solution that empowers users to effectively manage relationships with customers, with complete satisfaction and accuracy. CRM solutions target industry segments of all sizes – startups, small, medium, and large enterprises. It decreases communication infringements between customers, the company, and sales & service teams.
Some of the key features of a CRM solution are route management, marketing promotions, visual representation of sales activities, spot billing, effective supervision of salesforce activities, fleet monitoring, and management. It empowers the field force with anywhere, anytime access to the system. Businesses take to make better decisions, eliminate redundant workflows, fulfill orders in real-time with high-end productivity, increase forecast precision, maximize RoI, and upsurge market reach with optimal sales resources.
CEO Dashboard:
With hordes of data, structured and semi-structured available to organizations, it is imperative to analyze it and make the best use of it. The dashboard-based web application is one of the best web app ideas as it offers the CEO and business owners an intuitive and detailed view of the business information, in the way they want to view it. They can, have a look at the necessary information and take decisions accordingly.
This CEO dashboard app is accurate, scalable, and enriched with features like self-service business analytics, visual representation through graphs and charts, consolidated data at a single place, transparent view into all business activities at a single go, and monitoring of key performance indicators and business health. It helps high-ranked officials in identifying the areas of improvement, futuristic trends, and patterns for a better tomorrow.
Online Classroom App:
Owing to the pandemic, online education and e-learning have been in demand. Web apps pertaining to this domain have proven beneficial for schools, colleges, universities, and other educational institutions. Online learning has offered a simplistic, cost-effective, flexible, and easy way of education that can be managed with just an internet connection and a smart device.
These web apps offer salient features such as recording or posting of live videos on specific subjects, selection of preferred courses, API integration, appropriate marketing campaigns, and advertisements, easy connection between learners and instructors, online attendance through QR codes, notifications, and alerts for classroom status, saving on time and paperwork.
Online Dating Web App:
Digital initiatives have given online dating a new boost and hence online dating web apps are a great idea that will go a long way in 2023. Everyone is most influenced by social media platforms and hence with the help of cutting-edge technologies, online dating apps offer great features and support. It offers users to look for their desired match through different mediums.
There are a variety of inbuilt algorithms that can look for an ideal partner based on characteristics, hobbies, geography, likes, dislikes, preferences, etc. If the thought of properly, effective marketing strategies can help garner good revenue for the business owners too. It also consists of voice and video recording, smart notifications, gamified user profiles, in-app games, and chatting options.
Payment Gateway:
Looking at the increasing eCommerce trends, online payment gateways are the new future and hence having payment gateway web apps is surely a great web app idea. As a technology used by business owners for accepting credit/debit cards, electronic checks, or other payment types, these apps include payment portals that are operational in online stores. Business owners can incorporate personalized payment gateway into their website or app.
Salient features of this web app include easy integration with other eCommerce platforms, single click checkout, security and user authentication, timely processing of payment transactions, risk compliance, faster processing speed, enhanced customer satisfaction, and experience, widened customer reach, increased revenue and profitability.
Virtual Event Hosting Web App:
As the need for remote working arose, the idea for a virtual event-hosting web app also became stronger. The call for virtual meetings, conferences, presentations, etc. has led to the implementation of virtual event-hosting web apps. These apps are competent to adhere to changing needs based on the nature of the business and other parameters. The virtual events turn out to be more effective, exciting, and fruitful since the apps transform the digital space into a lively, interactive session.
The event hosting apps showcase features like live broadcasts, branding customization, pre-recorded facility, effective communication methods, seamless integration with other third-party software, and social media integration. It encompasses virtual event platforms for conferences, workshops, roundtables, and remote work with complete audio and video integration.
Telemedicine:
Telemedicine web apps focus on the usage of telecommunications for offering the best online healthcare to patients in real time. This can be done via video or audio conferencing, text, chat, or through healthcare apps. The pandemic has acted as a catalyst in promoting the usage of these telemedicine web apps and now there is no looking back. Patients are most happy about skipping queues, scheduling appointments, getting instant treatment, avoiding traffic, and paying online through secure payment modes.
Even doctors and administrators enjoy online healthcare web applications owing to better management of healthcare records, coordination with patients, monitoring of medical reports and documents, easy and online sharing of documents to relevant departments, follow-up, and medication. It is easy for patients to search for a nearby doctor and fix appointments.
Crime Alert Web Apps:
Looking at the rate at which crime is increasing worldwide, having a crime alert web app is one of the great web application ideas. It works just like a social networking app wherein every user cold keep posting crime-related details in and around them. This keeps the others updated on the wrongs happening around them and thereby, keeping them alert and saving their houses on time.
These web apps can be useful in alerting the neighborhood of any kind of crime that is happening or going to happen. It can showcase a complete feature list including online reporting of crimes or doubted happenings, grievances, missing people complaint registration, and monitoring of the progress.
Event Management:
Event management is a happening domain now with everyone busy celebrating birthdays, anniversaries, weddings, corporate launches, baby showers, and so on. Web apps pertaining to events can be of great help for users to reach out to a wide range of event planners and work out the best deal with them. It offers a list of event managers who can play a suitable role in arranging your function.
These apps are based on purpose, target audience, event scale, and implementation plan. They have the competence to manage distributed audiences through a unified platform, simple event registration and check-in, customer reviews, event customization, monitoring event activities, and staying in sync with the event managers.
Blockchain-Enabled Document Storage Web Apps:
There is so much sensitive data that is lying with business segments. Storing and saving this data in the form of documents is crucial. Having a web app to store documents based on Blockchain has been a trending web application idea. These documents can be saved on different mediums like Dropbox, Google Drive, One Drive, etc., and that too with utmost security.
Blockchain has proven to be an ideally secure technology for creating a web app that will securely store business documents and make them readily available as and when needed. Blockchain-powered web apps showcase a great deal of security and encryption, faster execution, immutability, and decentralized operations.
Workflow Management:
Businesses have their own distinct workflows that must be managed and monitored effectively and on a regular basis. At such times, implementing a workflow management web app can be of great use. It is an online tool that is meant for increasing productivity and manages workflows with ease. It helps in extracting unnecessary activities, automating the working processes, and garnering better efficacy.
A web app for workflow management can easily manage tasks, generate invoices, get real-time alerts and notifications, extract KPI-based reports, integrate well with other software or cloud-based services, and design and update workflows based on business changes. Since all businesses are different and have their own peculiarities, the web app helps in flexibly updating workflows to sync in updated changes.
Chatbot Hosting App:
Chatbots are now an indispensable ingredient of any website or software application. These chatbots are generally AI-driven and serve as a readily accessible support system. Having your own chatbot hosting app wherein you can create your own AI chatbot and offer it to different customers is a great idea. It could be used by any type of client who is looking at a chatbot facility for their software app.
Salient features of a chatbot hosting app include simple and flexible customization, faster chatbot training, seamless integration with cloud-based services and third-party apps, multiple channel deployment, multilingual competencies, effective live chatting features, and complete embedded security.
Employee Training Web App:
Training your employees well and effectively is of utmost importance for the success of any business. Having a dedicated employee training and orientation web app could be highly useful since it would focus solely on the different training activities that employees must take, their status, planning, and progress. Such an app can take care of all necessary documentation that is involved in the training of employees.
These employee orientation web apps can be implemented and availed from anywhere around the globe and data can be easily transferred within systems or to other third-party software apps. There must be user authentication and security protocols well fed, to avoid any kind of discrepancy.
Language Learning App:
Amidst a world filled with a multi-lingual approach, having an effective language learning app is beneficial. It creates an application that helps users in effective learning of a new language. The demand for different languages is different, based on the geography selected. Hence, there are certain standard features this app must have, to cater to all types of languages.
The language learning web app must have effective user login credentials, user profile creation, different levels of teaching depending on the level of knowledge, pronunciation check, expert classes, vocabulary achievement, language practice tests, gamification, test paper evaluation and marking system, certificate of achievements, eBooks and social media integration.
Food Delivery Web App:
The food delivery market is growing far and wide. In such a scenario, having a food delivery web app can work wonders. This app can facilitate users in purchasing desired food items from the comfort of their homes. Especially, now, when the world is glued to the online arena, such apps can be of great assistance to both, business owners and end users. The app will be integrated with all local city restaurants, for quick ordering and service.
An ideal food delivery web app must-have features such as faster sign-up, effective order placing and tracking, notifications regarding order status, discount and cashback options, reviews and rating, user preferences, dynamic listing, interactive search, online secure payment options, recommendations, group order, dashboards, and reports.
Book Review Web App:
There are umpteen book lovers around the world, who choose to read books of their own choice and genre. What they genuinely look for is an authentic review of the book, they feel like reading. Having a book review web app is a trending idea that will have an increased audience in the coming year.
These apps offer users the flexibility to store their reviews and search for certain book reviews, they wish to read. Though this web app idea may not sound as interesting as the others, it has its own selected audience that is sure to make the most of it. The web app must have well-defined review mechanisms, security over authentic reviews, advertising, and marketing techniques, a search system, ratings of books, news feeds, book recommendations, book review community.
On-demand Home Services Web App:
Looking at the need of the hour, on-demand home services have picked up the pace. People find it convenient to avail a variety of home services under their own roofs, by booking it online and availing it at home. This could include different services like haircuts, spas, salons, electricity, plumbing, carpentry, etc.
Having a dedicated web app for home services is a wonderful idea that will show its success in 2023. These apps offer secure, timely, flexible, and robust services and connect end users to capable service providers through the integrated medium. There is service list creation and management, price tagging, a large pool of registered professionals, advanced search and tracking, etc.
VR-Driven Workspace Web App:
With the work-from-home regime getting increasingly popular, the need for the task force to stay closely connected is dire. To increase productivity levels, it is important that the employees stay in touch with each other.
At such times, the idea of having a web application that can take the help of modern-day technologies like AI, AR, and VR and offer virtual spaces using Metaverse is surely a profitable one.
AI-Driven Online Restaurant Booking App:
Booking for restaurants and tables online from the comfort of your home has been in demand of late. The new year shall witness an upsurge in the usage of such web apps, thanks to increasing necessity. Restaurant owners and end clients can both take the right decisions at the right time. Users can choose their desired restaurant and reserve their time slot along with their no. of users.
Users can go through the preferences and the app may suggest restaurants based on geography, ratings, type of cuisine, etc. Clients can also reserve a certain type of table as suggested by the app, based on previous experiences. The app can understand user choices and offer futuristic reservation choices, along with certain discount schemes, if applicable.
Ride-Sharing Web App:
Ride-sharing apps have been, lately, highly popular because of their unique service model. Traveling to destinations, with reasonable rates, by sharing rides with others is something many office goers prefer. Implementing a modernized ride-sharing web app could be a great web app idea for users.
Users can instantly book their ride through this app to reach a particular destination by either going alone or by sharing it with others. Effective online payment portals are integrated seamlessly with the app. This app is user-friendly, secure, and flexible with thorough time tracking and monitoring features.
"Everything Begins with An Idea" And So Will Web Apps For 2023!
Web app development can best be done by researching your idea, designing the user interface and experience, developing the web app, testing with varied test cases, and implementing the app with continued support and maintenance.
Good Read: App Ideas: Top 20 App Development Ideas To Explore In 2022
The above-listed web app ideas are some of the major ones that can assist you in giving a proper shape to your ideas and an efficient software technology partner can help in implementing your ideas at full scale.
Whatever may be the web application ideas, what is important is getting the apt IT partner who can thoroughly research your ideas, analyze different domains, and come up with a web application development plan that comprises major web app features such as responsive design, search tool, social login, analytics and reporting, security.
After all, the way varied types of web applications are being implemented globally, 2023 will see a bright future for web apps and the above web app project ideas are a great guide to creating the finest of apps.
SPEC INDIA, as your single stop IT partner has been successfully implementing a bouquet of diverse solutions and services all over the globe, proving its mettle as an ISO 9001:2015 certified IT solutions organization. With efficient project management practices, international standards to comply, flexible engagement models and superior infrastructure, SPEC INDIA is a customer's delight. Our skilled technical resources are apt at putting thoughts in a perspective by offering value-added reads for all.