Quarterly Newsletter July 2023

As Your IT Partner We have The Right SPEC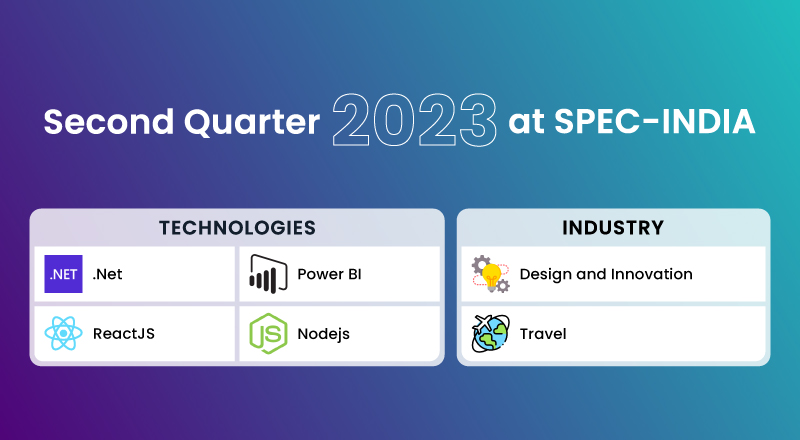 The second quarter of 2023 has been going great for SPEC INDIA, in terms of project accomplishments, celebration of our CEO's birthday, performance rewards, and work achievements by our task force. We have always emphasized on the work-life balance and our innovative attempts, this quarter, kept our task force happy and satisfied.
We have always strived hard to offer our widespread clientele the best of software solutions and services and that is what we continue to do. Our competent teams have been scaling their skillsets higher by the day, to come up with out-of-the-box solutions that can be lucrative for our clients.
Our Project Accomplishments
This quarter, we successfully implemented a project for a global design and innovation company in the USA, which works in multiple domains like CRM, HR, RPM, and Finance. We helped the organization in supporting their operational activities including enhancement, maintenance & support, ETL & reporting for all these domains.
The core functionalities include
Leads generation through CRM application
Project & Resource planning through RPM application
Maintaining operational transactions through FIN application
HR activities and other ETL and reporting functionalities
We used Flex, Ruby on Rails, Angular, T-SQL, U-SQL, Python, AWS, Azure, and many other modern technologies. There are multiple benefits to the organization – interactive project and resource planning, smooth collaboration between applications, easy SWOT analysis through reporting and data modeling, centralized data storage, enhanced security of data, data driven decision making, enhanced business performance, better data quality and customer insight.
Yet another achievement of ours was the smooth implementation of a travel portal for a UK-based travel agency. This project encompasses the entire process of travel booking, right from the start till end. There are different applications for diverse jobs like
Manage users like guests, suppliers, agents, employees etc.
Manage products like flights, transfers, accommodation etc.
Travel booking
Integration with third-party apps
We used VB .NET, C# .NET, SQL Server, and Azure DevOps for this project. There are major benefits experienced by the business user such as comprehensive travel management from enquiry till travel feedback, automated tasks with respective actions, and auto calculation of financial values like costing, margin, profit, etc. The consumer also enjoys benefits like viewing itinerary details, email communication about trip, and viewing daily travel schedules through mobile apps.
Our Technological Capabilities
.NET – Our dedicated developers have been specializing in innovative, customized, cost-effective, and result-oriented .NET web development solutions using versatile, cross-platform, and modern .NET frameworks. Our service portfolio includes custom development, migration services, .NET integration, .NET core development, web and desktop development, mobile app development, and enterprise development.
Power BI – Our Power BI task force has been developing data-driven approaches that supply perceptions into critical areas, support decision-making procedures, and detect emerging trends, making the most of data. Our service offerings have been leveraged by global clientele – reports & dashboards, advanced analytics, strategy & consultation, migration services, integration services, consultancy, and customization.
React – Our React resources have been catering to specific React JS development requirements to offer progressive web and mobile applications that are aligned with desired business workflows. The services that we offer consist of custom development services, web and mobile app development, app migration, front-end development, interactive UI/UX development and plug-in development.
Node – We have been offering comprehensive NodeJS development services that assists clients to empower their businesses with data-critical and real-time applications. Our NodeJS developers have been showcasing the best of industry and technology standards, presenting the custom Node.js development, API integration and development, app migration, plug-in development, consulting, and maintenance.