Power BI Consultant: An Exhaustive Guidebook
In recent times, organizations, worldwide have taken on business intelligence services and solutions as an indispensable ingredient for their business success. And when we talk about business intelligence, the one obvious choice that comes to our mind is Microsoft Power BI. Power BI has been a preferred choice for garnering actionable insights and taking data-driven decisions for business agility and growth.
Power BI consultants are in high demand today owing to its bunch of salient features that help generate self-service analytical reports and dashboards. Microsoft Power BI consulting services have been carving a niche through skilled Power BI consultant resources.
Newer opportunities, roles, and responsibilities are being defined for Microsoft Power BI consultants. Through this comprehensive article, it will be interesting to read through everything about a Power BI consultant, how to become a Power BI consultant, their roles, responsibilities, skills, and salary.
Power BI Consulting Services: An Overview
Microsoft Power BI is a robust BI solution that has been assisting organizations to take insightful decisions by associating with the bulk of data coming from disparate sources. Users can effectively visualize and perceive complicated data sets and attain maximum value out of them.
With salient features such as interactive dashboards, data modeling, and interactive reporting, Power BI consulting has been considered ideal for huge data analytical sets. Organizations are hiring Power BI consultants for implementing Power Query, Data Analysis Expressions (DAX), and data visualizations in their projects, and to gain an in-depth view of their business information.
As you start working with a Microsoft Power BI consultant, you will find them highly professional, well-trained, and equipped with technical knowledge of Power BI. Power BI consulting services focus on offering a user-friendly interface with drag-and-drop functionality and import facility for better analytics. As a collaborative and cloud-based tool, it also offers data models, ML models, and data relationships with complete data security and sharing.
A skilled Power BI consultant focuses on data sharing with organizations offering a 360-degree view of the entire business functioning through visually appealing dashboards and reports. There is a blend of services, frameworks, apps, and software that collect data from varied sources and transform them into useful information. All the key metrics are operated upon from a unified place with real-time access and all types of devices.
Power BI consulting comes along with different solutions like Power BI Desktop/Online, Power BI Pro, Power BI Premium, Power BI Mobile, and Power BI Embedded.
Also Read: Power BI Consulting: A Comprehensive Guide
Major Power BI Consulting Services Include:
Power BI Planning and Consultation
Power BI Designing, Data Visualization & Reports
Power BI Advanced Analytics
Power BI Development and Implementation
Power BI Integration Services
Power BI QA, Training & Managed Support
Hire Dedicated Power BI Developers
Power BI Governance and Implementation
Power BI Migration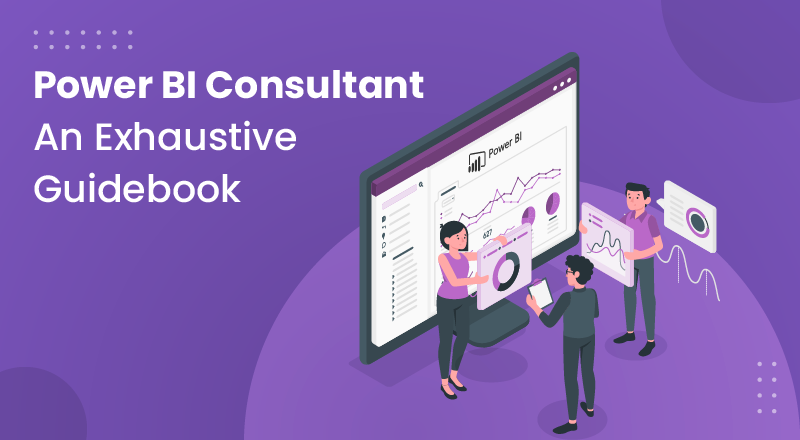 What Does a Power BI Consultant Do?
A Power BI consultant is a technical expert who is well-versed with business intelligence solutions and all nuances of Microsoft Power BI and its associated technicalities.
Power BI consultants assist organizations in augmenting their business processes, decisions, efficacy, and data strategies. They undergo detailed analysis and define a detailed BI roadmap for further course of action, aligned with the organizational goals and business requirements.
Power BI consultants are considered responsible for creating innovative data analysis policies for enhancing data model implementation and data analytics methods.
They work on creating a variety of analytical reports and dashboards that can be delivered to the top management for better decision-making.
They follow company standards, regular norms, and regulations aligning their work continuously with organizational needs, be it a new requirement or redoing existing ones.
With thorough data administration, the Power BI consultants transform raw data into meaningful and valuable insights that can help in spotting trends and patterns.
How to Become a Power BI Consultant?
Becoming a Power BI consultant is in rage today. But many are still confused as to how to become a Power BI consultant. Here are the crucial steps that must be taken care of:
Understand your data analytics concepts well to leverage it in your reports
Perceive the technical aspects of Power BI, web development, and programming through online material and books
Get known to Data Analysis and Modeling (DAX) language for data source management
Understand data integration methodologies and different sources of data
Learn the Power BI architecture and components through tutorials, online materials, videos, and learning material
Sharpen your data presentation skills by learning different visualization capabilities
Power BI Consultant: Roles and Responsibilities
As a Microsoft Power BI consultant, there are certain roles and responsibilities that must be adhered to, here are they:
Perceive business requirements and design data models based on raw data
Create visually appealing and interactive dashboards and operational reports
Identify KPIs with definite goals and use historical data for decisions
Make data documentation based on data algorithms and models
Execute DAX queries and functions
SQL querying for accurate output
Creation of custom charts and graphs based on filters, algorithms, models, parameters
Experience in MS SQL Server BI tools, SSRS, Power Query, MDX, DAX, Power BI, T-SQL
Understanding of database concepts like multidimensional database design, relational database design, etc.
Creating predictive models and machine learning algorithms
Performing big data analytics for the identification of patterns and trends
Data extraction, data visualization, multidimensional data models, data warehousing
Development and administration of related tools and technologies
Design, create and implement Power BI scripts with detailed analytics
Offer continual support and maintenance for accurate and effective dashboards
Analyse existing ETL processes and design newer systems
Working with SSIS, SSAS, SSRS, and data warehousing concepts
Getting well with team members at all levels for the best performance
Power BI Consultant: Key Skills Involved
There are certain essential Power BI consultant skills that must be demonstrated whenever you are looking for effective resources in Power BI consulting services, without which it is a tough task to get the best from the technology stack. Here are the key skills needed:
Technical Skills:
Experience with Microsoft BI tools, technologies, and systems
Implement row-level data security protocols, write DAX expressions
Knowledge of scripting languages like Python, R
Known to data modeling, SQL querying, OLAP
Power Pivot, SSRS, SSIS, SSAS
Robust knowledge of SQL, Excel, PPT, and database connections
Developing dashboards, reports, and KPI scorecards with Power BI tools
Conversion of data into visually appealing visuals and dashboards/report
 Preparation of tabular and multidimensional models
Knowledge of secondary tools like Azure Databricks, SAP, SQL data warehouse, etc.
Embedded analytics through Power BI services
Expertise in ETL and data analytics techniques
Advanced-level data computations on different datasets
Competence to execute DAX queries on Power BI Desktop
Software development skills
Database design, maintenance, querying
Data mart development and data warehousing
Dashboard UI/UXX and analytics
Reporting formats like matrix, charts, graphics, tabular, etc.
Dimensional modeling expertise
Web development methodologies and technologies
JSON query language, REST services
Complex SQL query building and execution
Agile/Scrum experience
Soft Skills:
Analytical thinking, problem-solving, and business understanding skills
Strong communication, multitasking, and verbal skills
Competence to work in a complex environment
Strong customer management skills
Ability to learn and respond quickly to changing needs
Best practices in development and design
Interpersonal and self-motivational skills
Application of knowledge and experience to solutions
Team leadership and pioneering skills
Power BI Consultant Salary:
Looking at the increasing popularity of Power BI consulting services, the Power BI consultant salary is seeing no boundaries. Though there are many parameters involved, there is a lot of scope and demand for Power BI consultants. Here is a sneak peek at what they are getting, around the globe:
The average Power BI consultant salary in the USA is $112,313 per year or $54 per hour. Entry-level positions start at $91,725 per year while most experienced workers make up to $141,375 per year.
The national average salary for a Power BI Consultant is ₹6,53,957 in India.
The average annual salary for Power BI Developer jobs in Melbourne ranges from $115,000 to $135,000.
The average salary for a Business Intelligence Consultant with Microsoft Power BI skills in the United Kingdom is £44895.
The average salary for Power BI Developer in Germany is 63.000 EUR per year, while the median salary is 60.000 EUR per year.
Power BI Consultant: Final Thoughts
Our Power BI consulting services propose comprehensive business intelligence solutions using Power BI including dashboards, data management from several sources, reporting, custom visualization, and unconventional analytics through one single platform.
Our experienced Power BI consultants help build data-driven strategies that supply insights into critical areas, establishes your decision-making procedure, detects emerging trends, and unlock the hidden potential of data.
SPEC INDIA's deep technology proficiency in Power BI consulting assists organizations to garner greater results in data management, modeling, data reporting, and analysis. Our Power BI consultants derive insights based on data across the organization along with interactive reports and customized dashboards.
Hire a Power BI developer from SPEC INDIA, since our team of Power BI consultants and BI developers can turn data into actionable insights by leveraging knowledge and years of experience. Contact us for any kind of Power BI consulting or hiring services. We will be glad to assist.
SPEC INDIA, as your single stop IT partner has been successfully implementing a bouquet of diverse solutions and services all over the globe, proving its mettle as an ISO 9001:2015 certified IT solutions organization. With efficient project management practices, international standards to comply, flexible engagement models and superior infrastructure, SPEC INDIA is a customer's delight. Our skilled technical resources are apt at putting thoughts in a perspective by offering value-added reads for all.