Quarterly Newsletter October 2022

As Your IT Partner We have The Right SPEC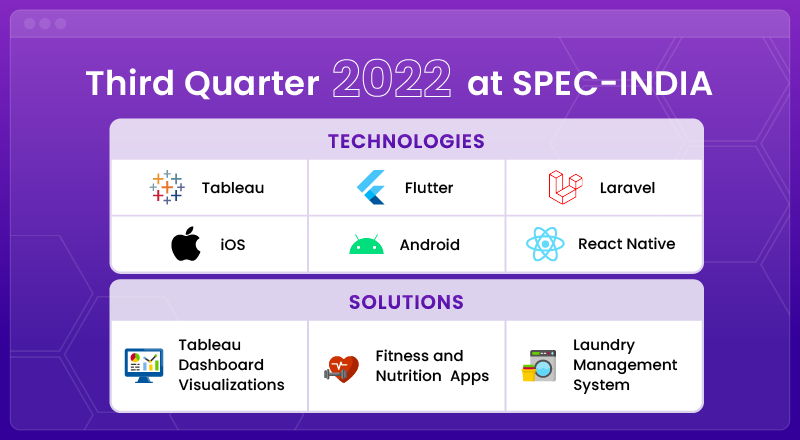 Implementing software solutions and services in cutting-edge technologies has been our forte and we leave no stone unturned in offering robust software solutions to our clients. This quarter, we continued to serve our clients a platter filled with modern-day technologies like Tableau, Flutter, Laravel, PHP, iOS, Android, and React Native.
Our business intelligence team successfully implemented two projects in Tableau, one for a Kuwait-based client and yet another for a French company.
The client based in Kuwait is a popular fashion brand operating in multiple countries with over 100 stores in the Middle East. Our BI solution has created visualizations for trial balance to help them analyze the profit and loss, closing amount balance, expense related KPIs for different stores. The solution helps them in easy monitoring of closing balance and expenses based on monthly, quarterly, and yearly data.
The French company specializes in testing, inspection, and certification for a variety of sectors like building and infrastructure, agrifood and commodities, marine and offshore, industry, and consumer products. Our BI project creates visualizations through dashboards to track the progress of employees, derive sustainable and non-sustainable programs, ascertain involvement of employees in different programs.
We recently implemented two important projects in the Fitness and Healthcare category.
One is a social fitness, remote training, calorie, and activity tracking application for a USA-based client with iOS for the mobile app and Laravel PHP for the web application. It comprises of key features like social fitness, meal tracking, remote training, activity tracking, messaging, squads and groups, recipes and meal plans, and nutrition store.
This application has been offering consumer benefits such as daily tracking of meals and exercises, marketplace for fitness items purchases, wide database for searching for recipes, exercises, and meal plans. It also offers business benefits such as comprehensive platform for inventory management and employee management, easily customizable for any type of fitness need, workouts, and exercise plans.
Yet another feather in the cap was the completion of a fitness and nutrition platform for a UAE-based client with Flutter for the mobile app (iOS and Android) and Laravel PHP for the web application. This application assists users in searching for any fitness workout and nutrition plans along with features such as search trainer, subscription to any workout plans/recipes/nutrition/meals.
This application has been offering a great advantage to workout trainers for creating their profile and uploading an entire workout gallery. Users can customize workout plans, search for the best workout trainer, and look for specific meal plans and recipes.
Amongst the enriched bouquet of software business solutions powered by SPEC INDIA, a very popular one is the Laundry Management System. We deployed the same for a UAE-based client and had an institutional implementation in Mauritius for a client providing laundry services to all hotels.
It is a comprehensive garment tracking app that commences from the client location and moves onto the store, washing units and reaches back to the client location. There are relevant features like effective management of racks, detecting aging of garments at a particular location, classifying processes for best of operations, marketing ads on paid basis, store supply request, lodging and management of complaints.