Top 15 Power BI Dashboard Examples For Better Insights
There is a vast difference between collecting data and actually using it.
Every company understands the importance of data but a majority of them struggle to uncover its full potential.
The volume of data keeps rising, and data technologies change every other day. This makes it more difficult for the organizations to benefit from data investments and place a data-driven strategy across the organization.
People understand data differently. Good data-driven strategies that make a base for informed decisions can't be created without people invested. But, to earn people's attention, you need to make data visualizations compelling and easy to understand.
At this moment, many powerful and advanced data analytics and data visualization tools made it possible to create powerful and engaging visualizations quickly. Power BI visualizations are one of the easiest ways to start your data visualization journey and tell an amazing data story.
Data visualization is the graphical representation of data through dashboards, interactive reports, charts, graphs, and other formats.
Data visualization with Power BI enables anyone to collect, prepare, analyze, and visualize data in minutes and help make better business decisions. Dashboards are an important visualization format that provides 360-degree-view and helps quickly gain insights.
In this blog, we are showcasing the Top 15 Power BI dashboard Examples that help you understand how Power BI can be used to illustrate different scenarios, and offer insights through well-designed and carefully-selected KPIs.
Before we start, let's first go through a quick introduction to Power BI dashboards.
What Is Power BI Dashboard?
A Power BI Dashboard is like a canvas that is used to tell a story. It presents the most important data points in various elements within one single page.
It is an entry to the reports that are based on the dataset. Well-designed dashboards contain only important points of the data story. If you select or click a particular tile (snapshot of data), it will take you to the main report from where it is taken.
Dashboards are good to monitor your business performance, sales performance, or any important parameters at a glance. It offers a bird's-eye view of your business and helps you create data-backed strategies for future actions.
Dashboard in Power BI may come from one or many reports or underlying datasets or many. It represents a consolidated view of important business metrics.
This single-page visualization in the Power BI dashboard automatically refreshes when the dataset gets updated, and thus, you can have real-time tracking of the data that matter the most.
A Power BI Dashboard is easy-to-understand, easy to create, intuitive, and user-friendly. It supports data sources such as Excel, Text/CSV, IBM DB2, MySQL, SQL Server database, JSON, Access database, and PDF.
You can analyze data, identify patterns, and extract insights from the Power BI dashboard that help you make informed decisions.
Power BI Dashboards Can Be Used To Show:
Overall sales performance of a business
Entire customer acquisition funnel
How the sales number compare to different periods
Healthcare KPIs covering various metrics, demographics, and scenarios
Customer service and how long it takes to resolve issues
Top performing products in terms of profitable revenue
Social media monitoring and analytics
Patients management and demographics
Inventory analysis and management
Hospitality management
Time-tracking and project management
Sentiment analysis and brand engagement
There are several scenarios and parameters, and based on that a dashboard can be created. Before creating a Power BI dashboard, you need to decide on users who will use it such as managers, sales representatives, executives, decision-makers, or everyone in the organization.
Do You Know?

Microsoft was positioned highest for Ability to Execute and furthest for Completeness of Vision in the March 2022 Gartner® Magic Quadrant™ for Analytics and Business Intelligence Platforms.
Let's see popular Power BI dashboards examples. Each of them tells a different data story that creates a foundation for your data-powered decision-making.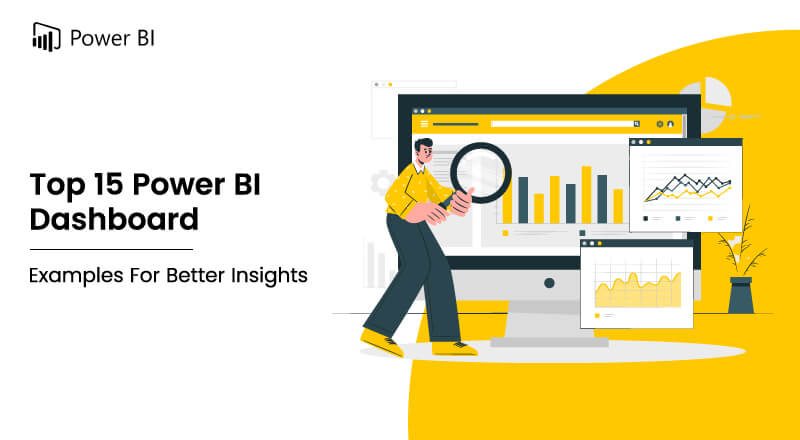 Popular Power BI Dashboard Examples: Derive Actionable Insights
Sales Analytics Report
Inventory Stock Analysis Dashboard
Mall Analysis Dashboard
Social Media Monitoring & Analytics Dashboard
Patient Management Analytics Dashboard
Property Developer Sales Analytics Dashboard
Retail Dashboard
Attendance Tracker Dashboard
Call Center KPI Dashboard
Financial Analytics Dashboard
Pharmaceutical Company Dashboard
CEO Dashboard
Trading Information Dashboard
Time Tracking Dashboard
Sentiment Analysis Dashboard
Sales Analytics Report:
This Power BI sales dashboard is used to visualize sales performance and sales growth with all possible metrics and demographics. With the well-placed tiles and graphs, it is easier to measure 'how your company is doing?' status.
This Sales Analysis dashboard in Power BI covers important parameters and KPIs such as primary and secondary sales by period and segments along with sales by brand, product code, state, partner, and dealer name. You can also compare sales and profits against the previous years and apply a filter based on segments, year, product, and dealers to get general sales to view over the specific period.
You can also compare sales performance based on year to have an at-a-glance view of sales activities. This sales analytics dashboard covers the sales team's performance and can be used by sales leaders and managers to create data-driven strategies. It has three pages covering primary sales details, secondary sales details, and primary & secondary sales with inventory valuation.
It may include various important metrics that are required by the sales team to manage and track their performance.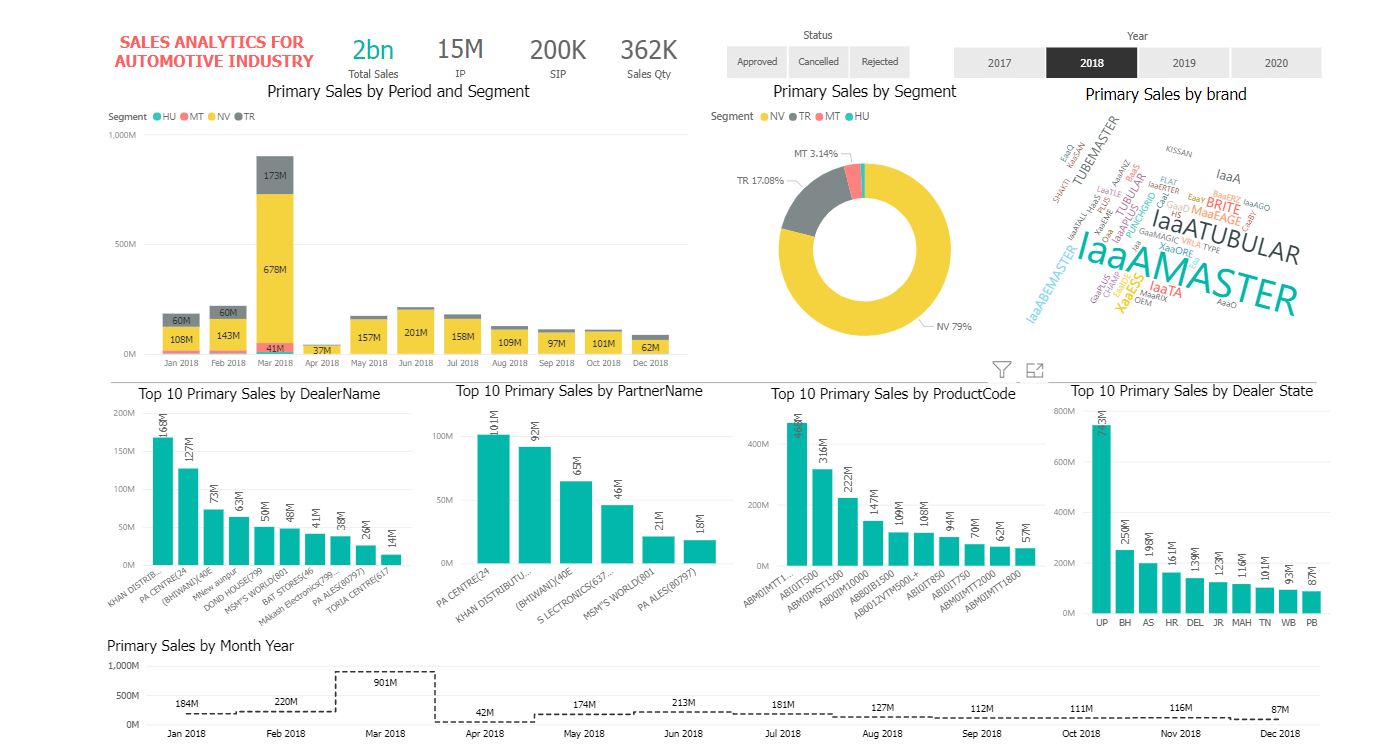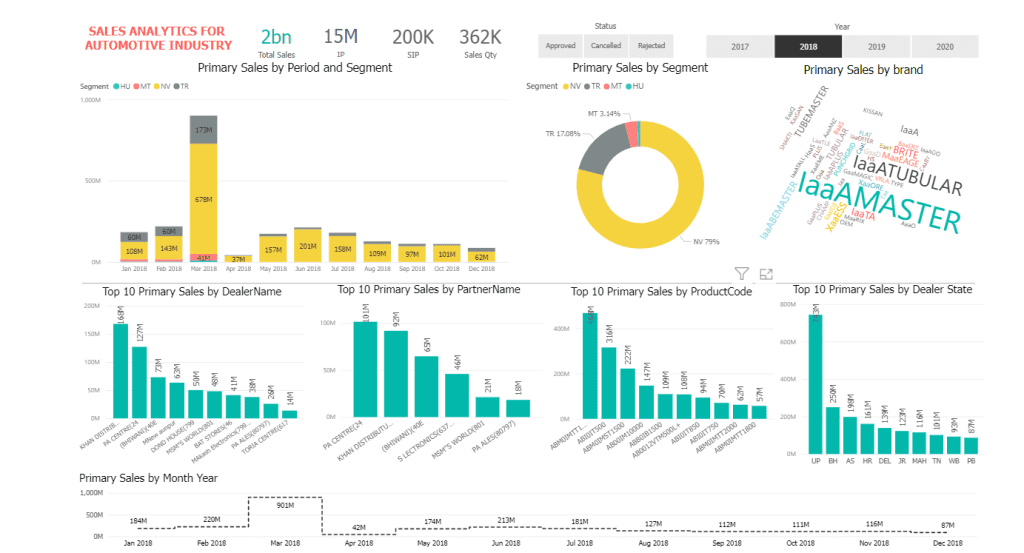 Inventory Stock Analysis Dashboard:
Power BI offers easy-to-understand visualizations with a visually appealing and intuitive user experience.
This Power BI inventory dashboard is one of the important Power BI dashboards examples that can be used in various industries such as retail, FMCG, manufacturing, hospitality, education, restaurants, and businesses of any size to operate smoothly and keep up with customer demand.
Inventory management is vital to keep track of goods and stock you needed to function properly. Inventory dashboards offer greater visibility of your stock and manage it effectively in real-time.
This Power BI inventory dashboard provides insights into customers' product views and inventory. You can also see the most viewed, least viewed, and unviewed top 5 products. This inventory analysis dashboard provides percentage-based classification with total sales of apparel.
It allows you to see segmented data such as data for sales and inventory for quarters and gender-based clothing. Using this inventory dashboard, you can predict the availability of stock and the time to restock based on the Fulfillment Cycle and MarkDown variance.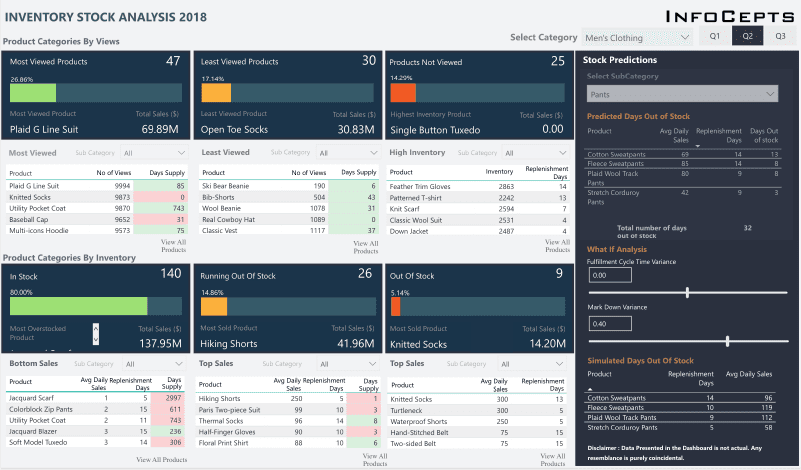 Mall Analysis Dashboard:
This dashboard is a perfect Power BI dashboard example for any shopping center, mall, plaza, and arcade where there is more than one brand of stores and outlets.
It offers an at-a-glance view of customers who visited and sales made by various stores. You can also see data by category such as footwear, clothes, groceries, and so on. Using this dashboard, comparisons can be made between current and previous months and also against the targeted goals.
You can also view the data of a particular store by clicking the stores from the top left corner. This mall analysis dashboard also displays the top five stores that have the most customer visits and sales.
This dashboard helps you make important marketing decisions and strategies based on customer behavior and interests. It also reveals the mall's foot traffic and potential buyers.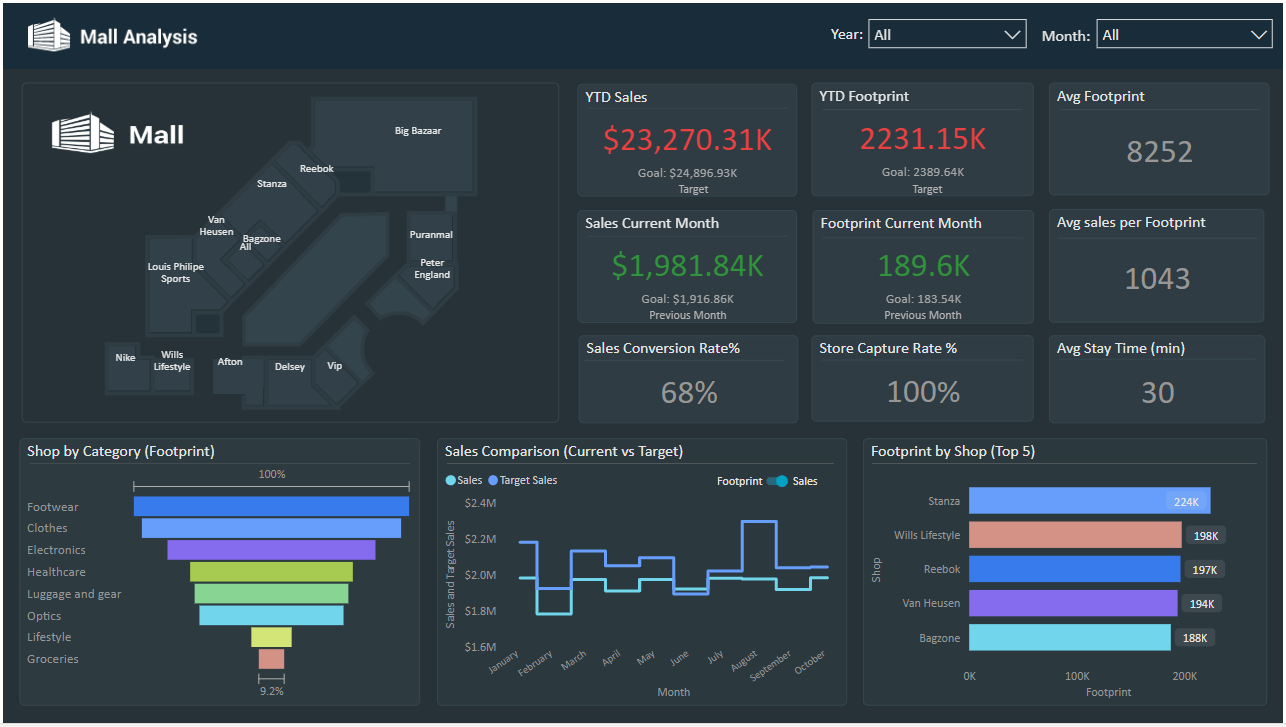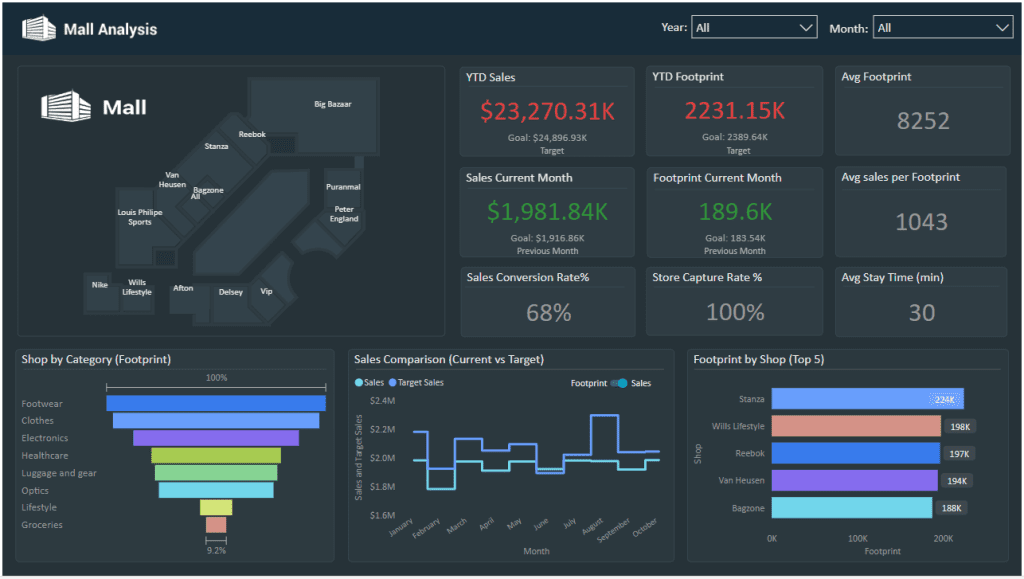 Social Media Monitoring & Analytics Dashboard:
Today's businesses must use social media for their marketing activities. Social media is an important part of marketing strategies for any business.
This Power BI dashboard represents the social media monitoring and analytics of a popular snack brand. It offers detailed insights into social media reaches, mentions, sentiments, and users.
A social media analysis dashboard can be used to create marketing strategies, improve sales, understand the users, and manage the branding of your business.
This dashboard covers web sources, users, geolocation, online influencers, discussion intensity with mentions and reaches, quotes with positive and negative categorization, and so on.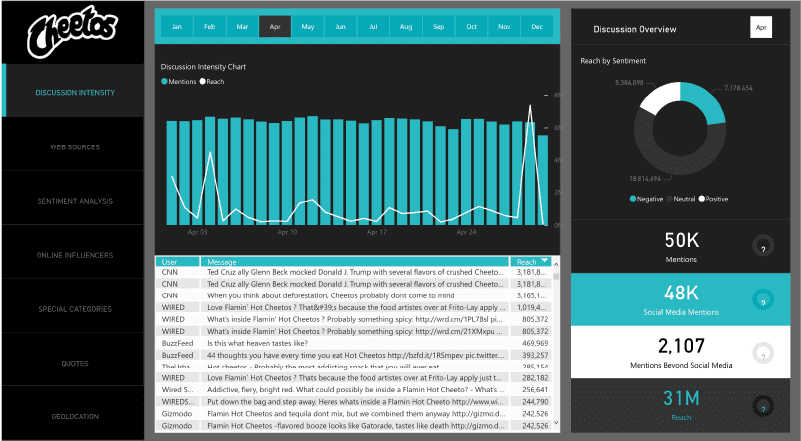 Patient Management Analytics Dashboard:
With all the necessary KPIs and metrics, this patient management analytics dashboard is one of the best examples of Power BI dashboards that show how you can monitor real-time metrics to make data-driven decisions.
It is a data-rich and interactive dashboard showing important information such as the total number of patients, patients in ICU, physicians, departments, country, state, city, patients who died, readmitted patients, and average days of discharge. You can also see average waiting times to identify departments that are busier than the others along with ideal waiting times. It also shows the number of patients by LOS Bucket, patients by hospitals, age group, and discharge type.
It can be used by multispecialty hospitals or a chain of hospitals to manage all areas and departments of hospitals in different cities and states.
The patient management dashboard helps administrators take timely decisions and proactively identify key trends and patterns from the data.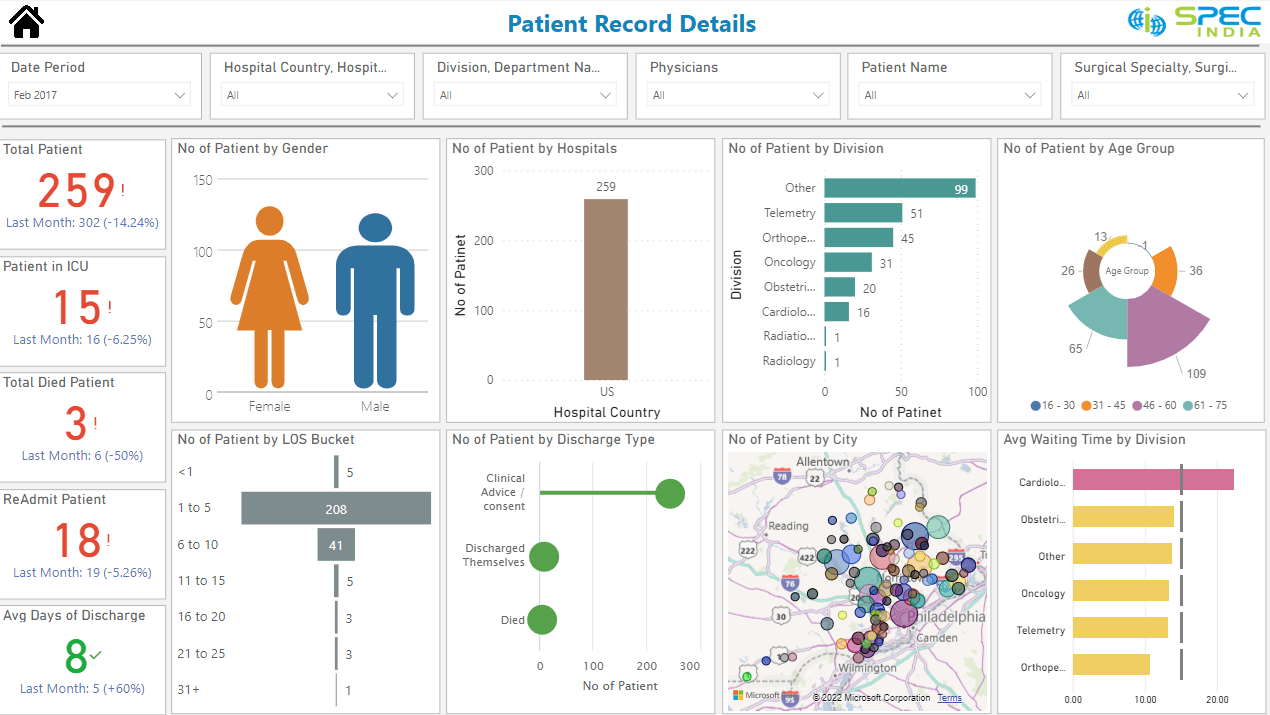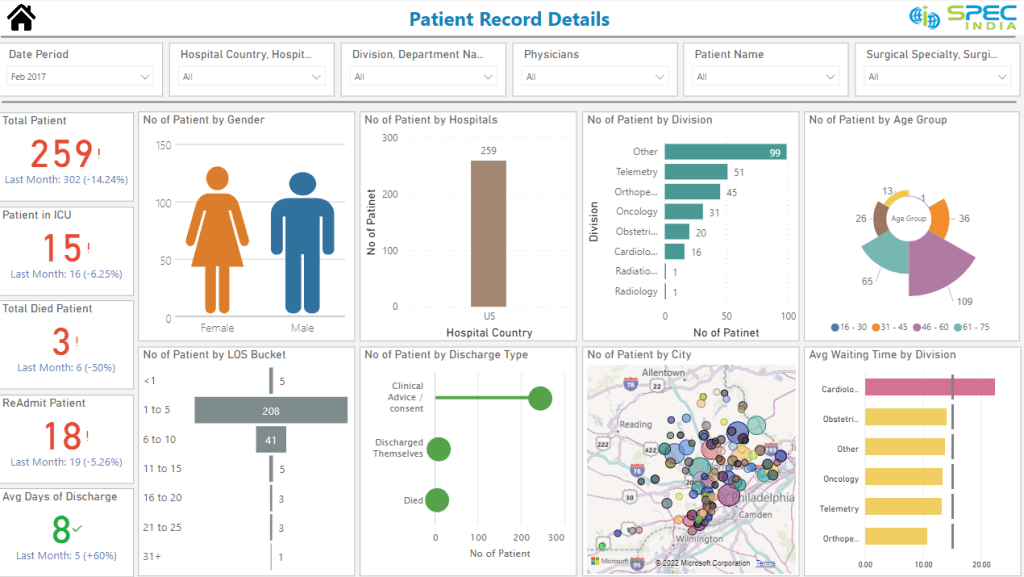 Property Developer Sales Analytics Dashboard:
This dashboard presents the sales dynamic for real estate. It shows detailed information in eye-catching visuals in three parts – main, sales team, and call center.
This Power BI dashboard shows property developers' sales analytics with key indicators and calls center details. The cards in the main dashboard represent total sales by projects, finance, and marketing details.
The second dashboard displays the efficiency of the team's cold calls with the conversion rate, the average amount of calls, and visits by the manager. Conversion from calls to deals and comparisons of actual and target sales are also presented through the different visuals. The last page shows sales details with profit dynamics by months and a comparison of actual and target sales.
You can check revenue by property type and also get to know the manager's sales rate in a well-designed tile. It is a very useful dashboard for real estate and other property management businesses.
Retail Dashboard:
Data visualization is widely used in retail and allows retailers get benefitted from data-backed decisions to grow their eCommerce businesses.
It is one of the popular examples of power bi dashboards showing all-inclusive retail metrics with a 360-degree view. It is a comprehensive retail analytics dashboard offering the best data visualization experience through a clean, elegant, and well-designed template. You can access all the required information such as gross sales, profit, countries served, items sold, and the best month for receiving orders in a single go.
One of the highlighted parts of this dashboard is you can show the top sold category, sub-category, and product.
There are five pages in this retail Power BI dashboard. Starting with the overview, the other four important metrics are sales, profits, orders, and shipping. It covers all-inclusive KPIs and also offers Power BI row-level security features to control the access and implement restrictions based on user authentication and roles.
It can be used by directors, sales managers, leaders, retail managers, and anyone in planning and strategic decision-making that further increase growth.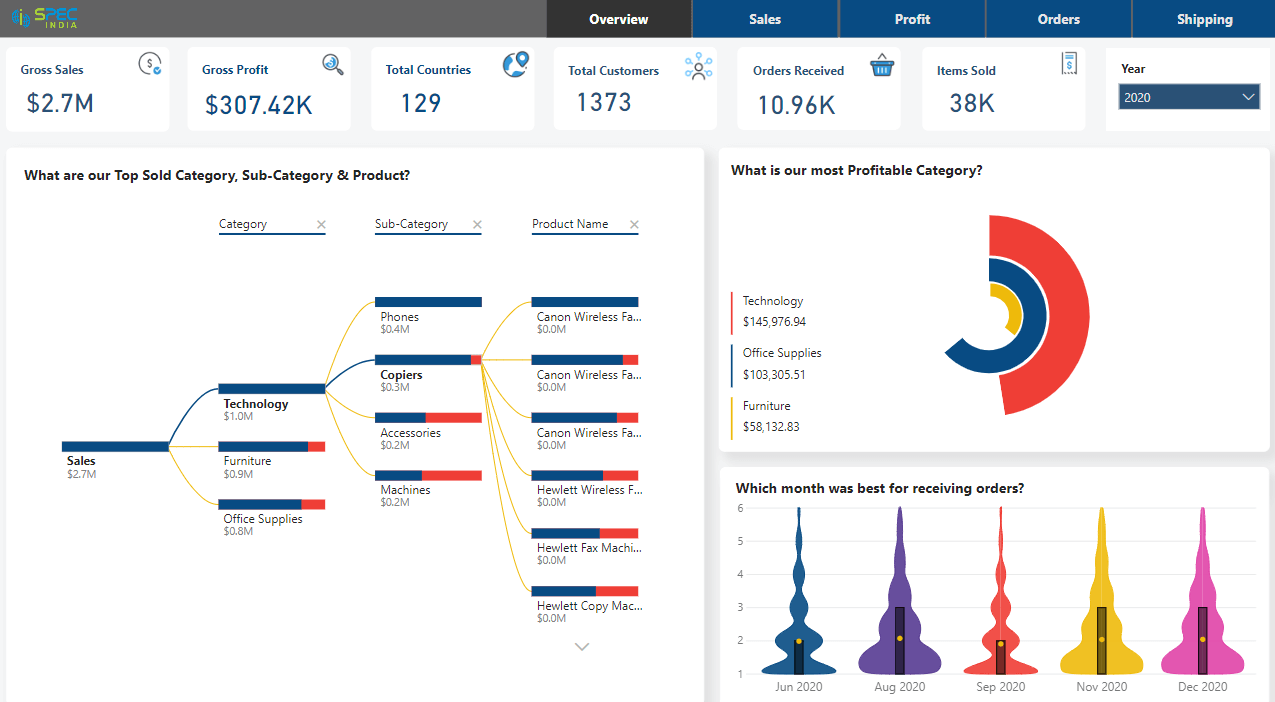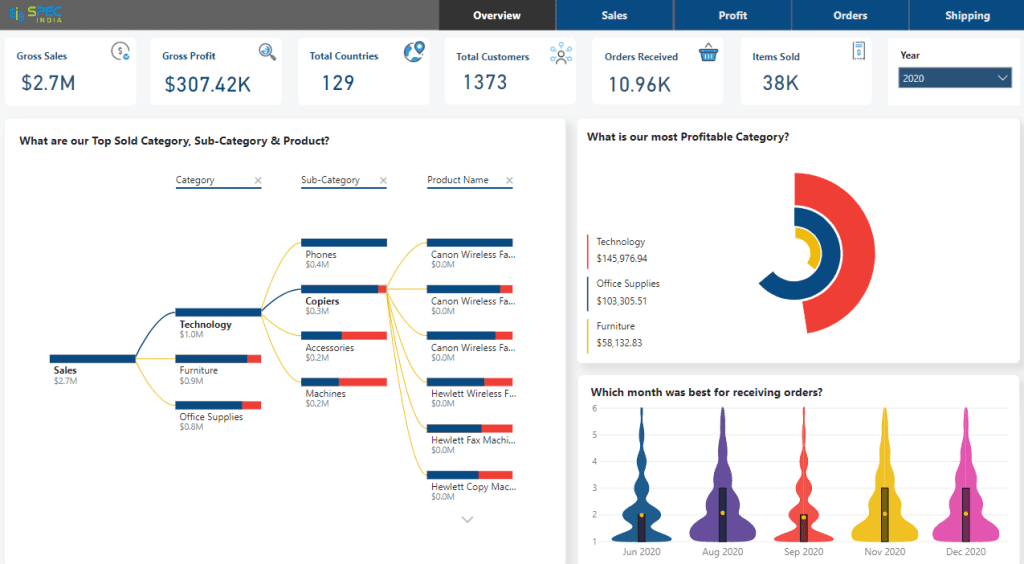 Attendance Tracker Dashboard:
This attention tracker dashboard is vital for educational institutes to track students' attendance and identify areas of improvement to increase engagement.
This is a powerful Power BI dashboard example showing how row data can be converted into information in an elegant and clear format. It includes many data points from many different classrooms, teachers, and schools.
This simple yet rich dashboard shows district-wise status, absence percentage by subjects/faculties, opportunities by the school (most important schools to work with, and conversation topics (detailed data on teachers, course, period, and day of the week).
The district status report displays attendance trends and goals and also shows predicted data for the upcoming month. The goal of this data visualization is to provide administrators with a high-level understanding of engagement between administrators, teachers, and students.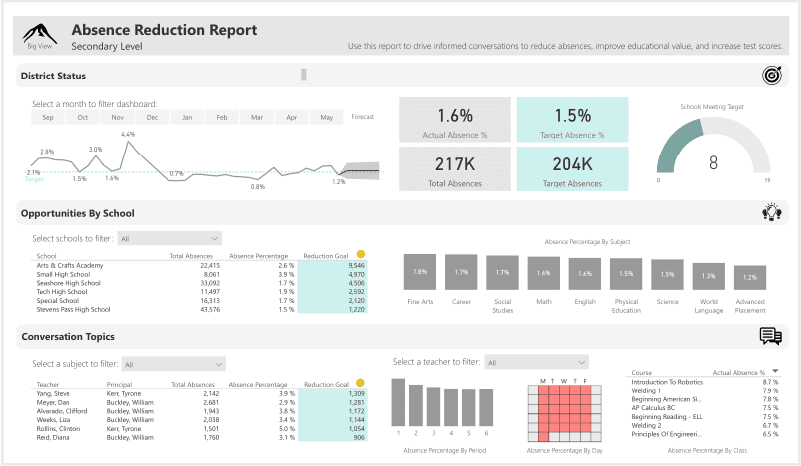 Call Center KPI Dashboard:
A call center power bi dashboard presents metrics and required KPIs that allow managers to monitor and optimize performance.
It tells the data story of a call center in clear, easy-to-understand, and intuitive visual formats that help managers and authorized personnel track each agent's performance. Power bi dashboard examples with data help you understand how Power BI can be used for various data visualization needs.
This call center analysis dashboard shows the number of calls, abandon rate, queued calls, avg call wait time, and time taken to answer calls. You can see the agent's performance and campaign type, call type, last element, calls by weekday, and time.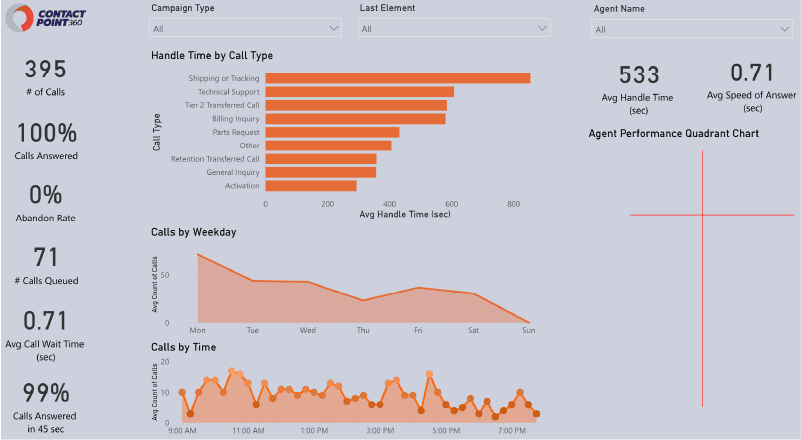 Financial Analytics Dashboard:
This is an ideal Power BI dashboard example to oversee your finance and get an overview of your total income and expenditure. This financial analytics dashboard includes important key performance indicators (KPIs) that help management make data-driven decisions based on the insights.
It shows income by month, location, time range, total revenue, sales, and expense details by departments, month, and period, and an overall comparison of income vs. expenditure through a bar chart.
It can be used by the store owner who owns multiple stores at different locations and shopping environments such as airports, bus stops, plazas, and malls.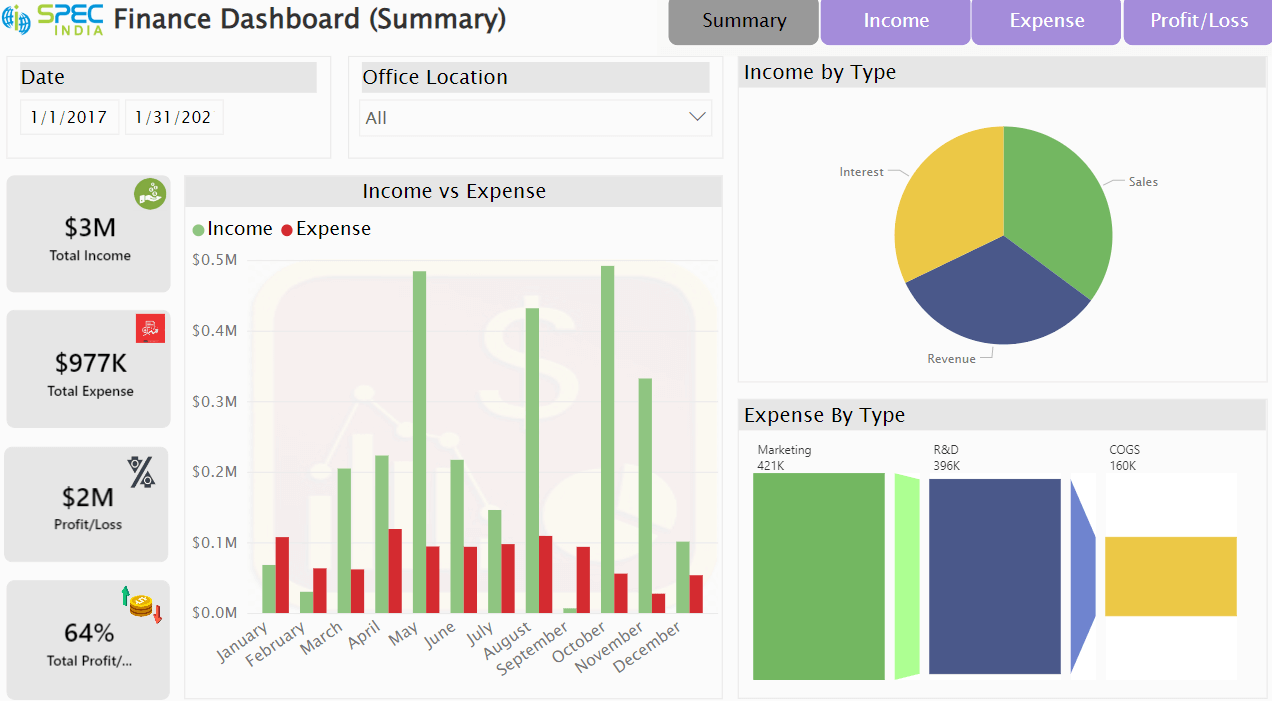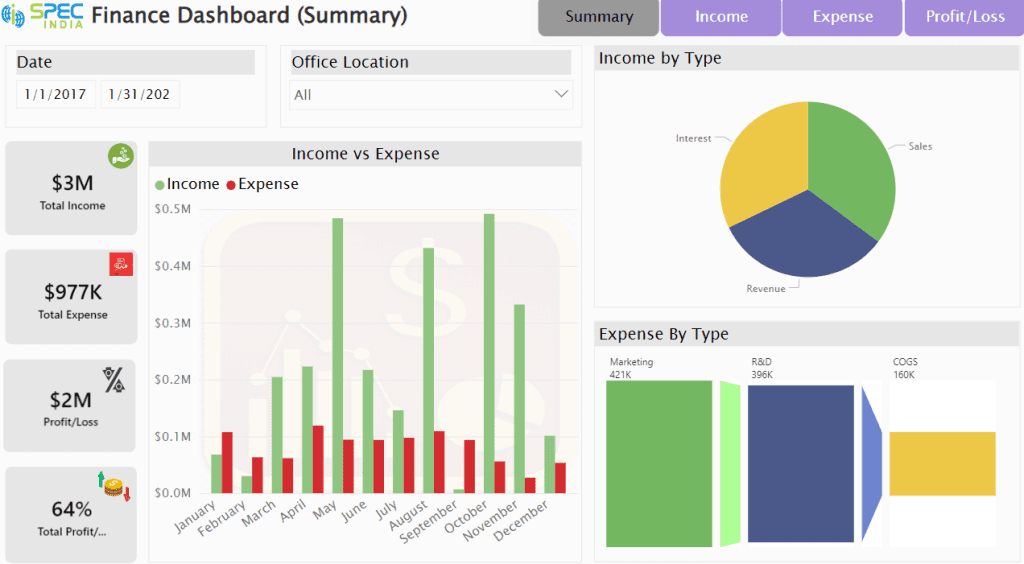 Pharmaceutical Company Dashboard:
This power bi dashboard example highlights the status of KPIs of the pharmaceutical companies. This power BI dashboard can be used by executives and managers to monitor trends, performance, and sales against defined sales targets.
It is a one-page report showing all relevant data clearly and nicely. You can choose a city to see regional sales performance and team results along with networking targets as well as the percentage of positive responses and number of contracts per day.
The bar chart and matrix display every department and sales manager's results. It works for pharmacy companies that own distributed offices across the world and their sales managers interact with the local pharmacist to promote their brand.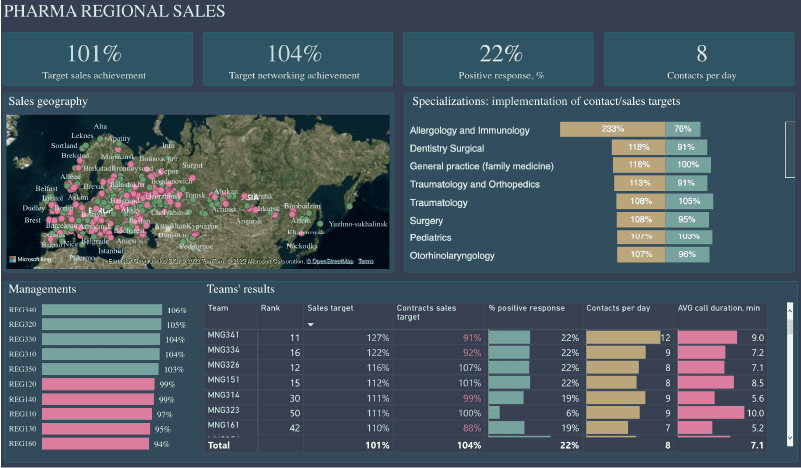 CEO Dashboard:
If you are looking for powerful CEO dashboard examples, then this power BI executive dashboard is for you. It offers the CEO(Chief Executive Officer) a high-level overview of important KPIs and metrics.
This CEO dashboard offers valuable insights into the performance of an organization and helps higher-level executives take data-informed decisions and strategically plan future roadmap. It gives a bird's-eye view of organizational information and business growth.
It includes several important business areas such as inventory, profit, revenue, performance, orders, and outage, top employees, and so on.
It shows month-wise performance, orders, full-time employees, gross profit margin, actual revenue, target revenue, avg failure ratio, unscheduled downtime, return and cost values, and inventory stats.
This is one of the perfect examples of power bi dashboards for CEOs and higher-ranking officials to have a 360-degree-view of business activities. They can draw a conclusion from this data to identify opportunities, trends, and areas of improvement.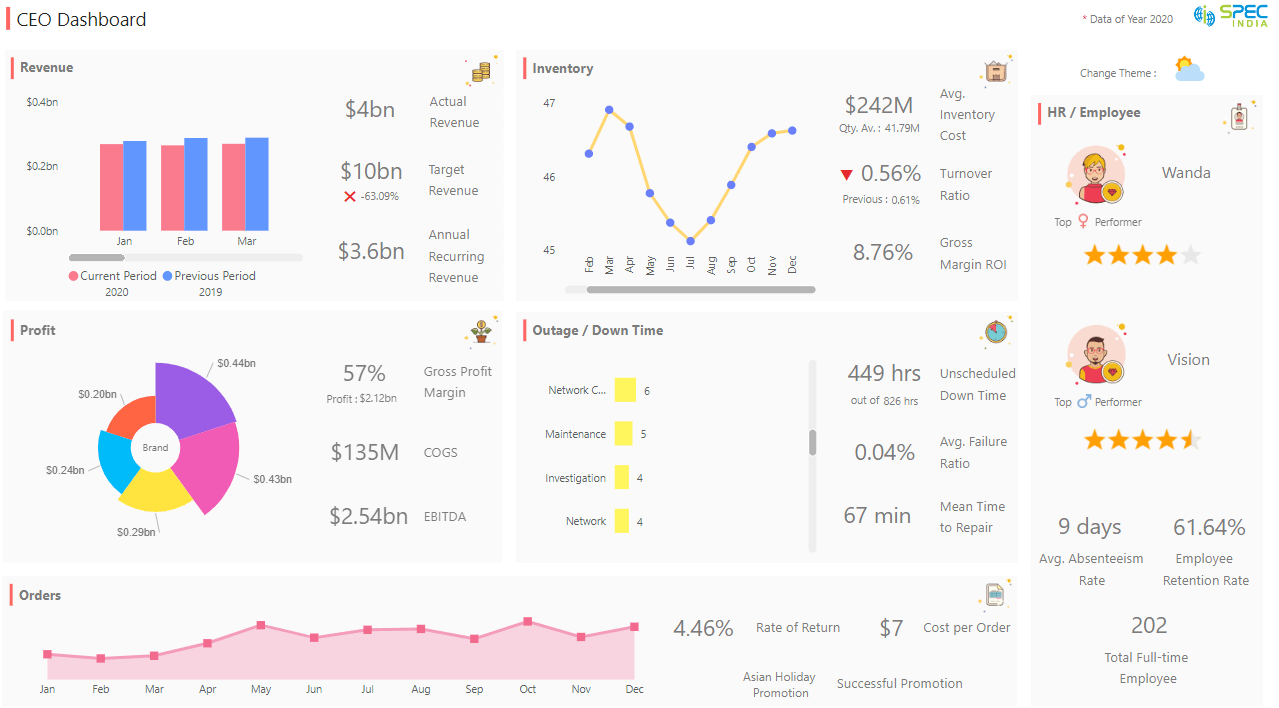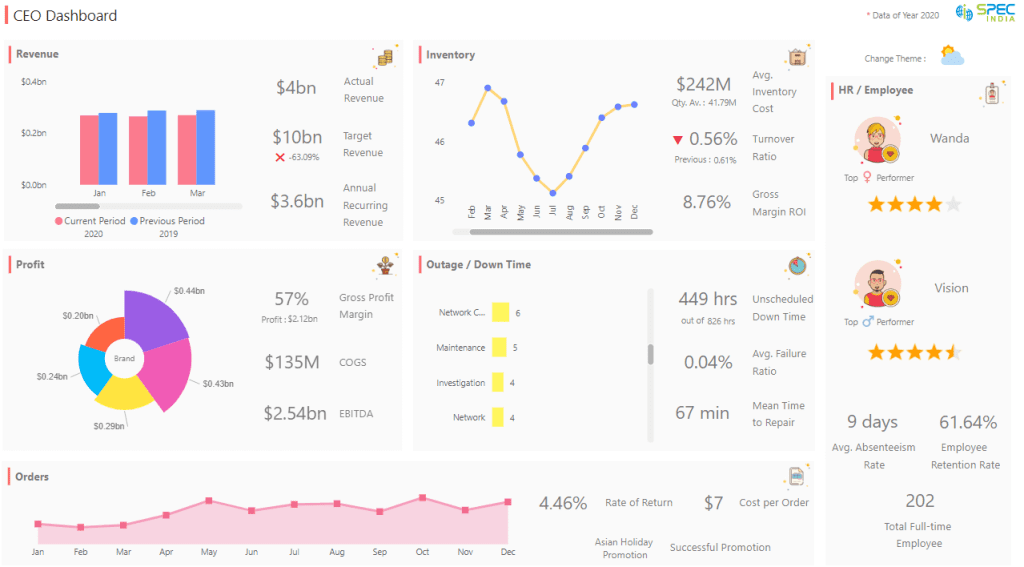 Trading Information Dashboard:
This trading information dashboard in Power BI helps you understand interesting trading analytics in Europe.
It consists of 4 different pages converting huge tables of data into an interesting and easy-to-understand format. Using this dashboard, you can get all information about all trading developments in the top -10 European countries by GDP during 2015-2019.
What Will You Get To Know?
Who was the leader in a particular period?
What was the most buyable and less sellable cargo category?
Which transport was used the most for those cargoes?
A rating of cargo groups
Global trade dynamics with year-wise trade volume in ton, trade volume Euro, and CAG
Trade by countries, categories, and dynamics by mode of transport
Export-import trade numerals by countries – partners
Cost dynamics by category and trade volume by groups
This trade analysis dashboard can be utilized for data-driven decision-making. It offers many insights into trade and export-import data along with countries with profitable trade and sales.
It is well-presented with various filters and it is easy on the eye. This dashboard makes data stories more compelling and data more understandable, enabling us to view data with simplicity and relevancy.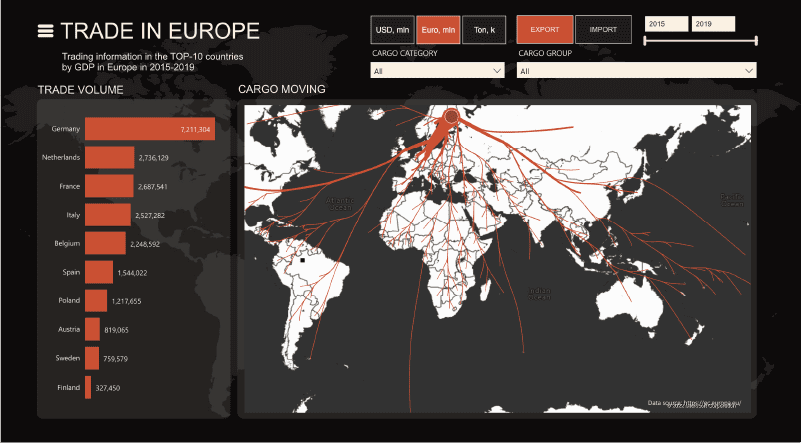 Time Tracking Dashboard:
This is an easy-to-use, simple, and effective time tracking power BI dashboard that presents a summary of employees' time tracking data. Using this dashboard, you can see employees' productivity, applications, tasks, and interval during the day or during a specific period.
It Includes:
Productive/unproductive/neutral time of employees
Top 5 applications by productive time along with interval and total time spent on the application (hover on the application name to see this)
Bottom employees by avg productive time
Productive time in a specific 1-hour interval
View employees' arrival and exit time along with total break time
Overall productivity percentage for a selected time range
Productive time of an employee with a monthly comparison to the current date
Current and previous day productive time for a particular period
Green color when productivity is above 85% and red when it is below 85%
Total break time and total time at the desk
Project and task-wise time taken for a particular date or a month
Total time is taken by the project along with task details
This time tracking Power BI dashboard helps business owners, managers, HR, team leads, and other senior employees monitor time and plan wisely. With the visualized data, top management can make better and faster decisions, improve performance, and streamline delivery.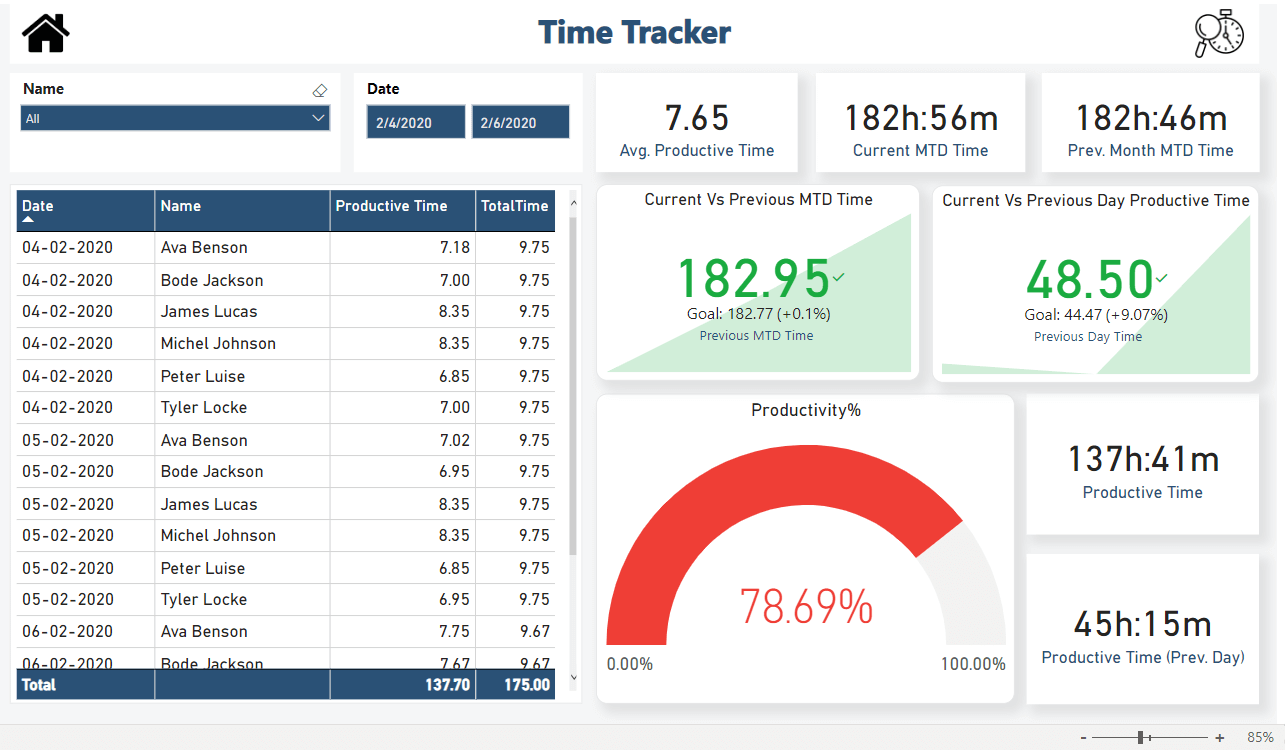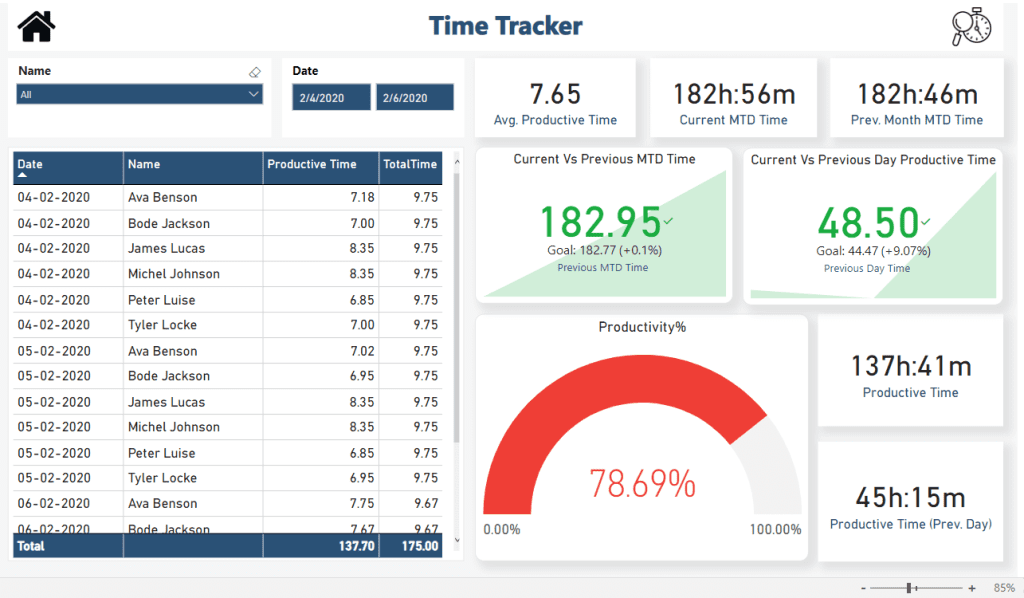 Sentiment Analysis Dashboard:
This is one of the useful Power BI dashboard examples that can be used for any global brand or a large organization to manage their brand through sentiment analysis and social media traffic.
It is a part of an 8-page report on online brand monitoring and offers insights into user sentiments associated with the brands. You can select a particular time range, sentiment type, and source and it shows mentions by category for that period.
There are four main categories and every user message is classified into these categories to identify how happy/disappointed your customer is with your products/services.
This type of sentiment analysis is a great way to observe customer data and share insights with your team for branding and reputation management.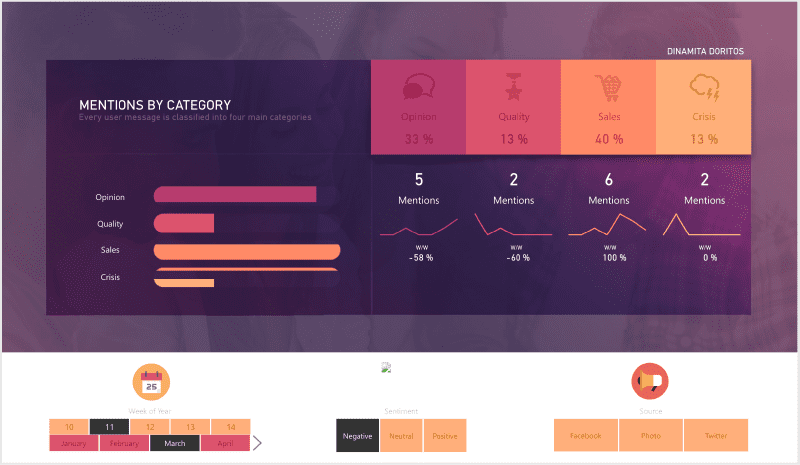 Power BI Dashboard Examples: Make Decisions That Matter The Most
"Learn data, and you can tell stories that more people don't even know about yet but are eager to hear." – Nathan Yau
Power BI is one of the widely used tools for visualizing and analyzing data. This article includes the top 15 Power BI dashboard examples and also shows how Power BI can be used to gain actionable insights from relevant data.
Data has the potential to keep you informed about any future risks and opportunities that you can't afford to miss. Data literacy is important in an organization to understand, read, and work with data. It empowers everyone at every level and enables anyone to go beyond analysis to interpret data and make data-backed decisions.
SPEC INDIA, as your single stop IT partner has been successfully implementing a bouquet of diverse solutions and services all over the globe, proving its mettle as an ISO 9001:2015 certified IT solutions organization. With efficient project management practices, international standards to comply, flexible engagement models and superior infrastructure, SPEC INDIA is a customer's delight. Our skilled technical resources are apt at putting thoughts in a perspective by offering value-added reads for all.