5 Prime Reasons your Web Design Isn't Working and How to Fix It
"Design is Thinking Made Visual."
And hence, so truly said and experienced, any web design that we look at can be attractive and efficient only if it manages to catch our eye and make us stick to that site for long. Any customer – prospective or existing is going to visit any website with a certain thought process and requirements in mind, which they presume, would be satisfied through visual interpretation in the proposed solution. And hence it becomes primarily imperative to have UI/UX development and design all set to woo the customers for long.
You spend a volume behind getting a very attractive and stable web design, as an output but are unable to get the needed viewership and the requisite response. Why? You may have lots of visitors moving around the site, but the visit time is hardly a few seconds and there is least of profit earning via the site. Why?
The basic reason why visitors don't stick to the website is the poor and unstructured web design. The UI is the prime forefront for any type of web application or site. There could be various reasons why the UI is unable to attract and retain visitors.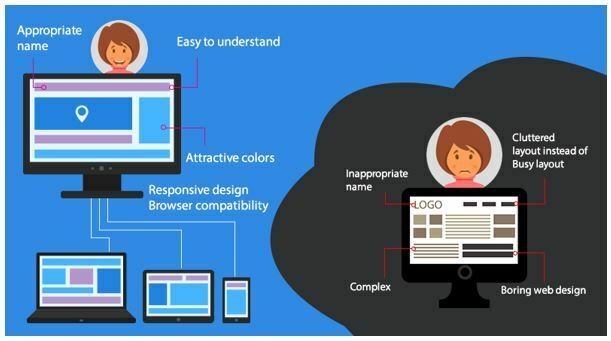 Why is your UI / UX Development Failing to Attract and Retain Visitors?
Though the below mentioned pointers are traditionally existing since a long time, there are a lot of chances that these may be overlooked or forgotten while developing and it could directly impact the business growth and efficiency. If the pointers are well attended to, your esteemed clientele will find it easy to find what they want.
Tangled, Jam-packed and Untidy Home Page – an Unpleasant Experience
The first impression creates the last impression. It is a matter of just 10 – 15 seconds which will decide if the visitor will continue to surf around of will exit. Sometimes, being over ambitious to fit in everything and more in a single layout boomerangs back with its side effects. Although there is so much needed to be shown, it has to be designed in such a way that it looks systematic, organized and well driven. Visitors need not have to play a treasure hunt to search for what exactly they are looking for. There is no need to be over ambitious in showing all the necessary content in one go. It can always be planned systematically and organized with user perspective.
It also needs a lot of consistency to be followed across the entire application / website. Since the end user is getting accustomed to a particular theme, it will be an unpleasant experience to keep experiencing changing environments all the time. To some extent, changes are always welcomed but not to be compulsorily fitted in.
All Content and No Graphics Makes a Website Dull and Boring
Keep writing long and it just doesn't keep the clients interest intact. There is a sure shot guarantee of getting bored and losing interest when it comes to merely reading through huge paragraphs of content. It is a visual treat to see graphics and diagrams drawn representing the huge volumes of content in a sleek manner. Have small paragraphs along with supporting graphics spread all over, which will sustain visitor interest and allure him to delve deeper.
Inaccurate Positioning of Call to Action (CTA) / Missing CTA
Many a times, the readers are moving around the website searching to whom to contact for further inputs. The CTA which should be an instantly viewable button, available at any point, sometimes gets lost in the puzzled pages and hence there are all chances of the client moving out of the site all together, feeling disappointed. The CTA should be appropriately positions and the parameters to be fed in should be bare minimum. You can't let your customer enter paragraphs of information which turn out to be of least usage. Keep it sleek and simple.
Design is Backdated and Unresponsive
Two areas that any web design needs to take care of, all the time – Latest up-to-date designs and Responsiveness. Just in case your web design does not reflect modern technologies, the very first impression that your visitor will carry is that our technologies are not up to the mark and don't follow the latest trends. Also, just in case the web design does not perform as per the device, the entire exercise of attracting the client goes in vain. It is highly important for the website to imbibe the mobile device layout sizes and fit in the necessary parameters, to give out a perfectly navigable performance.
Less Sharing of Documents with Clients who Actually are the Best Marketing Media
Instead of searching around for marketing associates, try to make your visitors your marketing media. If happy and satisfied, they would be the best partners to promote our products and also circulate necessary documentation for further reading. But, this can happen only if they themselves have easily been able to download / share documentation from the website, through social media integration.
Being creative is surely good but should be within boundaries of the above parameters, which are a must to have a balanced UI/UX development and design, with creativity and functionality at its best. A clean, sleek and proactive website is surely an attractive asset to the visitors.
SPEC INDIA, your IT partner, provides skilled, modern, attractive and visually enriched UI/UX designs with over a decade of experience serving elite clientele all around the globe. Indulging into a vast variety of technologies to support a robust design framework, we look forward to understand our client dreams and put our best foot forward to transform them into a tangible reality.
Visit to request for a Free POC to test drive our services.
SPEC INDIA, as your single stop IT partner has been successfully implementing a bouquet of diverse solutions and services all over the globe, proving its mettle as an ISO 9001:2015 certified IT solutions organization. With efficient project management practices, international standards to comply, flexible engagement models and superior infrastructure, SPEC INDIA is a customer's delight. Our skilled technical resources are apt at putting thoughts in a perspective by offering value-added reads for all.