Want Fruitful Results – Introduce FMCG Software Solutions To Your Organization
Updated
January 24th, 2023
Fast moving consumer good is a dynamic sector that is experiencing a boom in the global economy right now! Cutthroat competition and a wide variety of substitute brands make the FMCG sector extremely stimulating and challenging. The major challenge for FMCG companies to drive their sales pipeline and build customer engagement of the highest possible level.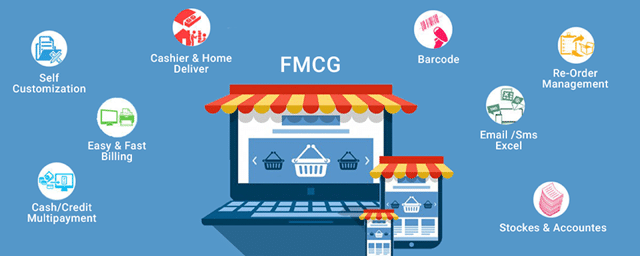 So, how do FMCG companies make a mark in the industry or gain a strong business advantage over their rivals? Investing in a good FMCG software or sales force automation software (SFA software) is a holistic solution that can boost up product visibility, sales, and customer retention to a great extent. FMCG companies have a diverse and vast range of operations – right from distributors, suppliers, and retailers to product inventory and a large sales force, there are numerous aspects that have to be managed simultaneously.
FMCG software can prove to be a miraculous platform that can help business executives store and update large volumes of critical customer information, along with streamlining the entire sales cycle efficiently. SFA software systems act as integrated solutions that provide a convenient platform to track marketing campaigns, monitor sales team member progress and open two-way customer communication through social media and other digital forums.
The market space is today flooded with a variety of different FMCG software suites – make sure to research carefully and choose a comprehensive system that suits your unique organizational needs. Here are some amazing benefits that your FMCG firm can instantly accrue through getting SFA software:
Improve Sales Team Performance
Managing the sales figures of any FMCG company is certainly not an easy task. SFA software is a very helpful tool as it provides sales team members up-to-date current data on prices, customer contact details, purchase history and other personal information. Salesforce teams can also get reliable product feedback from customers through FMCG software which can help them improve their performance and drive the sales pipeline better. There is no doubt that investing in sales force automation software is a sure shot way to boost selling productivity, so make sure to get a revolutionary platform for your company at the earliest!
Handles Inventory and Stock Levels
FMCG products move off the shelves very fast and it is essential for any successful organization to manage their inventory level in a smart and intelligent manner. FMCG software has specialized modules that facilitate the smooth monitoring and tracking of inventory items, thereby ensuring that there is never any shortage of excess of stock. Automated prediction and forecast functions make sure that timely notifications or alerts are given out for the seamless procurement of inventory items. FMCG software is the ideal platform to manage the inventory of any firm, and keeps a structured track of all kinds of perishable or non-perishable goods – pushing up operational efficiency to great heights!
Better Customer Satisfaction
The FMCG sector is highly competitive, and if your customers are not happy, they will simply move on to better brands. SFA software keeps your customers engaged with your organization by facilitating seamless two-way communication and also opening various channels of feedback to enhance staff performance. Automated feedback modules collect customer ratings and take account of problem areas so that managers can take adequate corrective action before a noticeable dip in the sales level. Personalized marketing campaigns and customization through FMCG software is sure to keep your customers satisfied with your organization –keeping it on the top of the popularity charts!
Contemporary Methods of Marketing and Sales
Devising innovative marketing and sales campaigns is a vital task for FMCG managers – modern SFA software can go a long way to keep your marketing movements fresh and novel! The transparency and flexibility provided by most FMCG software systems help to manage large volumes of data with ease and ensures that managers have readily available information for better business decisions. Mobile applications are a great asset for customers and company stakeholders as they help to locate stores, get alerts on discounts, make online purchases and engage customers in the real-time. So do not hesitate about investing in FMCG software – it will prove to be a radical decision that will transform your business fortunes positively!
Decrease Costs
Keeping costs and expenses in check is a crucial task for FMCG companies, as it can cost them market viability and profitability in the long run. Salesforce automation software suites will definitely reduce costs as they are highly automated and mechanized – they are perfect tools that can lead to the reduction in manual work and labor requirement. FMCG software basically lessens reliance on external distributors, connects smoothly to retailers and can assist your FMCG firm to expand to newer markets in a structured manner. Keep your organizational budget low through better task management and organized workflow patterns – FMCG software is a must-have in today's business arena!
Technology is a complete game changer, and it is high time that you moved on to FMCG software. It is bound to keep your business communication simplified and make your workplace more collaborative in nature.
With multiple products, distribution challenges, and a volatile consumer base – the FMCG industry is surely a tough nut to crack, however, if your company is armed with potent FMCG software, there are no limits to your chances of success. Go ahead and get a pioneering solution to provide a well-rounded experience to loyal customers and increase your probability to the greatest heights possible!
SPEC INDIA, as your single stop IT partner has been successfully implementing a bouquet of diverse solutions and services all over the globe, proving its mettle as an ISO 9001:2015 certified IT solutions organization. With efficient project management practices, international standards to comply, flexible engagement models and superior infrastructure, SPEC INDIA is a customer's delight. Our skilled technical resources are apt at putting thoughts in a perspective by offering value-added reads for all.