Top 13 Wellness Apps to Keep Up Your Well-Being
Is there any domain in which technology has not embedded itself? None, I guess! The Health and Wellness industry is one such segment that has revolutionized its growth with advanced technological options and there has been no looking back ever since. The market is flooded with numerous wellness apps that offer a wide spectrum of health and fitness app development functionalities.
With these best wellness apps, keeping track of your health and fitness and enhancing it towards a healthier lifestyle has become easier. These health and wellness apps are focused on all aspects of your health including nutrition, fitness, workouts, diet, mental health, sleep, meditation, etc.
Selecting the best health and wellness apps for yourself and your organization is a tricky thing, till you don't understand the offerings that each one has. To make it simpler for you, we have derived a consolidated list of top wellness apps that have been carving a niche for themselves.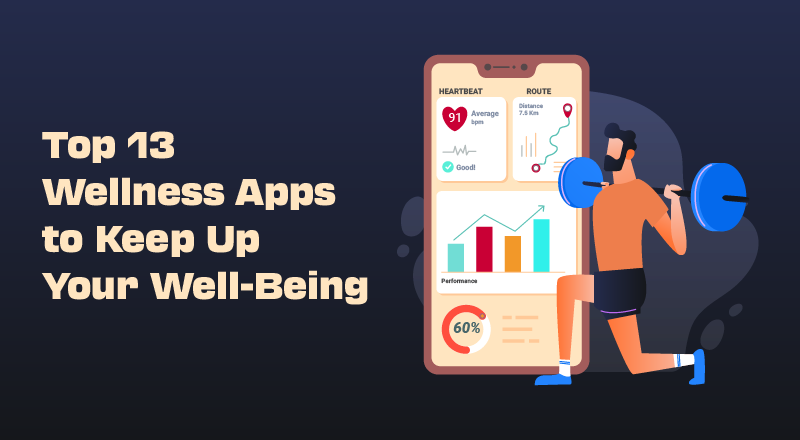 What are Wellness Apps and What Do They Offer?
Health and wellness apps are software applications/mobile platforms that assist you in leading a healthy lifestyle and tracking various features such as activities, nutrition and diet, physical and mental exercises, wellness monitoring, etc.
Fitness apps could belong to different categories like nutrition and wellness apps, fitness tracking apps, yoga, and meditation apps, IoT and wearable apps, personal trainer apps, health, and exercise apps, social fitness apps, etc.
It is important for fitness and wellness apps to exhibit characteristics such as audio and videos, personalized training, seamless connectivity with smart devices and IoT sensors, mobile connectivity, live tutorials, nutrition charts, personal chatting sessions, user profile authentication, shopping cart, push notifications, subscription, and membership, etc.
Using the best wellness apps can help fitness users calculate calories, gauge exercise counts, diet monitoring and control, do footstep counting, avail guidelines, and tutorials, include health tools, personal coaching, and motivation to keep fit and get trained. These apps connect smoothly with digital fitness devices which could be smartwatches, fitness devices with sensors, and activity trackers.
Interesting Read: Top 20 Medical Apps Elevating The Quality Of Healthcare
13 Leading Wellness Apps to Monitor Fitness and Health
Noom
Headspace
Future Wellness
Flo
MyFitnessPal
ClassPass
Talkspace
Calm
Feel Better
Fooducate
Insight Timer
Lifesum
HealthTap
Noom:
Noom is one of the top wellness apps that offers an ideal nutrition and fitness program for those who wish to lose weight and get in shape, by eating healthy food and workouts. It offers its users personalized meal options, workout schedules, and health tracking. There is an experienced team of personal trainers, psychologists, and nutrition experts who help in achieving the targeted goal.
Prominent Features:
Psychology-based approach to weight loss
Behavior and trigger identification
Weight logging, water tracking, step counting
Personalized calorie breakdown
In-app one-to-one health coaching
Headspace:
Headspace is a popular wellness app that focuses on meditation and mindfulness. It consists of different approaches that include breathing exercises, mindful workouts, body examinations, centered attention, sleep techniques, visualization, and sitting meditation. You can also get personalized recommendations depending on your goals. It also offers calming music and sound with sleep stories.
Prominent Features:
Hundreds of videos from guided meditations to breathing exercises to podcasts
Adjustable length of videos
Reduction in depression and anxiety
Free to download limited content for 14 days
Daily guided meditations and stress relief
Good Read: Audio-based Relaxation Mobile App for Mental Health Wellness Firm
Future Wellness:
Future Wellness is one of the top wellness apps that offers contemporary personal training with professional coaches, who design and monitor weekly workout plans based on your needs and keep altering them as and when needed. It is more like a virtual personal training application that assigns you a coach based on your goals and needs. It leverages modern technology like biometrics captured by smart devices to offer data to the coach.
Prominent Features:
Personalized playlists/podcasts during workouts
Continual assessment and updates
Video consultation with your coach
All-inclusive online fitness transformation programs
Choose from a large variety of coaches
Flo:
Flo is a well-known period tracker, ovulation calendar, and pregnancy app that assists women in tracking their menstrual cycles, ovulation cycles, PMS symptoms, etc. Pregnant ladies can even follow the weekly growth of their baby. It is widely used across multiple countries and is free to use, for its basic version. It also empowers users to log in to their health and fitness habits for better monitoring and control.
Prominent Features:
Comprehensive tracking of ladies' health activities
Tailored to suit your needs
Ovulation cycle monitoring
Tracking of body signals for further action
Access to good-quality articles through the app
Also Read: Fitness & Activity Tracking Mobile App for a Dubai-Based Firm
MyFitnessPal:
MyFitnessPal is a leading and comprehensive app that includes all major health-related functionalities like calorie counters, BMR calculators, water tracking, fitness goals, weight tracking, exercises, nutrition, food tracking, etc. It analyses the nutritional value of your food and creates different recipes based on your preferences. It also imports relevant information about your nutritional choices from other menu items or recipes.
Prominent Features:
Easy and faster tracking of components
Availability of a transparent plan
Food analysis
Exercise calorie settings
Instant feedback on choices
ClassPass:
ClassPass is one of the best health and wellness apps that offers you workout membership to a variety of interesting fitness studios, gyms, and classes in your area along with video workouts. It offers diversified fitness regimes like yoga, Pilates, salons, spas, boxing, etc. It provides a flexible solution by offering members to book and attend classes at different gyms, based on what activity they prefer to choose.
Prominent Features:
Access to a variety of fitness activities
On-demand library of multiple audio and video workouts
No need to get locked into a contract
Turns out less expensive than personal gyms
Personalized dashboard with custom metrics
Talkspace:
Talkspace is an ideal online therapy service to enhance your mental health by connecting with an experienced, licensed therapist right from the comfort of your own premises. It is affordable and hence preferred by many. It connects with therapists through text, audio, video, and live chats. It specializes in teen, individual, and couple therapy. It offers appropriate psychological and medical treatment, as needed.
Prominent Features:
Fit for online therapy through chat, audio, video
Treats mental health issues like stress, anxiety, depression, abuse, etc.
Covered by major insurance providers
Private and secure network communication
Compliant with HIPAA standards
Calm:
Calm is one of the recommended health and wellness apps for meditation, relaxation, and sleep-related activities. It offers a focus on your breath and helps in relaxing your body, mind, and soul. Users find it convenient to find inner peace, lessen stress levels, enhance their sleep patterns, and thereby improve their overall well-being. There are a range of guided meditations accessible for different time duration, along with soothing music to help you focus.
Prominent Features:
Personalized offerings with push notifications
Sleep stories narrated by well-known voices
Progress tracking with regular streaks
Ideal for students and business professionals
Calm Masterclasses taught by experts
Feel Better:
Feel Better is a complete wellness approach across plant-based recipes, exercises, sleep, mindfulness, yoga and meditation sessions, and workout videos. It offers effective and easy ways to enhance your mental and physical health, your way. Exercises also include Pilates, yoga, cardio, strengthening, and stretching. There are nutritional meals that can help maintain your diet regime and a wellness tracker that is integrated with other apps.
Prominent Features:
Interrelated physical and mental activities
A collaborative and consolidated approach
Stress reduction and sleep monitoring
Mindfulness exercises
Plant-based recipe planner
Fooducate:
Fooducate is an effective wellness app that is ideal for supporting weight loss activities and focusing more on healthy and nutritious foods. It helps you to track your diet by tracking your macros and calories through a calorie counter. It also offers you a complete score of your diet in terms of calories and macros. There are different weight loss plans available as per your requirement along with grading for food.
Prominent Features:
Detailed knowledge of food ingredients
Custom widgets for better tracking
Scanning of barcodes
Customized meal plans and recommendations
Active community support
Good Read: Fitness & Activity Tracking Mobile App for a USA-Based Firm
Insight Timer:
Insight Timer is considered a leading meditation app with a free library of multiple guided meditations, professional teachings, and an effective meditation timer. The guided meditations belong to different categories like Buddhist mindfulness, Secular mindfulness, etc. They have different music categories based on the type of meditation like music for sleep, soundscapes, etc.
Prominent Features:
Meditation tracks from spiritual leaders, teachers, psychologists
Sleep music tracks and bedtime tales with nature sound
Self-guided meditation timer
Sleep meditation for relaxation
Range of breathwork techniques
Lifesum:
Lifesum is one of the best wellness apps that offers instant and personalized nutrition management and healthy eating protocols. It assists you in embedding good and nutritious diets in your lifestyle. Lifesum offers tracking of food intake and gives customized feedback to suggest better recipes and exercises that suit your needs. It syncs well with other apps like Fitbit, Apple Health, etc.
Prominent Features:
Free to download on iOS and Android
Easy to use for all age groups
Calorie and habit trackers for better management
Smarter food choices and nutritious diets
Nutritional value calculator with nutrition breakdown
HealthTap:
HealthTap is one of the best health and wellness apps that focuses on telehealth by offering affordable medical care through a panel of expert doctors. It offers personalized medical care by scheduling appointments with doctors of your choice, sitting in the comfort of your own premises. It saves on time, effort, and costs since you get all facilities at your convenience and on your own premises.
Prominent Features:
Primary and urgent care via video conferencing
Instant interoperability through the cloud
Secure Infrastructure
Easy and authentic access to doctors
Personalized, quality medical advice
Wrapping It Up
The above-mentioned leading wellness apps have proven their worth in the health and fitness industry. Each of them has its own characteristics and it finally depends upon different parameters like organizational/personal requirements, focus, compatibility, quality, reviews, technical skills, goals, cost estimates, proficiency levels, etc. to take a final call on which one of them ranks amongst the top wellness apps.
Good Read: Top 20 Doctor Appointment Apps For Effective And Timely Consultation
As a well-known fitness app development company, we @ SPEC INDIA create innovative health and wellness apps for comprehensive health and wellness, meant for health enthusiasts. Our competent solution experts have domain-specific knowledge in the areas of digital fitness, that caters to the intricacies of the industry.
We provide a vast range of fitness app development services including different types of software applications that catalyze business prospects and increase client reach. Our fitness app developers assist industry-driven enterprises, SMBs, and startups in digitizing their business workflows in the arena of health and fitness leading to an enhanced return on investment, community involvement, and user empowerment. Transform your fitness regime with us and lead a happy, healthy life.
SPEC INDIA, as your single stop IT partner has been successfully implementing a bouquet of diverse solutions and services all over the globe, proving its mettle as an ISO 9001:2015 certified IT solutions organization. With efficient project management practices, international standards to comply, flexible engagement models and superior infrastructure, SPEC INDIA is a customer's delight. Our skilled technical resources are apt at putting thoughts in a perspective by offering value-added reads for all.