Quarterly Newsletter January 2022

As Your IT Partner We have The Right SPEC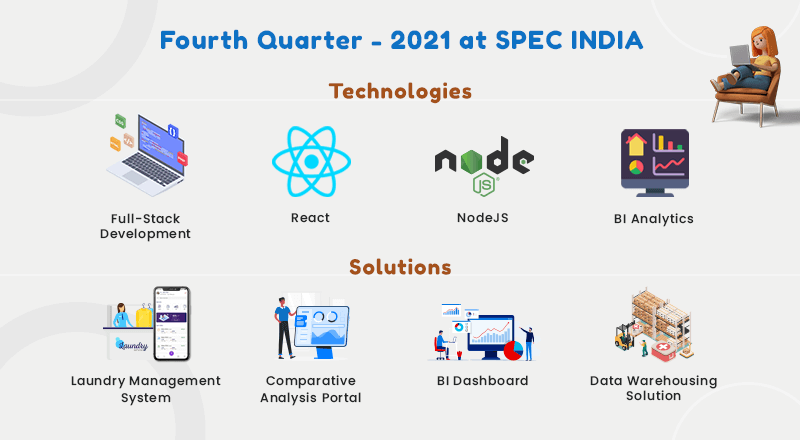 As we enter the year 2022, with an earnest wish for happiness and prosperity, our taskforce @ SPEC INDIA is elated to showcase a platter of technological advancements and projects, combining different technologies, in the last quarter of 2021.
We recently delivered a Laundry Management System – POS & Delivery app for a client in the UAE. It is developed using React Native, React JS, .NET Core, MySQL. It is an end-to-end garment tracking app starting from customer location to store to washing unit (factory) and back to the customer. All the standard features of LMS were enhanced with better UI / UX and fine-tuned to tailor the need of the client. This system also has a variety of inclusions like Rack Management System at Store or Factory to identify the ageing of the garments at a specific location along with sorting/re-sorting advance process to optimize operations. Moreover, the system also caters to the Store / Factory Supply Request, Feedback loop, Complain / Lodgement workflow, Placeholder for cross-industry marketing advertisement on a chargeable basis.
Yet another feather in our cap is the implementation of a Comparative Analysis portal for an esteemed client in South Africa. It is developed using Microsoft .NET Core, Angular 11, MS SQL, PHP (website), Power BI (Reporting / Dashboard). Our dedicated team is engaged for the development of a Web-based portal for Loan / Savings / Pension plan comparative analysis from different Financial / Banking service providers. The core team of business users are in constant reach to different South Africa-based Banking and NBFCs with offerings to the larger audience, in the most competitive and comparative manner. The portal development also has a few key members catering to Google analytics, Impressions, Cost analysis per user / new user, Campaigns Effectiveness, etc with needful Power BI reports and insights. The team also involves a PHP-based public website development with sub-website catering to sub-domain / departmental sites within.
One another project that we implemented was a customized BI dashboard for a retail food manufacturing company in the UK. The application monitors store and product-wise sales analysis, helping them take proper business decisions. Developed in Tableau, this project offers dashboards that visualize important KPIs related to the product sales – weekly sales of each store, sales improvements, number of selling stores, stores analysis and performance, highest selling flavor etc.
We successfully implemented a centralized data warehousing project for a pharmaceutical manufacturing unit in Australia, who offers a wide range of medicines to Australian medical units. Developed using Power BI, Azure, Logic Apps, Blob Storage, SQL database, this project has implemented a data warehouse that takes data from all data sources and offers variety of dashboards and reports that monitor performance and help in business decision making. These dashboards offer insight into KPI related information like tracking daily/weekly/monthly sales of products, sales agent performance, stock analysis, logistics and more.
Our expert team of developers and designers have been going great ways in the line of Full Stack development. Our full stack developers have been leveraging the systematic knowledge of frontend and backend technologies, MEAN stack, UI, server infrastructure etc.
Our React expertise is expanding widely with newer projects our way. The React teams are making the most of its features like one-way data binding, Virtual DOM, JSX etc.
We are garnering expertise in NodeJS application development with our developers enjoying its speed, asynchronous and event driven development, scalability and more.
Our skilled BI team is widening its portfolio by delving deeper into the valley of BI analytics and digging out newer achievements like data security, AI, real time data analytics, predictive and prescriptive analytics etc.