BI Developer: Responsibilities, Skills, Salary And More
"Information is the oil of the 21st century, and analytics is the combustion engine." – Peter Sondergaard
Data is omnipresent and there is no looking back. Organizations are now longing to get the best of insightful information from these heaps of data. One technology that can be apt for this work is Business Intelligence and Analytics and someone who can oversee the activity and make it happen is a BI developer. BI developers are considered perfect for offering an in-depth look into the sea of information, as and when desired by the users.
Becoming a BI developer has its own share of skills needed, roles, and responsibilities to fulfill. They are quite in demand and receive a handsome salary once they reach certain expertise. This article will run through the details of the same. Before that, let us look at what a BI developer is.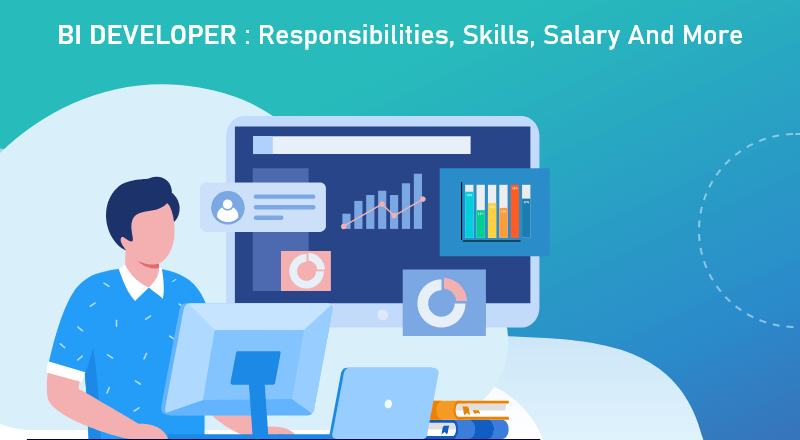 What Is BI Developer?
A Business Intelligence Developer (BI Developer) is a programmer/engineer who develops, deploys, and maintains involved components of different BI solutions and interfaces like interactive dashboards, data visualization, data modeling, and ad hoc reporting. He/she utilizes BI for effective interpretation and display of data, for filtration, analysis, and management of data into organized chunks of information that synchronize with business goals.
BI developers transform the data stored in warehouses and other data sources, into insightful information which is leveraged by stakeholders for better decision making. They can analyze all types of data – the past one, present one, and predictive one. Insights obtained by them can be useful in knowing what is going on, what can be done for betterment, what trends are being set etc. Financial and marketing intelligence is obtained through effective reporting systems, for resolving organizational issues.
Business Intelligence developers convert the data into an understandable form that can be easily used through reports and graphs for creating more business avenues and thinning the gaps between systems and procedures. They can simplify the technical language and complicated information so that it is easily understandable. This helps business owners in taking the apt decision in a simplistic manner.
Why Do Companies Need a Business Intelligence Developer?
Organizations need a BI developer for enhanced compilation and simplification of valuable information. They are technology specialists who can help restore lost data or computer programs. They can easily gel well with other data engineers/scientists in the business to extract the optimum out of the data.
BI Developer Skills:
Be it any technology, a certain skill set is needed for extracting optimum output. These skills could be either technical skills – related to the technology, infrastructure, hardware, software, etc. or soft skills – related to communication, interpersonal relations, management, etc. Here are the major skills that are a must to excel as a Business Intelligence developer
Technical Skills:
Experience with BI and reporting tools like Tableau, Hadoop, Power BI, etc., data integration tools, ETL/ELT tools
Debugging or troubleshooting skills
Data analytical skills and business analysis
Database administration, OLAP, SQL, RDBMS
Data modeling and data warehousing
Knowledge of programming languages like Python, C, JavaScript, VB, etc.
Knowledge of scripting languages
Software engineering skills
SSRS, SSAS, SSIS
Experience in handling large data sets and dimension modeling
Proficiency in HTML/CSS
Automated testing exposure
Capability to write complicated queries
Expertise in designing and building applications
Soft Skills:
Good communication skills and public speaking competencies
Problem-solving skills, cause-effect analysis
Precision and detailed eye for orientation
Team collaboration and support
Multitasking capabilities
Competence to work in a fast-paced environment
Business Intelligence Developer Roles and Responsibilities:
As a BI developer, there are a lot of different roles that must be played and responsibilities that must be adhered to, to deliver an effective and timely output. Each one of them has its own importance in terms of contributing to a perfect result. Here are the roles and responsibilities of a Business Intelligence developer:
Design and develop BI solutions
Write and test requirements
Develop and maintain data processing
Create novel applications with newer features
Database implementation and maintenance
Maintenance of system analytical tools
Transformation of business needs into technical requirements
Develop data warehousing solutions
Write user documentation and technical guides
Find insightful information from data
Create and curate interactive dashboards and reports
Build workflows and KPIs
Ensure data accessibility for business owners and other stakeholders
Taking care of metadata storage and security
Design and execute technical queries
Develop accurate search requests
Troubleshooting BI issues and creating a solution
Secure storage of data and backup mechanisms
Analyze the market and share patterns and trends for further prospects
Evaluate and enhance existing BI systems
Come up with policies and processes for accurate data analytics
Report review and optimization
Data quality management
Also Read: Business Intelligence Consultant: Roles, Responsibilities, Skills, And Scope
BI Developer Salary Details:
Being a BI developer has its own chunk of attractions, especially in the salary brackets that are different in different geographies, offering a lucrative amount to all. Here are certain proven statistics that are taken from different global locations
USA:
The average BI Developer salary in the United States is $91,188 as of February 25, 2022, normally the range typically falls between $80,184 and $103,052.

Source: salary.com
The average salary for a Business Intelligence Developer in New York is $110,000. The average additional cash compensation for a Business Intelligence Developer in New York is $9,300. The average total compensation for a Business Intelligence Developer in New York is $119,300.

Source: builtinnyc.com
Business Intelligence Developers in San Francisco usually get an average salary between $135,333-$137,833.

Source: builtinsf
The average salary for a BI developer is $102,676 per year in the United States along with a $5,000 cash bonus per year.

Source: indeed.com
India:
The national average salary for a Business Intelligence Developer is ₹7,40,005 in India.

Source: glassdoor.co.in
In India, the average BI developer salary ranges between ₹ 3.0 Lakhs to ₹ 16.5 Lakhs with an average annual salary of ₹ 6.5 Lakhs.

Source: ambitionbox
UK:
The national average salary for a Business Intelligence Developer is 44,571 pounds in the UK.

Source: glassdoor
The average salary for a BI developer is £45,061 per year in England.

Source: uk.indeed.com
Canada:
The average BI developer salary in Canada is $81,910 per year or $42.01 per hour. Entry-level positions start at $69,315 per year, experienced workers make up to $105,125 per year.

Source: ca.talent.com
The national average salary for a Business Intelligence Developer is $82,400 in Canada.

Source: glassdoor.co.in
Australia:
The average salary for the role of Business Intelligence Developer in Australia is A$100,000.

Source: linkedin.com
The national average salary for a BI developer is $1,07,596 in Australia.
BI Developer Interview Questions:
There are many who are preparing hard for becoming a Business Intelligence developer. Here are some commonly asked interview questions, for quick reference:
Which reporting tools do you choose and why?
How do you define SSIS architecture?
Can you define risk management and explain its process?
What type of data warehouse system do you desire and why?
How would you analyze information for data warehousing?
What data collection software do you make use of?
What are the distinctions between views and materialized views?
Can you describe your approach to distinguishing market trends?
What do you find the most difficult aspect of being a business intelligence analyst?
What is your understanding of qualitative and quantitative research?
What traits do you think are necessary to have as a business intelligence analyst?
What is your method for collecting data?
Can you define risk management and explain its procedure?
What are the three elements of a business intelligence system?
How is your methodology to business intelligence different than other analysts?
How much understanding do you have in presenting data?
What are the distinct parts of a SQL statement?
How do you distinguish between a clustered and a non-clustered index
What reporting tools are you familiar with?
Can you list a few data sources used in SSRS?
What are the actions to implement company BI analytics from the ground up?
What are the star and snowflake schemas?
What are the primary responsibilities of a BI developer?
Which are the different Lookup Cache Modes available in SSIS?
What is a workflow in SSIS?
What Are the different multidimensional analysis methods available in Business Objects?
Define the variations between OLAP and OLTP?
What is a dashboard in a data warehouse?
What is a data mart? When is it proper to use data marts instead of a single data warehouse?
Which are the 5 topmost skills needed to become a BI developer?
Also Read: Power BI Developer: Skills, Scope, Responsibilities And More
On A Parting Note:
The BI market is expanding far and wide and hence, exponentially, the demand for Business Intelligence developers is growing. Hiring a BI developer, through an experience IT software solutions provider, has been proving beneficial to organizations in terms of achieving skilled resources, timely completion of work, quality rich output, and a data-driven approach.
The role of a business intelligence developer is of great importance in the world of business intelligence services. Employing them all could prove to be a costly affair and hence hiring a BI developer, based on requirements and budget would be an ideal scenario.
It all depends upon different parameters such as skills, the scope of work, budget, project timelines, and organizational objectives. Whatever it may be, having an expert and versatile BI developer is a big asset to the organization.
SPEC INDIA, as your single stop IT partner has been successfully implementing a bouquet of diverse solutions and services all over the globe, proving its mettle as an ISO 9001:2015 certified IT solutions organization. With efficient project management practices, international standards to comply, flexible engagement models and superior infrastructure, SPEC INDIA is a customer's delight. Our skilled technical resources are apt at putting thoughts in a perspective by offering value-added reads for all.