Business Intelligence Consultant: Roles, Responsibilities, Skills, And Scope
The Global Big Data Analytics Market was valued at US$ 37.34 billion in 2018 and expected to reach US$ 105.08 billion by 2027 at a CAGR of 12.3% throughout the forecast period (2019-2027).

By 2020, 90% of business professionals and enterprise analysts say data and analytics are key to their organizations' digital transformation initiatives.

Source: finance.yahoo.com
But, an alarming finding from one survey states something different.
According to NewVantage Partners' 2019 Big Data and AI Executive Survey of 64 c-level executives at world-famous organizations, 72% of survey participants report that they have yet to forge a data culture. Lack of data-driven culture, right internal process, and right skills explain this difference.

Source: newvantage.com
This is where the need for Business Intelligence and Analytics professionals arises. The demand for BI consultants is increasing and it is one of the most sought-after skills in upcoming years.
In this article, we are talking about a business intelligence consultant. This article is your one-click answer to all your queries related to BI consultant, roles & responsibilities of BI consultants, salary, scope, and required skills to become one.
BI and analytics tools are making data analysis easier than ever before. Many popular BI tools like Power BI and Tableau are making it easier to extract insights, establish a data-driven strategy, therefore, accelerating the growth of today's organizations.
Let's start with the basics of BI.
What Is Business Intelligence?
Business Intelligence consists of strategies, approaches, technologies, and tools used in the analysis of business data. It includes tools and processes for collecting, analyzing, visualizing, and presenting data. BI aims to convert data into actionable insights and offer predictive views based on past and current business records.
Good Read: What Is Business Intelligence? Explained In 200 Words
What Is Business Intelligence Consultant?
A Business Intelligence consultant helps organizations in enhancing the data strategy and internal processes of the organization. They evaluate existing data and analytics systems and plan a better 'BI roadmap'. They help organizations establish a data-driven strategy by recommending the best way to organize, analyze, and present data.
They work with the ultimate goal to increase efficiency, facilitate decision-making, and improve performance by aligning business requirements and data strategy.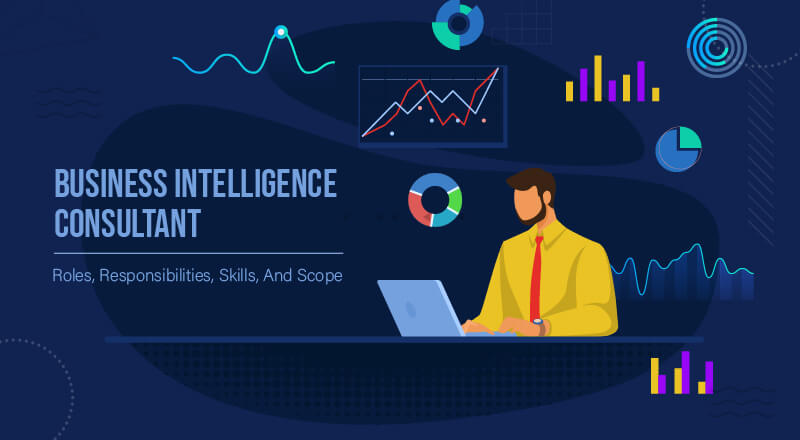 What Does A Business Intelligence Consultant Do?
There are several possibilities regarding the responsibilities of a BI consultant. The role of BI consultant differs from company to company and according to business requirements.
If a company has BI tools and systems in place, a BI consultant is responsible for reviewing current architecture, optimizing strategies, and work with the technical team to identify or predict key events for better decision-making. They constantly monitor processes, progress, and parameters, helping organizations to make the best use of data.
If a company has no existing BI capability or tools in use, they design a complete BI roadmap and suggest the best BI tool/technology as per business requirements. They work with the management and form a data-driven strategy across the organization to meet BI goals.
Business Intelligence consultants may be independent contractors. A number of IT firms are also offering hiring BI developers/consultant services with flexible hiring models. They are hired for assessing BI systems and ensuring optimum use of business intelligence to set benchmarks and performance goals.
What Are The Roles And Responsibilities Of BI Consultant?
The duties of a business intelligence consultant may vary according to the needs. Despite the difference in responsibilities, one thing that is clear they tend to be data experts. Without data literacy, they will not be able to guide/recommend plans for making data more accessible, visible, and useful.
Duties of BI consultants:
Review existing data flow and analytics systems
Monitor processes of data collection, storage, analysis, and presentation
Design, develop and execute new data analysis policies
Create different visualizations models to identify risk and opportunities in accordance with business context
Work with multiple data sources and databases
Build and verify new data models that aid decision-making
Constantly analyze business performance and processes
Work with technical teams to build/improve data analytics and business intelligence techniques
Compare progress and ensure meeting objectives
Train team members on data literacy as and when required
Keep up-to-date records of key findings and BI results
Stay updated with the latest happenings in the data science space
Assist teams with predictions, trends, and actions based on the data
The list can be different from organization to organization. A BI consultant is one of the key positions in any organization for its strategic and analytical role in better decision-making.
Let's know what is required to become a BI consultant.
How To Become BI Consultant? Business Intelligence Consultant Skills:
To become a BI consultant, you will require to have a vision of seeing data as a valuable asset of the company. You should be able to understand it, manage it, and maintain it.
If you are interested to become a BI consultant, the following skills are mandatory:
Required Technical Skills For Business Intelligence Consultant:
This role demands possessing hands-on experience in the following:
Data Warehousing:
A BI consultant should be able to develop a data warehouse and data mart. They must have knowledge of various database functions, models, and processes. They work with database administrators and analysts to provide data visibility to the team. They should be able to manage current data warehouse systems and enhance functions.
Extensive Experience In Business Intelligence Tools And Software:
Knowledge of BI tools is must-have for business intelligent consultants. They should be able to build interactive dashboards with drill-down capabilities by using tools like Power BI, Tableau, Qlikview, SAP BI, and so on. They should be well-acquainted with all data analytics and BI concepts to better interpret data.
SSRS, SSIS, SSAS, And OLAP:
SSAS is Microsoft's SQL Server's Analysis service, SSIS stands for SQL Server Integration Services and SSRS is SQL Server Reporting Services. For any BI consultant, knowledge of OLAP processes and tools like SSAS is required. They must have experience working with SQL server stack.
Good Read: Get To Know SQL Server Reporting Services (SSRS) In An Easy Way
Here is a list of important skills for a BI Consultant:
Sound understanding of BI, data analytics, and database concepts Knowledge of data warehousing and ETL processes
Expert in reporting, dashboard UI/UX, and analysis
Proven experience with data warehouse tools/databases/modern BI solutions
Ability to present key findings and spot trends that help in decision making
Subject matter expert on SQL querying, DAX, and SSAS
Knowledge of data warehousing, SQL, database programming, ETL, OLAP, SSRS, SQL Server Integration Services (SSIS), SSAS, and data modeling
Implement data security whenever required
Maintain reports and knowledge of all types of reporting formats like charts, tabular, matrix, and others
Design, implement, and present complex analysis solutions
General Competencies Required For BI Consultants:
Knowledge of DevOps pipeline and agile methodologies
Assist teams to identify KPIs and building data models
Must have interest in qualitative data interpretation and analysis
A pragmatic approach to problem-solving by optimally using tools and technologies
Proactive and multitasker; ability to easily switch between multiple tasks
Ability to master new skills and new tools quickly
Effective communication skills – verbal and written
Ability to work independently and pay attention to details
Imaginative and innovative mindset to solve problems in the BI environment
Vision to see a big picture and forecast trends and identify opportunities
A team player with a diverse range of skills – project management, development approaches, coaching others, presentation skills, and analytical skills
Collaborative, cooperative, and commitment mindset
A large number of companies are hiring BI consultants across the world. They can be varied in experience, role, rewards, and responsibilities assigned. Establishing data-driven culture has become a top priority of today's organization and that's the foremost reason BI consultants are in demand.
What Are The Similar Roles/Job Titles To BI Consultant?
There are specific tools related to titles available for BI consultant. Also, many job titles are similar to the role of BI consultant because of analysis and visualization skills.
Here are some titles similar to the role of BI consultants:
BI Analyst
BI Developers
Power BI Consultant
SAP BI Consultant
Tableau Consultant
Tableau Developer
BI Manager
BI Architect
Data Analyst
The above-mentioned titles/job roles are high in demand at various levels of the organization. The authority level of these posts includes fresher, junior, mid-senior, senior, and leader.
Business Intelligence Consultant Salary or How Much Does A BI Consultant Earn?
How much you will get as a BI consultant again depends on experience, requirement, skills, and region. It is one of the highest paying jobs across the world but the salary differs from country to country and even cities.
According to Glassdoor, The national average salary for a Business Intelligence Consultant is $76, 402 in the United States.
In India, the national average salary for a Business Intelligence Consultant is ₹11, 18, 726. Skills and experience greatly affect the salary of BI consultants. Source: glassdoor.co.in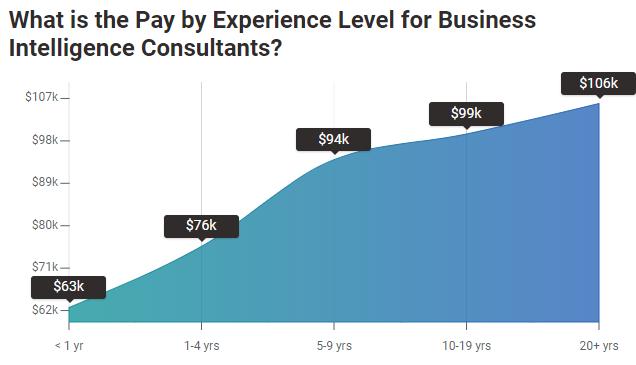 This image shows how years of experience is affected salary level.
What Is The Career Path Of A Business Intelligence Consultant?
As you become experienced and go ahead with more responsibilities and high-authority roles, you can easily adapt to new roles and make some progress in their careers.
They can choose to become a BI Architect, Solution Architect, Lead Analyst, Team Leader, Data Architect, or Data Engineer.
As we have said earlier that this role is more rewarding along with experience. One can become a Business Intelligence Consultant after working as a BI developer, Data Analyst, Senior Software Engineer, SQL developer, or any suitable data-specific role.
What Is The Difference Between BI Developer And BI Consultant?
Both titles are very popular in today's data-driven environment but it seems that there is a mix-up of these roles and organizations are hiring candidates as per their requirements, paying less attention to the difference between these roles.
After research, we can sum up the difference between BI consultant and BI developer like this:
A BI developer is a person who thoroughly knows BI technology/tool he/she is working with. He must possess complete knowledge of the coding part, mapping, and implementing part. He is responsible for linking data sources and BI tools along with performing the process of collecting, refining, and presenting data.
On the other side, a BI consultant is similar to an expert role as he/she is ahead in knowledge and experience. BI consultant's role is more inclined towards problem-solving and monitoring rather than end-to-end implementation. He/she knows everything from the requirement to analysis to presentation.
Though, the ultimate skill of both these roles is to help organizations to convert raw data into actionable insights.
There are many BI tools available in the market. Here is the list of top BI tools:
Top Business Intelligence Tools:
Power BI
SAP BI
Tableau BI
IBM Cognos Analytics
Qlikview
Pentaho
Domo
MicroStrategy
Oracle Analytics Cloud
GoodData
Why Business Intelligence Consultant Is The Best Career Option? What Is The Future Scope of BI Consultant?
The career as a BI consultant is lucrative as business intelligence is becoming more like a necessity for industries like finance, retail, e-commerce, logistic, hospitality, marketing, and so on. With increasing dependence on data, almost every company will require data and business intelligence solutions to obtain better insights that help them become a data-driven company.
The future scope of BI seems profitable as eventually, every company requires BI to make good decisions. Comparatively high salary, growing demand, and a strategic role in making data accessible and useful – these are some of the factors that make BI consultant one of the most sought-after skills in the upcoming year.
BI Consultant FAQS
The demand for BI consultants and developers is high as organizations have started realizing the importance of data-driven culture to improve the process and stay competitive.
What is the best business intelligence tool?
Power BI, Tableau, SAP BI, Qlik Sense, Pentaho – to name a few.
What problems can business intelligence solve?
BI can solve problems related to poor performance, losing customers and sales, and inefficient day-to-day operations.
What is BI consultant job description?
The duties of a BI consultant include monitoring and reviewing existing data analytics system, develop/modify data warehouse systems, and help organizations with collecting, refining, and presenting data to improve decision-making.
Why do organizations need business intelligence?
BI is critically important for today's organizations as it helps find answers to prominent questions and help improve decision-making based on past and present data.
SPEC INDIA, as your single stop IT partner has been successfully implementing a bouquet of diverse solutions and services all over the globe, proving its mettle as an ISO 9001:2015 certified IT solutions organization. With efficient project management practices, international standards to comply, flexible engagement models and superior infrastructure, SPEC INDIA is a customer's delight. Our skilled technical resources are apt at putting thoughts in a perspective by offering value-added reads for all.