Paginated Reports In Power BI – All You Need To Know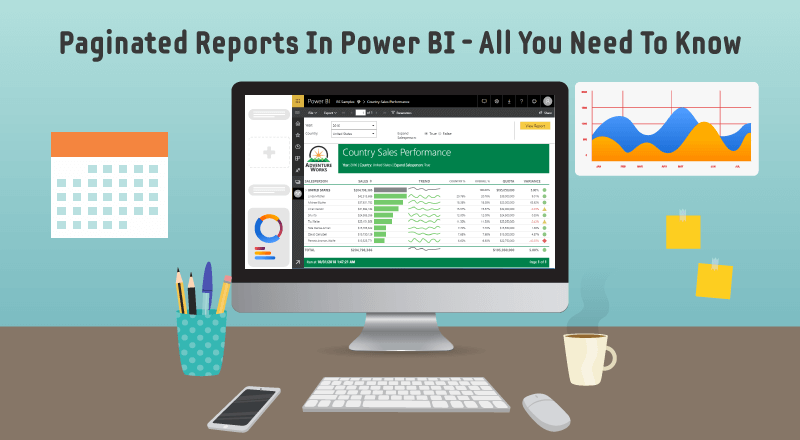 Microsoft's comprehensive Business Intelligence Suite has lots to offer! Broadening the potential of SQL Server with SSIS, SSRS, and SSAS, Microsoft is believed as a leading player for enterprise-ready BI platforms.
Under its umbrella, comes Power BI – A cloud-based business analytics service by Microsoft empowering all for better visualization and analysis of data with enhanced speed, efficiency, and superior interpretation. Adding a feather to its cap, Power BI has come up with an innovative feature of Paginated Reports.
Good Read: Microsoft Power BI In 10 Minutes– What, Why, Who, How Justified [Quick Guide]
Power BI Paginated Reports– An Introduction
Paginated reports have been launched by Microsoft under the Power BI umbrella – SQL Server Reporting Services (SSRS). It is an effective tool to paginate reports, usually of multiple pages, avail pixel-perfect formatting with exact fitting on the pages.
They are also referred to as many-paged reports or transactional reports. They are based on Report Definition Language (RDL) in SSRS. It is called 'Pixel Perfect' since the report layout of each page can be controlled and managed.
Power BI Paginated Report Builder is the authoring tool behind the preparation of paginated reports. Once your report definition of what data would you want to collect and display is ready, the report processor merges it with the report layout to offer the desired output. The report can be previewed in Report Builder and later published to the Power BI service.
These reports are considered ideal for printing and generating a pdf file. The Power BI Report Builder is the fundamental tool behind the creation of these reports, after which it can be published on Power BI or can be used with Power BI mobile and can even be printed.
These paginated reports can avail data from disparate data sources with technologies like Azure, SQL Server, Oracle, Teradata, Power BI Premium Datasets, etc. Power BI premium services are a must needed to use paginated reports. It is not available with other editions of Power BI.
With Power BI Embedded, developers can also embed paginated reports into their individual applications.
Key Features Of Power BI Paginated Reports
Competence to print the entire data set however long it may be
Report layout of each page can be well controlled
Can easily be printed or shared as PDF or email across multiple users
Can be viewed in PDF format with multiple pages and big datasets
Supports export formats like Microsoft Word, Microsoft Excel, PDF, CSV, XML, Microsoft PowerPoint
Visualization can be enhanced with interactive features and image
When Should Paginated Reports Be Used?
Paginated reports come as an ideal solution when there is a need to showcase data in multiple pages in printed form or soft copies, to organizations/individuals. These reports are of great significance when there are huge datasets involved, statistics to be shown and data is to be shown in huge tables.
It can be leveraged when the filtering facility is to be used using the drill-down approach. It also supports prefixed formats in the headers and footers. An ideal example of paginated reports would be a profit and loss statement.
Key Essentials For Using Paginated Reports
Premium version of Power BI is a must
Power BI Report Builder must be installed
Creation of workspace for paginated reports
Supported data sources – Azure SQL, Azure Analysis Services, MS SQL, Microsoft SQL Server Analysis, Teradata, Oracle
How To Use Paginated Reports?
Download & install Paginated Report Builder on your device
Open Paginated Report Builder
Prepare data sources and datasets by collecting data from various data sources for further computation and analysis
Select the format in which the report needs to be prepared – matrix, chart, or free form layouts
Design the report layout in an accurate and comprehensive way since that forms the look and feel of the final report
Leverage the bunch of functions and parameters available that can work in sync with the different datasets
Use filters and conditions as needed by the users
Make use of the 'drill down' and 'drill up' functionalities to go into further details and garner deep insights into information
Data visualization and interactive features can be added to give the reports a superior and comprehensible form
Charts, indicators, sparklines, and gauges can also be added for showcasing summarized data
Once the format is frozen, reports can be published in a workplace and offered to the users for their further action
Admin Settings For Paginated Reports In Power BI
To use paginated reports in Power BI Premium, go to your 'Capacity Settings' page in the Power BI Admin Portal and allow the paginated reports workload and set the amount of memory you would like to contribute to it. By default, 20% of your memory will be dedicated to paginated reports. You can dedicate up to 50% of your total memory to this workload.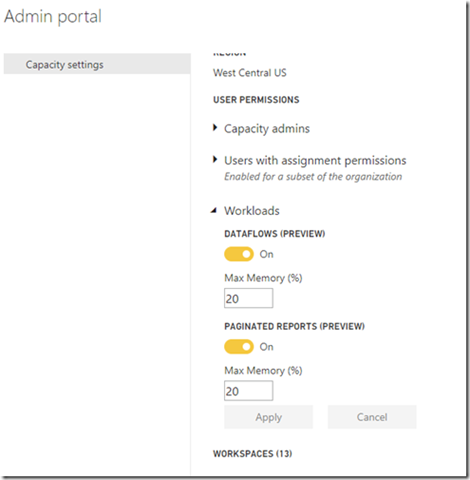 Default Memory Settings For Paginated Reports In Power BI
For Paginated Reports, purchase through Power BI, Premium server P1, P2 & P3 and equivalent to Azure need to purchase A4, A5 & A6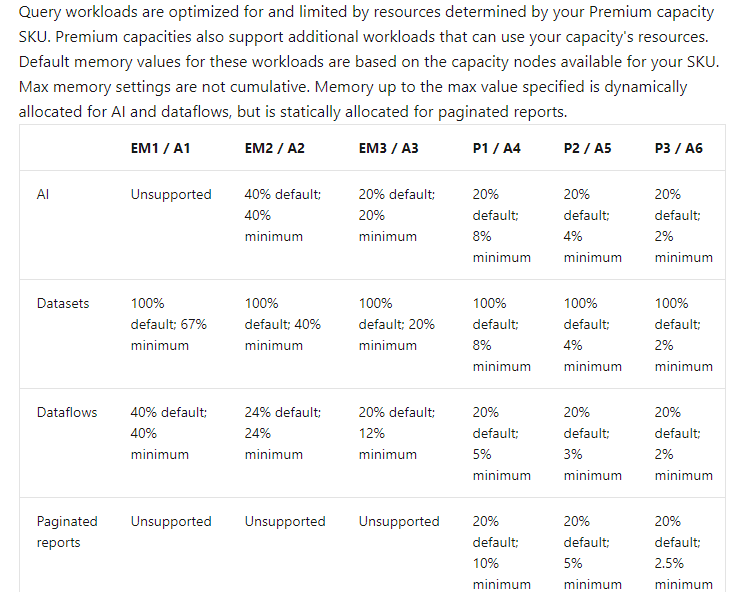 Limitations Of Paginated Reports Power BI
It is available only for premium users and not everybody can leverage this tool
It still does not support a few data sources, hence, extracting data from those sources is difficult
With the data being drilled up, it cannot be viewed in print form and the user cannot avail the view of the same
Interactive features like document maps are not supported
Shared data sources and datasets
Good Read: Power BI vs. Excel Comparison. It's Time To Shift Your Reporting
Leveraging The Power Of Paginated Reports
Microsoft's Power BI Services have always been offering an ideal platform for analysis and visualization of data via desirable and interactive reports, inspiring businesses to enhance productivity and discovering perceptions.
Adding a feather to its cap, Paginated reports have been pleasing its users with its innovative features and alluring new users to enjoy its positives. Business intelligence is on a totally elevated level, with Microsoft supporting this wonderful technology of Power BI, and on top of it, the Paginated reports feature!
Frequently Asked Questions:
What are paginated reports?
Paginated reports are intended to be shared or printed. These reports show all the data in a table. They are well-formatted to fit on a page and offer the best customization.
How to create a paginated report in Power BI?
You can create a paginated report via Report Builder or Report Designer in SQL Server Data Tools (SSDT).
How to publish paginated reports in Power BI?
You can publish and share paginated reports in your workspace or My workspace provided your workspace is in a Power BI Premium Capacity.
What data sources are supported by Power BI paginated reports?
Supported data sources for Power BI paginated reports are – Azure SQL, Power BI Dataset, SQL Server, Oracle, SQL Server Analysis Services, Teradata, and Azure Analysis Services.
SPEC INDIA, as your single stop IT partner has been successfully implementing a bouquet of diverse solutions and services all over the globe, proving its mettle as an ISO 9001:2015 certified IT solutions organization. With efficient project management practices, international standards to comply, flexible engagement models and superior infrastructure, SPEC INDIA is a customer's delight. Our skilled technical resources are apt at putting thoughts in a perspective by offering value-added reads for all.