Power BI Dashboard vs Reports – A Vivid And In-Depth Comparison
Updated
December 8th, 2022
For 13 consecutive years, Gartner has recognized Microsoft as a Magic Quadrant Leader in analytics and business intelligence platforms

Source: microsoft.com
Words seem inadequate to express how effectively the tech giant Microsoft has contributed to the technological wave in the world. One of its highly popular wings is its business intelligence chunk of tools and technologies, of which Power BI is a huge contributor. Business segments, worldwide, leverage Power BI as one of the prime cloud-based business analytics services.
Considered a fast, efficient, and smart BI tool, the two main arms of Power BI are its reporting types – Dashboards and Reports. These terminologies sound similar but have their strong features to showcase, which is why both are important in the BI world.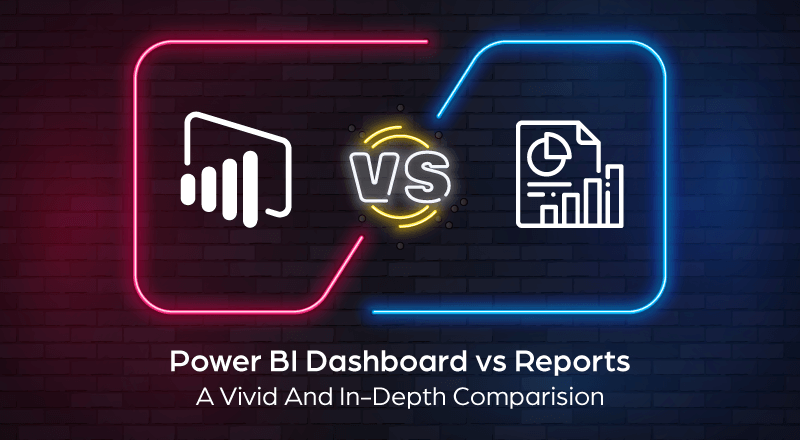 Before we go into details of reports and dashboards of Power BI and their comparison, let us understand this innovative technology.
Microsoft Power BI- The Name Says It All
Power BI is a business analytics service by Microsoft. It aims to provide interactive visualizations and business intelligence capabilities with an interface simple enough for end-users to create their own reports and dashboards. – Wikipedia
Power BI is a robust BI tool that facilitates an accurate and efficient connection with disparate sources of data, with ease and offers detailed analytics, on the go, as you like it.
Power BI
Is a collaborative data visualization tool that makes it effortless for data sharing in business segments and enterprises
Garners precious perceptions to make swift and knowledgeable choices
Converts raw and unrefined data into intuitive and remarkable visuals for executives to connect and realize the industry well
Offers access to personalized reports and collaborating dashboards, giving a comprehensive 360-degree view of the business
Interesting Read: Microsoft Power BI In 10 Minutes– What, Why, Who, How Justified [Quick Guide]
Key Features Of Power BI Include:
Artificial Intelligence and Machine Learning compatibility
Cortana integration
Hybrid deployment support
Common data model support
Swift perceptions
Self-service data preparation,
Modeling view,
APIs for integration and customization
As we move on, let us understand the two main reporting types of Power BI – Power BI Dashboards and Power BI Reports:
Understanding Power BI Dashboards
In Power BI, a dashboard is a compilation of tiles. These tiles consist of visualizations (tables, matrix, charts, etc.) from reports or workbooks, or they can be more static tiles with images, text, or URLs.
These data visualization dashboards are customizable to showcase precise details, metrics, and KPIs. Being dynamic in nature, data is shown in real-time and updates are regular. At a certain point of time, dashboards were meant to target the top management and senior officials, but with the invent of Self-Service BI, every user now has access to viewing the dashboards, as per their needs.
What Do Power BI Dashboards Offer?
A single placeholder, top-level view of major KPIs of single or multiple reports
A regular view of KPIs, offering further navigation to detailed reports
Visualizations can be pinned to from an on-premises SSRS report to a dashboard, emphasizing data on a page or canvas
Contains the most important basics of the story
Live streaming of information
Here is a sample Power BI Dashboard: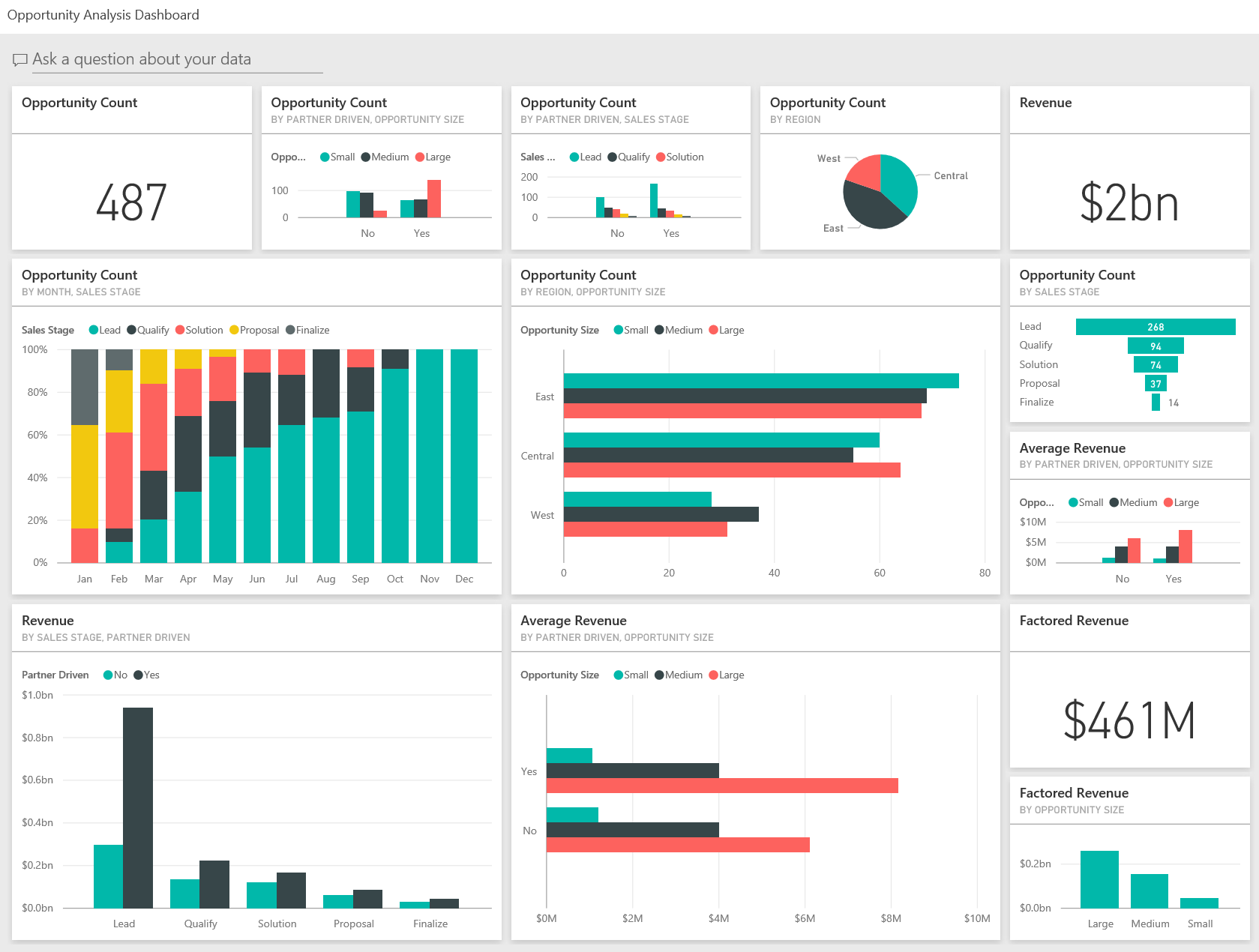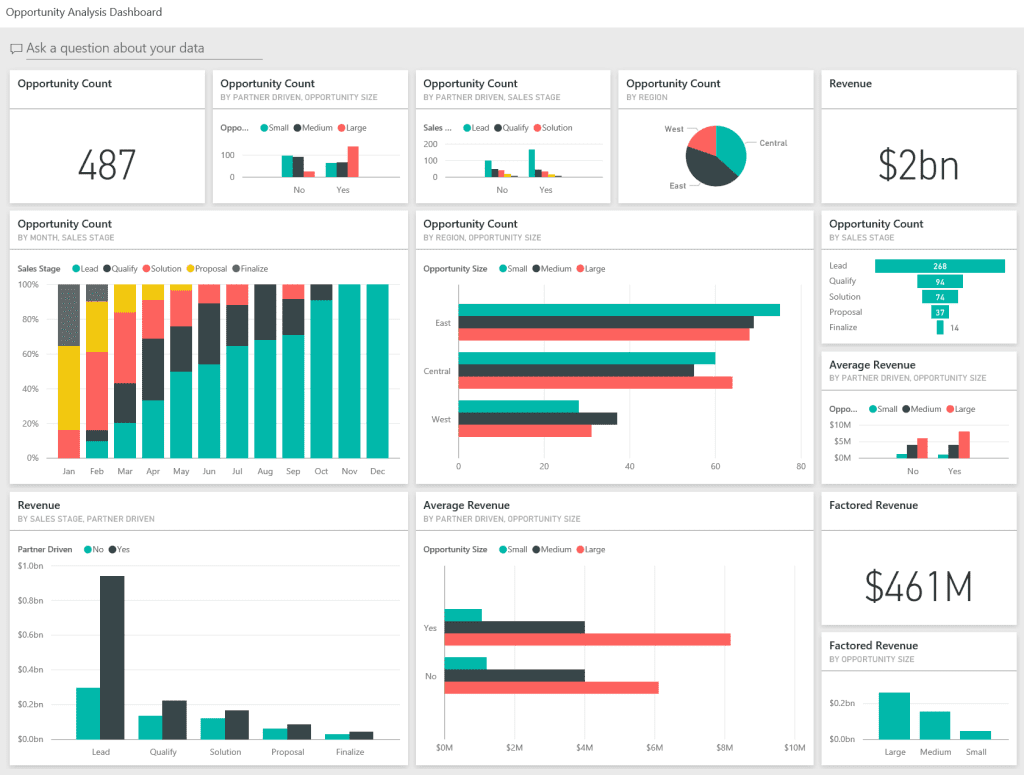 Key Features Of Power BI Dashboard:
Featured dashboard showcases as a landing page
Combination of data from various datasets into a unified page
Can easily alter and customize size and order of tiles, with new features like video, image, text, web
Data alerts on tiles of the dashboard, to show if certain information goes beyond limits
Related Insights for finding out different patterns in the bulk of data
Power Q&A
Can be kept open for a long time, automatic refreshes
Sharing & Real-time Monitoring
Understanding Power BI Reports
As it typically suggests, a Power BI report is a merger of different visual components like texts, values, charts, etc. on a page, with relevance to each other. It showcases underlying dataset tables and fields. With the help of slicers, data can be sliced/diced with complete communication with the user. Power BI Desktop and Service is most often, chosen for building reports since it has the most recent and updated features.
What Do Power BI Reports Offer?
A detailed view of all inter-related components
Extensive and complex information laid out in a needed format
Multi-page canvas with comprehensive conclusions and insights
Seamless integration and pinning up with dashboards
Access to matrices, drill through and bookmarks – a novel form of reporting
Here is a sample Power BI Report: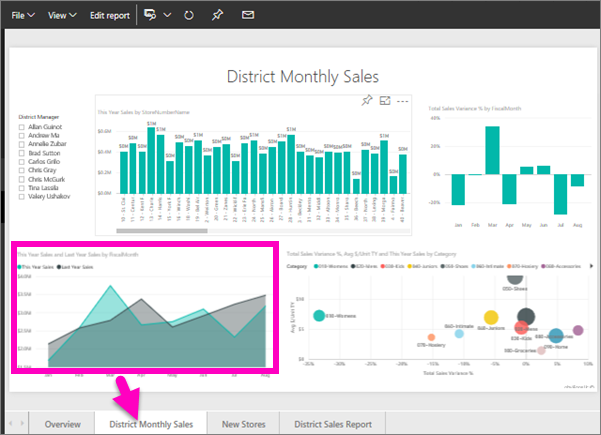 Key Features Of Power BI Reports:
Multi-page support, navigating between pages through the pane available at the bottom
Slicing and dicing data in reports with the help of relevant slicers
Interactivity through relevant elements in the chart
Publishing reports to the web or embedding them as web pages
Showing and exploring data to the minutest details by drilling down to that base
Drill up and down facility, to navigate to data in different hierarchies
Interesting Read: Paginated Reports In Power BI – All You Need To Know
Power BI Dashboard vs Reports: A Detailed Comparison
| | | |
| --- | --- | --- |
|  Parameters | Power BI Dashboards | Power BI Reports |
| Description | A high-level view of organizational information, which further navigates to detailed reports | A detailed view of information, specifically catering to limited filter information |
| Pinning | Can pin accessible visualizations only from current dashboards to other dashboards | Can pin visualizations to any of your dashboards. Also, can pin entire report pages too. |
| Utilization | View KPIs and business perceptions for better decision making, mainly by top management | Detailed analysis by analysts or sales teams to decide further action or search for certain information |
| Page Layout | Power BI dashboards showcase all important information on a consolidated level on a single page | Power BI reports showcase data in a detailed format, spanning across multiple pages if needed |
| Data Sources | Dashboards refer to various data sources for a single unit of display | Reports refer to a single dataset while showing information |
| Dataset Tables and Fields | Cannot view detailed data of tables and fields | Can view detailed information of different fields |
| Customizing Visuals | Move and arrange, add links, resize, rename, view full screen, etc. | Download, publish, embed, export, filter and analyze, etc. |
| Alerts | Dashboards can transmit alerts if certain conditions are met / not met | Reports do not have the facility to throw alerts |
| Number of Pages | Dashboards usually represent a single page layout with maximum information | Reports can be of multiple pages showing detailed information |
| Slice / Filter Functionality | Slicing or filtering a dashboard is not feasible | Slicing, filtering reports can be done with ease |
| Featured version | A dashboard can be represented as a featured one | A report cannot be shown as a featured version |
| Desktop Version | Dashboards are not available for the desktop version | Reports can be designed through a desktop |
| Subscription through Email | Dashboards cannot be shared through emails | Reports can be shared through emails |
| Export Facility | Dashboards can export only their data, not their visualization | Reports can export complete data in desired formats |
Interesting Read: Power BI vs. Excel Comparison. It's Time To Shift Your Reporting
As We Wrap Up, To Each Its Own
In the vast world of Microsoft BI tools and technologies, Power BI has a standing of its own. Though both terminologies – Dashboards, and Reports sound similar, we saw their own significance and how each one holds its own importance in the world of BI and analytics.
We can say both are strong arms of Power BI consulting services and are equally needed by BI enthusiasts. The choice between the two totally depends upon what the user wants to see visually, to each its own!
SPEC INDIA, as your single stop IT partner has been successfully implementing a bouquet of diverse solutions and services all over the globe, proving its mettle as an ISO 9001:2015 certified IT solutions organization. With efficient project management practices, international standards to comply, flexible engagement models and superior infrastructure, SPEC INDIA is a customer's delight. Our skilled technical resources are apt at putting thoughts in a perspective by offering value-added reads for all.