Power BI Developer: Skills, Scope, Responsibilities And More
This might happen to you if you are a student of computer science and technology or have already completed academic in computer studies. At present, if you search for skills and job titles in technology that can pave the way for your bright career, you might come across titles like Full-stack developers, frontend developers, data scientists, BI developers, AI engineers, data analysts, information security analysts, and so on.
Jobs in the field of data science have been increased rapidly in the last couple of years due to data-centric strategies and the potential of data to drive decisions. In addition to this,
The global Business Intelligence Market size to grow from USD 23.1 billion in 2020 to USD 33.3 billion by 2025 at a 7.6% CAGR during the forecast periods,

Source: Markets and Markets
This led to skyrocketing opportunities for professionals who are capable of drill-down data and extract meaningful insights from it. A number of data science jobs are considered highly-rewarding and among top skills in the upcoming time.
This post aims to become a one-stop guide for one such data-focused profession, Power BI developer. It covers everything you need to know for the post of Power BI developer, required skills, roles and responsibilities, scope, salary, tools, certification, and so on.
Let's get started.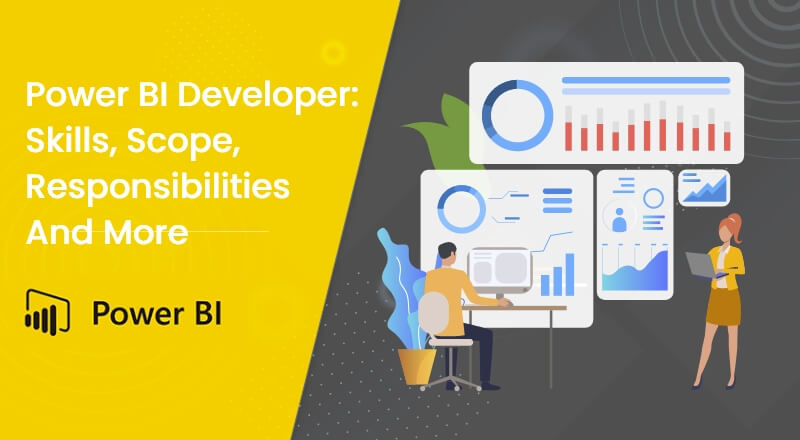 What Is Power BI?
Power BI is a set of Business Intelligence and Analytics Services from Microsoft. It offers interactive visualization and advanced analytics capabilities that empower everyone to make smarter and real-time decisions.
Power BI is on the top of the list of popular BI tools due to its ease of use and interactive visualization. It offers self-service analytics capability to let end-users create reports and dashboards. Power BI is a widely popular BI tool having customers ranging from students, startups, SMEs to large-scale enterprises. Microsoft's reliability and powerful features make it one of the widely-used BI tools.
Gartner has recognized Microsoft as a Leader in the 2022 Gartner Magic Quadrant for B2B Marketing Automation.

Source: microsoft.com
Career opportunities related to this tool are wide and Power BI roles are high in demand especially Power BI developers, Power BI consultants, and Power BI analysts. As this post is dedicated to the role of Power BI developer, let's learn about this role and the required skills to become one.
Good Read: Power BI Dashboard vs Reports – A Vivid And In-Depth Comparison
What Is Power BI Developer?
A Power BI developer is a person who knows the Power BI tool in and out. A Power BI developer is responsible for the development and administration of BI tools along with complete knowledge of the BI system. The main duty of a Power BI developer is to convert raw data into meaningful insights through interactive and easy-to-understand dashboards and reports. A Power BI developer is important for the organization because of his strategic, executive, and managerial role and responsibilities.
Power BI Developer Job Description
The roles and responsibilities of a Power BI developer can be different from company to company. Organizations can hire Power BI developer to design and develop BI reports as well as they can be hired for providing insights to improve decision-making.
This role has a number of duties to perform and that require extensive knowledge and expertise in business intelligence, databases, and especially, technical aspects of BI tools.
Power BI developers are hired to meet diversified requirements. They must be proficient to work on a wide number of tasks including reporting, creating dashboards, building data models, analyzing datasets, building reports, and complete the administration of the Power BI tool.
Power BI Developer Roles And Responsibilities:
Understand business requirements in the BI context and design data models to transform raw data into meaningful insights
Create dashboards and interactive visual reports using Power BI
Identify key performance indicators (KPIs) with clear objectives and consistently monitor those
Analyzing data and present data through reports that aid decision-making
Convert business requirements into technical specifications and decide timeline to accomplish
Create relationships between data and develop tabular and other multidimensional data models
Chart creation and data documentation explaining algorithms, parameters, models, and relations
Design, develop, test, and deploy Power BI scripts and perform detailed analytics
Perform DAX queries and functions in Power BI
Analyze current ETL process, define and design new systems
Data warehouse development and work with SSAS, SSIS, and SSRS
Redefine and make technical/strategic changes to enhance existing Business Intelligence systems
Create customize charts and custom calculations as per requirements
Design, develop and deploy business intelligence solutions as per needs
SQL querying for best results, use of filters and graphs for better understanding of data
Work with users and team members at all level for performance improvement and suggestions
To make a long story short, a Power BI developer is responsible for handling the entire BI system and focuses on leveraging Power BI for smart, real-time decisions.
Let's discuss the required skills to become a Power BI developer.
Power BI Developer Skills:
First and foremost, a Power BI developer should be familiar with data science, business intelligence, and data analytics. He/she should have prior knowledge of data integration, data warehousing, modeling, business intelligence, and presentation concepts.
Key Power BI Developer Skills
Must-Have Experience With BI Tools:
A Power BI developer must possess experience working with BI tools and BI systems like Power Bi, Tableau, SAP, and so on. Considering the power bi role, they must have experience in creating data-rich dashboards, writing DAX expressions, and implementing row-level security in Power BI. Also, they must be able to develop custom BI products that require knowledge of scripting languages and programming languages like R and Python.
One of the key attributes of a Power BI developer is to convert data into stories that help establish data-driven decision-making across the organization.
Required Experience In Data-Specific Roles:
To become a Power BI developer, you should require a minimum experience of 2 or 3 years working with BI tools, or any data-specific roles. As they tend to have experience in BI tools, they are expected to have sound knowledge of database management, SQL querying, data modeling, data warehousing, business intelligence, and OLAP(Online Analytical Processing).
Knowledge In Microsoft BI Stack:
There are many products and services from Microsoft that are widely used by large-scale enterprises for data warehousing, data management, analytics, reporting, and business intelligence. In-depth knowledge and experience with Microsoft Business Intelligence stacks such as Power Pivot, SSRS, SSIS, and SSAS is an added advantage.
This is one of the primary skills any BI developer should have. They must be able to see the big picture and communicate insights in layman's terms to everyone in the organization. They should be able to drill-down data and visualize data in the best possible way through charts/reports/dashboards.
Software Development Skills:
He/she doesn't have to be an expert in software development, but in order to meet diversified needs, they must know how to develop a custom BI solution. It is essential to have an understanding of technical aspects as well as software development architecture to transform requirements into technical presence.
Non-Technical Skills Required To Become A Power BI Developer:
Below are some non-technical (soft) skills required for the role of Power BI developer:
Ability to interact with business as well as technical teams
Comprehensive knowledge of data design, data modeling, data management, and data visualization
Strong communication and client management skills
Ability to learn and respond quickly to the fast-changing business environment
Stay updated with advancements and best practices in design and development
Ability to multitask and excellent interpersonal skills
Document process, models, designs, and solutions and able to explain, represent, and discuss with the team
Apply learned lessons into future solution considerations
Analytical mindset with a problem-solving approach
Ability to work in an agile environment with a focus on continuous improvement
Self-motivated and eager to learn
A team player and able to lead and initiate
While some organizations emphasize reporting skills, some prioritize analytics experience and Microsoft BI stack knowledge in the case of a Power BI developer.
Good Read: Paginated Reports In Power BI – All You Need To Know
Top Power BI Certifications:
There is a number of Power BI certifications offered by Microsoft itself and other leading online course providers including Udemy, Coursera, DataCamp, Edureka, Pluralsight, edX, and more.
Let's discuss how much can you make as a Power BI developer.
Power BI Developer Salary Details:
The salary of a Power BI developer varies basis on experience and skillset. Though, they are considered one of the highly-paid professionals in the tech field.
According to AmbitionBox, The national average salary for a Power BI Developer is ₹5,60,000 in India.
The national average salary for a Power BI Developer is $107,250 in the United States.

Source: talent.com
The average Power BI salary in Canada is $139,557 per year or $71.57 per hour.
The average base pay for a Power BI developer is AED 10,000/mo in Dubai
The average salary for a Microsoft Power BI developer with 1-4 years of experience in India is ₹528,258.

Source: payscale.com
The average salary for Power BI developer in Germany is 63.000 EUR/year
The demands of Power BI developers/analysts are rising because of Power BI's self-service analytics abilities.
Up to this point, we have covered every career aspect of Power BI developer. Let's have a look at what does the future look like for it and what is the scope for such a data-centric job.
A Career In Power BI: Promising Future With High Rewards
A World Economic Forum report titled 'Data Science in the New Economy: A New Race for Talent in the Fourth Industrial Revolution' focuses on data science and its role in data-driven digital innovation.
Key findings from the WEF Report:
The demand for data science skills is not limited to the Information Technology sector as data's importance grows across multiple sectors, including Media and Entertainment, Financial Services, and Professional Services.
The data science skillset is not fixed and is rapidly evolving as new opportunities in data analysis and further technological advances redefine the specific skills composition of data scientist roles.
Jobs such as Artificial Intelligence and Machine Learning Specialists or Data Scientists, in which data science skills are perhaps most profoundly applicable, are forecasted to be among the most in-demand roles across most industries in subsequent.
Data plays an instrumental role in digital innovation which is now embraced by almost all industries and regions. Data leads to the fourth industrial revolution and thus, data skills are high in demand. With a huge amount of data is generated every day, it has become vital to analyze and utilize data to make decisions. This indicates a better future and scope for the role of business intelligence professionals.
What Makes Power BI So Popular?
Power BI offers a scalable and unified platform to gather, refine, analyze, and present data on-premise or in the cloud. It offers businesses a 360-degree perspective through interactive dashboards and data-rich, easy-to-understand reporting. It is a part of the Microsoft Business Intelligence (MSBI) suite and offers many services, products, and applications.
Power BI Products:
Power BI Desktop
Power BI Mobile
Power BI Report Server
Power BI Premium
Power BI Pro
Microsoft's expertise in relational databases, business intelligence, and data analytics is reflected in the Power BI platform. From desktop to web and mobile, Power BI offers a range of products and services. Modern-day organizations are taking help of Power BI consulting services to establish data-driven policies and strategies across organizations. This is the need of the hour as data makes it easier to predict trends, opportunities, and risks, ultimately helping them to gain a competitive edge.
Ease of creating dashboards, self-service analysis capabilities, seamless integration of various data sources, and amazing user experience – these are some of the features of Power BI that making it a favorite of the analysts and data consultants.
Good Read: Top Power BI Visuals: Charts, Tables, Slicers, Maps, And KPIs
Power BI Developer: FAQS
What does a power bi developer do?
A Power BI developer assists organizations in decision-making using Power BI and develop, deploy, and maintain the BI system.
What skills does a BI developer need?
Strong analytical skills and basics of database warehousing, modeling, and representation along with comprehensive Power BI and MSBI (Microsoft Business Intelligence) tools knowledge.
What are Power BI skills?
Skills you require to become a Power BI developer are – data interpretation, data analytics, data warehousing, and acquaintance with Microsoft BI stack that include Power BI, SSAS, SSRS, SSIS.
Are Power BI skills in demand?
Yes, Power BI skills are in demand due to the increased importance of data analytics for better decision-making.
How do you become a power bi developer?
It requires years of experience in Microsoft BI stack and analytics and especially with Microsoft BI stack, SSAS, SSRS, and SSIS. He/she must possess strong knowledge of data warehousing, data preparation, and data visualization.
Is Power BI a useful skill?
Indeed. It is one of the high-demand and high-paying skills that help organizations to find key trends and predict the future course of actions based on data.
Is Power BI hard to learn?
No, Power BI is pretty easy to learn provided you have basic knowledge in data visualization and analysis.
Power BI Developer: The Conclusion
We hope that this post answered your every question related to the Power BI developer. BI developers are important for organizations with a strategic contribution to organizational growth. Data-specific jobs are expected to increase in the upcoming time, creating a number of opportunities for entry-level as well as experienced professionals.
SPEC INDIA, as your single stop IT partner has been successfully implementing a bouquet of diverse solutions and services all over the globe, proving its mettle as an ISO 9001:2015 certified IT solutions organization. With efficient project management practices, international standards to comply, flexible engagement models and superior infrastructure, SPEC INDIA is a customer's delight. Our skilled technical resources are apt at putting thoughts in a perspective by offering value-added reads for all.