Power BI vs SSRS: An In-depth Comparison
Updated
December 7th, 2022
For 13 consecutive years, Gartner has recognized Microsoft as a Magic Quadrant Leader in analytics and business intelligence platforms – Microsoft.com
Comparisons are always important to understand the best of each component. And when it comes to comparing two popular technologies, there are a lot of interesting facts that are revealed. Power BI and SSRS are two such well-known report-generating software that has carved a niche for themselves in the IT world.
Both are powered by a common tech giant – Microsoft and are a part of the Microsoft BI package. Hence, they do possess certain similarities but have their own set of uniqueness and differences. Overall, both have been offering a robust and effective reporting experience to their users.
Before we have a look at  SSRS vs Power BI comparison, let us a look at their overview and key features.
What Is Power BI?
Power BI is a business analytics service by Microsoft. It aims to provide interactive visualizations and business intelligence capabilities with an interface simple enough for end-users to create their own reports and dashboards. – Wikipedia
Power BI is a robust BI tool that enables an accurate and effective connection with distinct sources of data, with simplicity, and offers comprehensive analytics, on the go, as you like it. It comprises a full-featured suite operating through a Microsoft maintained PowerBI.com service. Users can prepare, collect, connect, transform, model, and visualize major types of data through in-depth and meaningful graphics through a drag and drop method.
Simple and user-friendly, Power BI comes up as an apt solution for huge databases and while modeling or structuring data. It possesses a variety of graphical components with the support of cloud-based data. As a powerful modern-day BI tool, it showcases exceptional capabilities like DAX formulas, custom visuals, dashboarding, etc. It comprises apps, connectors, and software services that fuse together to handle the data bulks. Reports and dashboards in Power BI offer a 360-degree view of the business perspective from a variety of data sources.
Good Read: Power BI Developer: Skills, Scope, Responsibilities And More
Power BI Benefits:
Ability to process a large amount of data
Transforms unrefined data into intuitive visual information
Can be easily embedded into custom apps
Utilizes lesser engineering resources
Gathers perceptions to make fast and knowledgeable choices
Exceptional Excel integration
Who Uses Power BI:
20th Century Fox
3M Company
7-Eleven Inc
8×8
Adatis
Acuvate Software Ltd.
Bitscape
Components Of Power BI:
Power Query
Power Pivot
Power Map
Power View
Power BI Desktop
Power Q&A
What Is SSRS?
SQL Server Reporting Services (SSRS) provides a set of on-premises tools and services that create, deploy, and manage mobile and paginated reports. – Microsoft
SQL Server Reporting Services (SSRS) resides on top of the SQL database engine and leverages it for effective data supply and the creation of meaningful paginated reports. As a conventional and extensible server-based platform, SSRS consists of an integrated set of processing functionalities and programming interfaces.
SSRS involves manual efforts while designing reports and hence demands more reporting tools. It is closely related to SQL formatting tools and Visual Studio. It extracts a variety of reports like cached, parameterized, linked, drill-down, ad-hoc, click-through, snapshot reports. It comes free with SQL Server 2012 and offers an interface with Microsoft Visual Studio for a direct connection to the SQL database.
SSRS Advantages:
Facilitates accurate and advanced decision making
Helps to interact with information without IT help
Offers a host of security features
A strengthened tool as compared to peer reporting tools
Who Uses SSRS:
Maple Lodge Farms Ltd.
U.S. Security Associates Inc.
The Durst Organization Inc.
Optum
Wells Fargo
Components Of SSRS:
Report Builder
Report Designer
Report Manager
Report Server
Reporting Server Database
Data Sources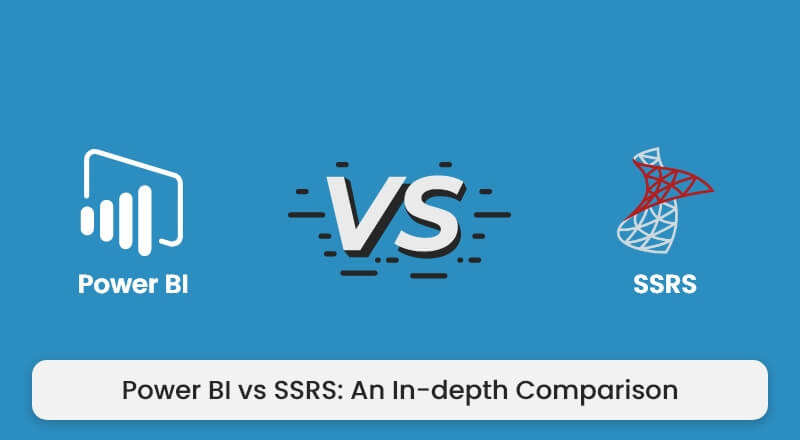 Power BI vs SSRS – A Detailed Comparison
| | | |
| --- | --- | --- |
| Parameters | Power BI | SSRS |
| Approach | More modern and graphical interface, drag and drop functionality, modern rendering, easy collaboration | More conventional, including manual effort and time, customizable as per needs, development with coding interface |
| Cost | Free of cost, access to premium features needs a license | Need to purchase SQL Server license |
| Integration with AI Elements | Integrated with Cortona for AI-related experience | No integration related to AI |
| Infrastructure | Cloud-based | Server-based |
| History | Comparatively newer, launched in 2014 | Relatively older, launched in 2004 |
| Compatibility | Users can develop and share reports for server-based and cloud-based platforms | Users can develop and share reports for only server-based platforms |
| Availability Over Devices | Accessible over mobile/desktop/web browsers | Accessible over desktops/web browsers |
| Major Elements | HTML5-based open-source SaaS platform | Server-based report generation and visualization |
| Report Distribution | Reports and dashboards can be easily shared via workspaces and shared file locations | Reports can be shared automatically through email distribution or shared file locations |
| Structure of Reports | Offers visually appealing reports with slicers and other features that are dynamically updated | Offers paginated reports, with text and numeric information. A drill-down facility is available. |
| Dependence on Data Types | Can function seamlessly with structured and unstructured data | Can function seamlessly with structured and semi-structured data |
| Training and Orientation | Power BI has a GUI based interface; hence it is easy to train users on it | SSRS needs a technical background to get trained and oriented |
| Real-time Updates | It receives monthly updates with every new release | It receives updates once every few years |
| Sources of Data | Can extract data from anywhere, no limitation | Can access data from limited database types |
| Size Limit of Data Sets | Has a limit of 1 GB in the free version, with multiple datasets | There is no limit of data set size here |
| Target Audience | Intended for any business user, since it can self-serviced | Intended for IT departments in any organization, since it needs technical skills |
SSRS vs Power BI: When To Use What?
Power BI is an excellent choice when,
All users can easily be trained for report creation
There is less coding experience
There is a need to render interactive reports
When To Use SSRS?
SSRS is the right choice when,
There is a lot of on-premises data stored
The use of paginated reports is more
There is skilled coding experience
SSRS vs Power BI – Final Thoughts
The choice between the two – SSRS vs Power BI will finally be concluded based on organizational requirements. SSRS is a conventional tool whereas Power BI is modern-day. As we go along, Microsoft may shift focus and there are chances of SSRS becoming a subset of Power BI reporting services. But, SSRS does have its own fan following and that will stay, for time to come. Reporting services are advancing thanks to technologies like Power BI and SSRS and the fruits are being enjoyed by end-users of all fraternities. After all, data visualization is the key to good business intelligence.
SPEC INDIA, as your single stop IT partner has been successfully implementing a bouquet of diverse solutions and services all over the globe, proving its mettle as an ISO 9001:2015 certified IT solutions organization. With efficient project management practices, international standards to comply, flexible engagement models and superior infrastructure, SPEC INDIA is a customer's delight. Our skilled technical resources are apt at putting thoughts in a perspective by offering value-added reads for all.