Quarterly Newsletter April 2023

As Your IT Partner We have The Right SPEC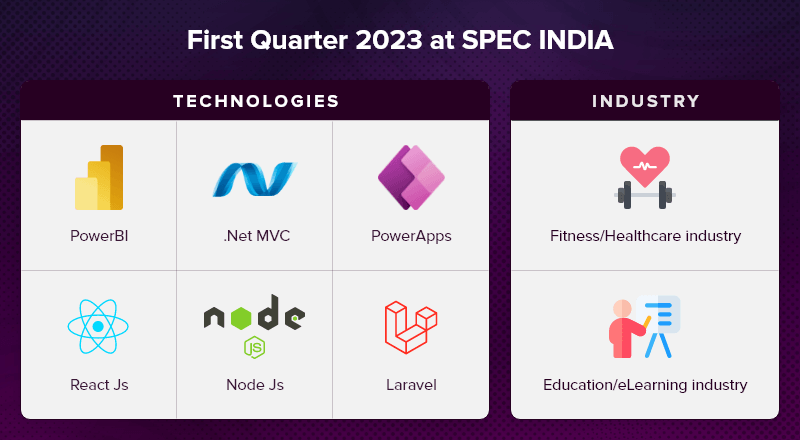 It has been a happy and successful first quarter of 2023 at SPEC INDIA! What else could we wish for! Our continual urge to create next-gen software applications and offer robust technical services for the worldwide clientele has resulted into a lucrative and prosperous year. And there is much more in the making.
Our Project Accomplishments
This quarter, we successfully implemented a digital contract management application for a USA-based digital transformation company, that focuses on technology solutions and products, offering priority to customer technology and strategy. Our Power BI-based software application provides digital contract management & buyers utilization management, ticket management and monitoring of vulnerability issues, through a range of visually attractive dashboards and insightful reports. It showcases features such as:
Resource allocation and availability
Contract status and contract details
Buyers' utilization management
Ticket management and allocation
Trend analytics with vulnerability insights
Implementation of this solution led to a range of business benefits like enhanced decision-making for better allocation of contracts to buyers, better team performance incentive management, easy reach to specific customers for specific products and more.
Yet another feather in the cap was the implementation of a new, enriched R&D web application for a client belonging to the food industry, based in Italy. The application is scalable, optimized, and lucid for the users since it encompasses the entire raw material and approval process. It is developed in ASP.Net MVC with MS SQL as a database. Earlier, the client had no system at all, everything was managed through spreadsheets. Our R&D application has replaced SAP ERP in master data management for material, product, and recipe data. It offers features such as:
Master data management for material, product, etc.
New recipe development
New material approval
Recipe search/management screen
Experimental materials management
There are multiple business benefits of this solution such as easy maintenance of material data, recipe data, project samples and bill of substances. Data is consistently accessible by the users with through user authorization and profile management.
Our Technological Capabilities
Power BI – Our business intelligence team has been achieving recurrent success with the implementation of multiple Power BI projects. Our enterprise-level BI & analytics solutions offer an in-depth view of information by transforming huge chunks of data from organizations to actionable insights, through modernized tools and technologies. They leverage salient features of Power BI such as customized dashboards, range of attractive visualizations, Datasets filtration, flexible tiles, navigation pane, DAX etc.
Power Apps – Going a step further, our proficient BI taskforce has been mastering the features of Microsoft Power Apps for the creation of powerful web and mobile business applications with least coding effort. With Power Apps, applications can connect to the data through different data sources like SharePoint, Microsoft 365 etc. There is interaction with insightful visual tools that do not need coding and hence it works faster and transforms business processes.
.NET MVC – Keeping up with the technological advancements, our software experts have been gaining in-depth skills in .NET MVC. Our projects make optimal use of the ASP .NET MVC technology through robust, secure, and flexible features such as URL authorization, profile state management, forms and Windows authentication, health monitoring, data and output caching, identity management etc.
React – Keeping up with the technological advancements, our React expertise is expanding widely with additional projects our way. We have leveraged the goodness of React in our projects – one-way data binding, virtual DOM, JavaScript syntax extension, conditional statements, and declarative UI being the prime ones. We have acquired expertise in offering dynamic & world-class ReactJS development services, across a multi-fold of industry areas. Mixing in a mutual mix of ReactJS with project execution understanding, our association presents our valued clientele with the best of output & capability, to stay a step ahead of the rest.
Node – Node.js has been our forte since a long time with hands-on experience in features such as cross-platform compatibility, V8 engine, quick deployment, working with JavaScript and microservices development. Our NodeJS development services have been providing high-quality and effective applications using JavaScript, serving both – frontend as well as the backend. We have earned experience in executing NodeJS applications in areas such as IoT, cloud computing, real-time web apps, data critical apps.
Laravel – We have been mastering the features of Laravel to offer Laravel development services that would empower business and achieve new milestones. With our developers' experience and top-of-the-class services combined, we can provide sophisticated technology-driven solutions to the most complex business needs.